vit_mar - stock.adobe.com
Magic Leap 2 takes on HoloLens in enterprise AR market
Magic Leap will launch the AR headset Magic Leap 2 by the end of September. The company must work quickly to compete in an increasingly crowded enterprise AR market.
Magic Leap will release its second augmented reality headset later this year, giving enterprise users a less expensive alternative to Microsoft's HoloLens 2.
The company revealed the final design of the Magic Leap 2 this week, saying it would launch the headset by the end of September.
Magic Leap intends to appeal to businesses in fields where the ability to overlay digital elements over real-world environments poses the most benefits, like healthcare and manufacturing. However, the company must work quickly to establish itself before competitors like Apple and Google release augmented reality (AR) devices of their own, and Meta complements its virtual reality (VR) headset with an AR device.
With its new headset, Magic Leap aims to take advantage of an expanding market. IDC projects spending on AR and VR will balloon from $12 billion in 2020 to $72.8 billion by 2024, an expansion driven by enterprise demand. The technology can help technicians repair machinery in the field, businesses sell products, assembly line workers build products and companies train employees in situations that mimic real life.
AR can deliver a solid return on investment for companies by reducing travel costs, said Thomas Brannen, an analyst at OnConvergence. Specialists can use AR headsets to remotely diagnose problems with machinery, instead of visiting the site in-person. Similarly, surgeons can walk colleagues through complicated procedures without physically being in the operating room.
"The payback can be measured in weeks or months in a lot of cases, just because [the technology] is that transformational," Brannen said.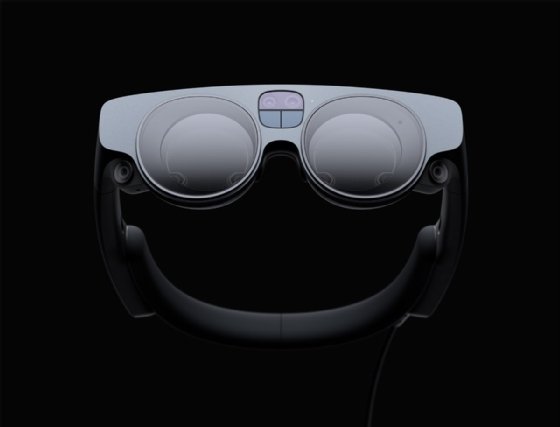 Magic Leap intends to appeal to enterprises by making AR images easier to see in its new headset. The Magic Leap 2 will have a 70-degree field of view, double that of its predecessor. The headset will also be able to dim external light, so projected images aren't washed out by the brightness of a real-world environment.
Magic Leap 2 is half the size of the first Magic Leap headset and is expected to sell for slightly more than the original device's $2,295 price tag. The HoloLens 2 retails for $3,500.
Enterprise AR headset market heats up
Magic Leap's headset will face steep competition, especially from Microsoft. Many organizations, including Toyota Motor Corp., food safety firm Ecolab and Carnegie Mellon University, already use HoloLens 2 headsets. Other companies plan to enter the AR battle as well: Apple, Google and Meta (formerly Facebook) are all reportedly working on AR headsets of their own.
Microsoft's AR future is unsettled, however. In February, Business Insider reported that the company had canceled its HoloLens 3 plans and would instead partner with Samsung on an AR device. HoloLens' lead developer publicly denied the reports, noting that HoloLens 2 faced similar prerelease rumors but released nonetheless.
Magic Leap is on shakier footing than its deep-pocketed competitors, Brannen noted. The company raised billions of dollars for its first, consumer-oriented AR headset, but the device flopped. The company laid off hundreds of employees, changed CEOs and pivoted to the enterprise market.
"Their history is kind of a train wreck," he said. "If you asked me a year ago, I'd say, 'I don't think they'll be around next year. I just don't know how they're going to compete in this space.'"
Magic Leap has done a remarkable job in turning itself around since then, Brannen said. For this transformation to continue, the startup will need to gain momentum in the enterprise market before other heavy hitters enter the market.
Mike Gleason is a reporter covering unified communications and collaboration tools. He previously covered communities in the MetroWest region of Massachusetts for the Milford Daily News, Walpole Times, Sharon Advocate and Medfield Press. He has also worked for newspapers in central Massachusetts and southwestern Vermont and served as a local editor for Patch. He can be found on Twitter at @MGleason_TT.