Definition
Goliath Technologies
Goliath Technologies is a performance monitoring software vendor that offers tools to monitor and analyze data centers, back-end servers and network performance for on-premises and cloud deployments.
Founded in 2011 by current CEO Thomas Charlton, Goliath Technologies is a software vendor that specializes in monitoring virtual desktops and applications. Goliath Technologies is based in Philadelphia.
Goliath Technologies' central product is Goliath Performance Monitor, which provides IT professionals with in-depth monitoring of endpoints and back-end servers or the cloud service that hosts an organization's desktops and applications. Goliath Technologies designed its platform to work with Citrix, Microsoft and VMware deployments and also integrate with healthcare IT software vendors such as Cerner Corp. and Epic Systems.
Core products and services
Goliath Performance Monitor -- Desktop logons are an important barometer for the quality of the end-user experience on virtual desktops. Goliath Performance Monitor tracks desktop logon times, latency, memory usage and other metrics in real time.
Goliath Performance Monitor displays the logon times and other performance-based metrics in a spreadsheet-style interface that IT can sort by various fields, such as logon time, hardware type and device latency. This simplifies the troubleshooting process for IT by bringing the largest deployment issues to its attention immediately.
Each device in the spreadsheet includes details about loading times for each step in the logon and deployment process such as the time each Group Policy Object (GPO) takes to load. These metrics can help IT find the root cause of an issue, for instance whether it is a problematic GPO, an underperforming receiver or a slow server in the data center.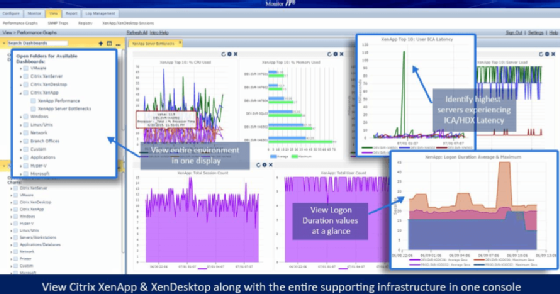 Application Availability Monitor -- With Application Availability Monitor, IT professionals can check on the virtual application delivery process at each step to identify any issues.
This monitoring tool tracks every aspect of the application delivery process, including how long each process takes to execute. For example, if the authentication process takes a long time for a group of users, IT can identify this issue by looking at a breakdown of the load times.
Goliath Application Availability Monitor includes graphical displays of the virtual application delivery process to help IT identify where there are issues. IT can set up notifications for when average application launch times exceed a certain level or if an application isn't available at all.
This was last updated in
November 2018
Continue Reading About Goliath Technologies
Dig Deeper on Virtual desktop delivery tools