VMware SaaS technology, hybrid cloud help IT with 2018 plans
Hybrid cloud is the top IT priority for users in 2018, with SaaS technology at a close second, according to a TechTarget survey. Let's see what VMware's doing in these markets.
As IT department priorities shift toward the cloud, it's up to VMware to pivot its offerings accordingly.
Continue Reading This Article
Enjoy this article as well as all of our content, including E-Guides, news, tips and more.
Deploying software as a service (SaaS) and hybrid cloud models are top goals for organizations this year, according to data from TechTarget's 2018 IT Priorities Survey. Despite some initial setbacks, VMware aims to change its reputation from a virtualization company to a cloud computing company. Products such as VMware Cloud on AWS and VMware Cloud Services, introduced at the last VMworld in August, can help organizations build their hybrid cloud, multi-cloud and SaaS technology strategies.
"VMware clearly understands that they need to provide [management] capabilities within a SaaS footprint," said Dennis Smith, research vice president at Gartner.
Hybrid cloud provides best of both worlds
In the survey, 43.4% of respondents said their companies would use hybrid cloud deployment models in 2018. Interest in hybrid cloud doesn't exactly come as a surprise. Promises of greater availability, scalability and agility have made public cloud popular, but it comes with tradeoffs that have prevented some organizations from embracing it. In fact, 34.9% of survey respondents said they will continue to use on-premises software and hardware deployment models, compared to 23.4% who will use infrastructure as a service (IaaS) and public cloud.
Sticker shock is a major hurdle to public cloud adoption. Upfront cost quotes from providers aren't always accurate or don't offer the full picture, said Bill Flaherty, a database specialist at a pharmaceutical company. Cloud cost estimators can help evaluate monthly costs, but they often don't account for usage spikes or outages, which can add unanticipated expenses.
"Cloud isn't the panacea for all IT service ills," Flaherty said. "It's a swift kick to the head every time people put systems [in the public cloud], because they aren't sure what they're going to get back as far as costs."
Additionally, certain workloads, such as those with highly customized configurations or mission-critical applications, simply can't -- or shouldn't -- run on public cloud.
In spite of these and other issues, the allure of public cloud remains strong. This has led many organizations to embrace hybrid cloud offerings to extend their on-premises infrastructure to the cloud, said Mark May, an IT infrastructure manager at Great American Insurance Group, based in Cincinnati.
VMware Cloud on AWS is one option to address this IT priority. It enables organizations to run the full VMware software-defined data center stack, which includes vSphere, vSAN and NSX, on AWS. The idea is to provide an organization with a cloud presence identical to its traditional infrastructure, which enables administrators to use all their existing tools and services across private and public clouds and within the physical data center.
Because VMware is responsible for support, operations, maintenance and provisioning, it eliminates the need for organizations to hire additional IT operations staff and frees up infrastructure management resources. VMware Cloud on AWS also provides single-pane-of-glass management, which enables IT to access both VMware and AWS resources without having to interact with Amazon.
"[VMware Cloud on AWS] is an easy path that doesn't require much change in the process," May said.
Still, organizations need to use vSphere 6.5 to take full advantage of VMware Cloud on AWS, which could be a problem for organizations that still use older versions of vSphere and would prefer not to upgrade. This setup also requires IT staff to configure a traditional VMware infrastructure on the AWS cloud, which can be time-consuming.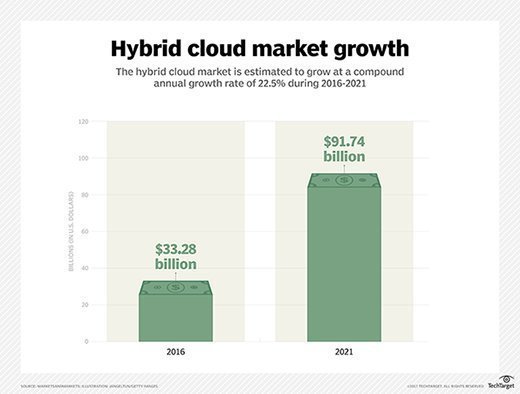 SaaS technology tops IT priority lists
Cloud isn't the panacea for all IT service ills.

Bill Flahertydatabase specialist at a pharmaceutical company
With this shift toward cloud services, 41.7% of survey respondents said software as a service and cloud applications will be a top IT priority for 2018. SaaS technology is popular due to its ease of use and the growing trend of treating IT services as a commodity, but companies were averse to SaaS seven or eight years ago, Smith said.
This sentiment changed as organizations tried their hand at native tooling with services such as Microsoft Azure, Smith said. SaaS tools are easier for IT to use than IaaS, because they rely on analytics on the back end, which helps admins with configuration management, cost management and security scanning and mitigation, he said.
"[SaaS] makes perfect sense, [because] you don't need to run any infrastructure on site and you don't need to manage patching or maintenance," Flaherty said. "You basically write a check and are delivered a full-service offering."
SaaS technology also satisfies organizations' desire for automation, self-service and customer ownership, Flaherty said.
There are currently seven VMware SaaS offerings, referred to collectively as VMware Cloud Services: Discovery, Cost Insight, Network Insight, Hybrid Cloud Extension, Wavefront, AppDefense and NSX Cloud. The services primarily focus on data collection and provide insight into how systems work, as opposed to how they should work, May said.
VMware Cloud Services include the following SaaS offerings:
VMware Discovery creates an inventory to provide IT with a comprehensive view of all resources within a cloud account.
Cost Insight is a cost reporting and analytics service that provides visibility into public and private cloud costs, enabling IT to track expenses and map investments.
Network Insight is the SaaS equivalent of vRealize Network Insight; it monitors traffic flows and troubleshoots network problems.
Hybrid Cloud Extension abstracts on-premises and cloud resources and presents them to applications as a continuous hybrid cloud, which promotes multi-cloud interoperability.
Wavefront is the result of VMware's acquisition of Wavefront cross-cloud monitoring and metrics; it provides real-time analysis of applications running on VMware Cloud on AWS.
AppDefense monitors application behavior to improve endpoint security.
NSX Cloud provides a single, multi-tenant dashboard through which IT can create, run and manage multiple virtual private clouds in the Amazon infrastructure.
VMware Cloud Services could be the company's way of meeting these demands while acknowledging changes within the IT job market.
"IT professionals are being asked to focus more on business value, rather than building technical solutions that aren't business differentiators, so it only makes sense that [they're] looking for SaaS offerings [that] do the things they can't," May said.
May noticed such a shift in his own career, which has had the direct effect of prioritizing SaaS and hybrid cloud for 2018.
"I'd like to see [VMware] focus on making traditional virtualization more cloud-like," he said. "I'd like out-of-the-box offerings that combine solutions natively without having to stitch together a bunch of products."
The biggest obstacle for VMware is the need for a unified control plane for its different cloud services, Smith said. For example, there needs to be a link between analytics and security-based offerings and NSX to help IT properly configure infrastructure, he said.
"[VMware] ... is taking steps to provide offerings like that," he added. "The goal and challenge for them will be how to integrate that to look seamless."
Dig Deeper on VMware desktop software and virtualization