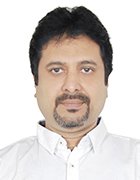 Joydip Kanjilal
Software Architect
Joydip Kanjilal is a Microsoft MVP in ASP.NET. He received the prestigious MVP award in ASP.NET for six consecutive years from 2007 to 2012.
He has more than 20 years of experience in IT, with more than 16 years with Microsoft .NET and related technologies. He has been selected as Microsoft Development Network Featured Developer of the Fortnight and as Community Credit Winner several times. He is also the author of eight books and more than 500 articles. Many of his articles are featured on Microsoft's ASP.NET site.
He was a speaker at the Spark IT 2010 event and at the Dr. Dobb's conference 2014 in Bangalore, India. He has also worked as a judge for the Jolt Awards at Dr. Dobb's Journal. He is a regular speaker at the SQL Server Worldwide User's Group Virtual Conference.
Joydip Kanjilal's Most Recent Content