your123 - stock.adobe.com
MicroStrategy partners with Microsoft to add generative AI
The longtime independent analytics vendor revealed plans to integrate with the Azure OpenAI Service to infuse its platform with generative AI and large language model capabilities.
MicroStrategy has unveiled a multi-year partnership with Microsoft that will add generative AI capabilities to MicroStrategy's business intelligence suite.
MicroStrategy, a longtime independent analytics vendor, already offers some augmented analytics capabilities, such as natural language processing (NLP), and supports AI through its notebook and integrations with vendors including DataRobot and H2O.ai.
But before June 6, when the analytics vendor and tech giant made their new partnership public, MicroStrategy had not yet addressed generative AI.
Microsoft, meanwhile, has been an investor in generative AI developer OpenAI since 2019. Two months after the November 2022 release of ChatGPT -- which represented a significant advance in generative AI tools and their large language model capabilities -- the tech giant said it would pump another $10 billion into OpenAI.
In May, Microsoft invited certain users to try Azure OpenAI Service, a tool in preview aimed at enabling developers to access Microsoft's generative AI technology to integrate it with their own capabilities.
Now, under the terms of MicroStrategy's partnership with Microsoft, the analytics vendor plans to integrate its existing capabilities with Azure OpenAI Service to infuse generative AI and LLM capabilities throughout the MicroStrategy platform.
According to MicroStrategy, it plans to use the integration to develop natural language capabilities. These will enable users to generate new visualizations and dashboards as well reduce the manual burdens now required to build workflows and other content.
Analytics and LLMs
In addition to MicroStrategy, analytics platforms such as Power BI from Microsoft, Sisense, Tableau and ThoughtSpot all have generative AI capabilities in the works.
The vendors' hope is that generative AI and LLM technology can drive wider use of complex tools.
The percentage of analytics users within organizations has been stuck around 25% for about two decades. Vendors have tried to make their tools accessible to more users with low-code/no-code features and augmented intelligence capabilities, such as NLP, that enable users to type queries and commands in natural language rather than code.
But the NLP tools developed by vendors aren't intuitive enough to eliminate the need for data literacy training. Their vocabularies are limited, which requires users to phrase business questions in a precise way to get the desired response, and their limitations make asking logical follow-up questions even more difficult.
LLMs, which have much broader vocabularies, change that and potentially enable true freeform language that could finally make more widespread analytics use possible.
Therefore the integrations that analytics vendors are developing with generative AI tools and their LLMs have the potential to be an industry-altering technology, according to David Menninger, an analyst at Ventana Research.
"Analytics are hard," he said. "They require skills and discipline that are not necessarily found throughout the organization. Generative AI has the potential to help make analytics much more broadly accessible by making natural language processing and conversational computing a reality."
Not only that, it can also make things easier for those who already possess expertise in working with data, noted Doug Henschen, an analyst at Constellation Research.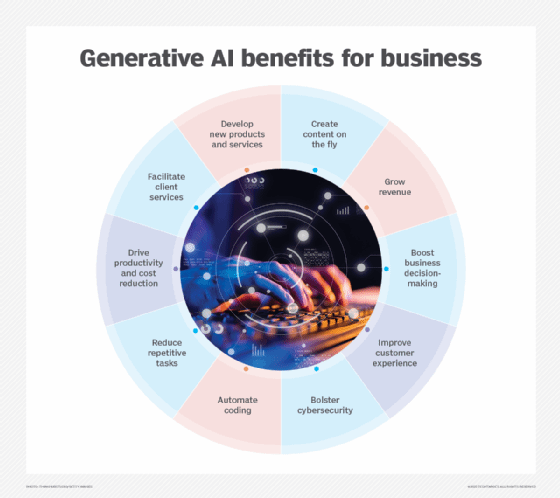 Just as eliminating at least some coding requirements potentially lets more people within organizations work with data, it could enable data experts to work more efficiently by reducing the amount of code they need to write to develop and oversee data pipelines as well as other parts of data and analytics operations.
"Generative AI has the potential to take manual drudgery out of data prep, analysis and predictive analysis steps while also bringing natural language querying and natural language explanation to a new level of utility and depth," Henschen said.
It's for those reasons that data management and analytics vendors -- now including MicroStrategy -- are unveiling plans to inject their platforms with generative AI.
Even those such as SAS and Tibco that haven't yet launched integrations with generative AI tools plan to eventually incorporate generative AI. They're just waiting until they feel more sure that integrations with generative AI tools won't expose customers to security risks and bad data.
MicroStrategy and generative AI
Despite its integration with Microsoft coming nearly seven months after the launch of ChatGPT and on the heels of numerous other analytics vendors' integrations with generative AI tools, MicroStrategy is not at a competitive disadvantage, according to Henschen.
Most of MicroStrategy's competitors have merely unveiled plans to incorporate generative AI rather than launching any actual capabilities. Even those tools that have been developed are in their nascent stages.
"As Tom Siebel, [CEO] of C3.ai, recently said, we're in the first half of the first inning where generative AI is concerned," Henschen said. "This is clearly the very start of the partnership and the actual capabilities built on Azure OpenAI have yet to be fleshed out. But MicroStrategy is putting a stake in the ground with this announcement that it will be among the leaders."
Analytics are hard. They require skills and discipline that are not necessarily found throughout the organization. Generative AI has the potential to help make analytics much more broadly accessible by making natural language processing and conversational computing a reality.

David MenningerAnalyst, Ventana Research
Likewise, Menninger noted that it's simply too soon for any one vendor to have developed generative AI capabilities that differentiate it from others or for any one vendor to have fallen hopelessly behind.
Through its integration with Azure OpenAI Service and a roadmap that includes NLP to drive more use of analytics and simplify data workflows, MicroStrategy's plans for generative AI are in line with those of its competition.
"Nearly all vendors are making announcements," Menninger said. "Some have introduced limited capabilities based on generative AI, and most offer a roadmap of future capabilities. I would categorize MicroStrategy's generative AI plans, much like their product, as very broad. They appear to have thought of many ways to use generative AI to improve analytics processes."
Menninger added that while users of all analytics vendors' platforms will likely benefit from generative AI, MicroStrategy's users might profit more than most.
The vendor offers a wide swath of capabilities, some intended for sophisticated users with deep knowledge of data science and analytics and others for more casual self-service users, he noted. Many other vendors offer tools targeting just one audience, either data experts or business analysts.
Generative AI can possibly make MicroStrategy's entire platform more accessible to all users.
"MicroStrategy has a broad range of capabilities, [which] is one of its strengths," Menninger said. "The challenge is that when you have a very broad set of capabilities, knowing which capabilities to use and when can be difficult. One of the promises of generative AI is that it can make the more sophisticated capabilities easier to use and hide some of the complexities."
Next steps
While MicroStrategy's partnership with Microsoft will enable it to incorporate generative AI capabilities, those generative AI capabilities will be tied to Microsoft.
Historically, however, MicroStrategy has offered multi-cloud capabilities and enabled its users to use the clouds of their choice for their MicroStrategy deployments.
Henschen, therefore, said he'd like to see MicroStrategy develop generative AI and LLM integrations that are not as closely aligned with Azure deployments as its initial foray into generative AI.
"One of MicroStrategy's great strengths is its multi-cloud and cross-cloud deployment capabilities. So I expect it will come up with comparable AI/LLM options that are not tied to Azure deployments and Microsoft tools," he said.
Menninger, meanwhile, is a staunch believer in the benefits of scenario planning -- a form of decision intelligence. Few analytics vendors, however, offer such capabilities as part of their platform and instead leave scenario planning to niche vendors, such as Anaplan.
While acknowledging that developing generative AI tools will be a priority for MicroStrategy, scenario planning is another area in which the vendor could add tools to the benefit of its customers.
"MicroStrategy has laid out an ambitious plan for generative AI that will impact nearly every aspect of their product," he said. "It will keep a good portion of the engineering team busy. If they had additional [resources], I would still like to see them and other analytics vendors address the areas of driver-based planning and, more broadly, decision intelligence."
Eric Avidon is a senior news writer for TechTarget Editorial and a journalist with more than 25 years of experience. He covers analytics and data management.