5 digital transformation strategies embracing the new normal
Here is a look at five digital transformation strategies companies should consider implementing now to overcome any setbacks caused by the COVID-19 pandemic.
Today, we face a source of disruption unlike any in recent memory -- one that has left no aspect of business untouched. In the coming months and years, the ability to quickly adapt to changing demands will be critical to business survival. Fortunately, there are ways to begin digitizing iteratively to achieve impactful outcomes.
While the driving factors behind transformation may have shifted, digital transformation strategies and best practices for planning, implementing and managing it ultimately remain the same.
Start with the problem, not the solution
Especially when driven by a sense of urgency, it can be tempting to dive into transformation without taking the time to fully understand the challenge. You can -- and should -- find opportunities to start small. But even when dealing with something as simple as deploying a collaboration tool, this is a critical first step. Begin by analyzing and clearly defining the core problem you need to solve. Take the time to connect with employees and customers to understand where challenges or areas or opportunity exist. This is key to ensuring the alignment and ultimate value of your initiative.
Don't underestimate the human factor
A successful digital transformation depends on people effectively adopting new ways of working or interacting with your organization. This means your digital transformation strategy needs to go beyond just the technology to encompass the people and processes that will support it. Organizational change management offers a wealth of valuable tools for ensuring efficient use and maximizing ROI of technology -- from strategizing for communication and training to anticipating and overcoming resistance.
Invest in a future-proof infrastructure
When it comes to laying the foundation for new technologies, now and in the future, some level of investment is required. But properly managed, the benefits of transformation far outweigh the cost of stagnation. And some of these technologies, such as public cloud, can actually drive down costs in the long run.
Start by building on what you already have in place. There's no one right IT architecture, and there are often ways to improve the resiliency, security or cost efficiency of existing systems. Some may benefit from the variable cost models of cloud and XaaS. Other organizations running on monolithic platforms may benefit from microservices. Ensure you have the developers or data scientists on staff to manage requests, or partner with other IT experts to help you identify and fill in any gaps in your IT team.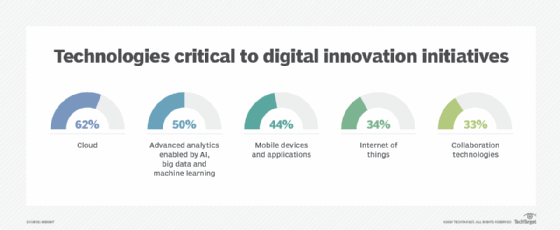 Stay agile by iterating from good to great
Digital innovation isn't about starting with a perfect idea; it's about taking a solid concept and making it great. Monumental tasks like those many organizations now face are best accomplished in manageable pieces through ongoing feedback and collaboration with end users. Approaches such as Agile and DevOps provide a valuable framework for achieving your transformation goals while engraining a culture of continuous improvement.
Stay in touch
Transformation is a process of ongoing growth -- not a one-time implementation. It's important to recognize that continuous management and ongoing shifts are required both to ensure continuous improvement and to respond to ongoing changes in the greater landscape. Stay in two-way communication not just with those managing the change, but with those affected by it. Gather feedback, usage stats and other metrics around support to measure success and address ongoing challenges.
Carving a path to a new normal
In the coming weeks and months, we face a degree of ongoing uncertainty. But while there are sure to be obstacles on the road to our new normal, there will also be opportunities.
Those who were undergoing or planning for transformation in the near future may be considering whether to accelerate, cancel or alter those plans in response to new areas of need. Remember, pivots are a necessary part of any transformation and the key is to keep moving forward.
If your organization was already moving toward integrating new technologies, leverage that momentum. Reexamine your business challenges and adjust plans as needed to begin putting your business in a position to capitalize on eventual economic recovery.
If you weren't already planning for transformation, start now. It may seem like a long road ahead, but every step toward digitization is a chance for your business to come out stronger and more relevant in the future.
By addressing each challenge holistically and iterating to make good ideas great, your organization can begin to not only adapt to our new normal, but also help to define it in ways that improve how we live and work for years to come.
About the author
Matt Jackson serves as vice president and national general manager of digital innovation at Insight. Jackson is a relentless problem-solver who is passionate about delivering solutions that help clients build better businesses. He sees challenges as opportunities to push the boundaries and pave the way for technological innovation. Jackson builds on extensive experience managing consulting organizations to steer Insight's digital innovation practice toward operational excellence.