Definition
Azure Cost Management by Cloudyn
Azure Cost Management by Cloudyn is a software as a service (SaaS) cost management and monitoring tool for multi-cloud environments.
In July 2017, Microsoft, which operates the Azure public cloud, acquired Cloudyn. Microsoft has said, however, that the tool will continue to work with both the Amazon Web Services (AWS) and Google Cloud Platform (GCP) public clouds, as well as Azure.
Features
Azure Cost Management by Cloudyn helps users monitor and optimize cloud computing costs. For example, dashboards let an organization track costs by specific cloud services or resources, as well as by business departments and users. Enterprises can also set up notifications to alert them when their cloud spending exceeds a certain threshold and use historical cost data to more accurately forecast future spend.
Businesses can also use the tool to gain more general visibility into their cloud deployments through a number of graphical reports and customizable dashboards. For instance, an organization can use Azure Cost Management by Cloudyn to track cloud performance metrics, such as instance runtime, and to identify and remove idle virtual machines (VMs) from their cloud deployment.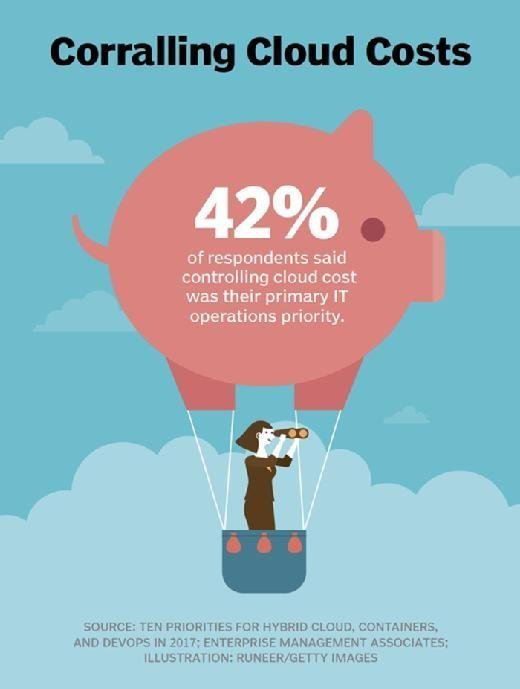 Cloud management, in general, refers to the administrative control an organization exercises over its public, private, hybrid and multi-cloud environments. Cloud management tools, like Azure Cost Management by Cloudyn, help administrators exercise this control.
Pricing and competition
When an organization uses Azure Cloud Management by Cloudyn exclusively on the Azure platform, pricing varies depending on whether it uses standard or premium capabilities. Standard features for the Azure platform include cost and usage reporting, resource tagging, spending alerts and recommendations to resize or remove a cloud VM. These features are free. Premium features, including chargeback, the ability to import external budgets and the use of custom metatags to categorize costs, are also free to use on Azure, but only through June 2018, at which point Microsoft said it will charge for them.
As of February 2018, if an enterprise wants to use Azure Cost Management by Cloudyn for an AWS or GCP deployment, all features will be priced at 1% of the enterprise's managed cloud spend.
Azure Cost Management by Cloudyn is used by enterprises, managed service providers (MSPs) and resellers. Competitors that offer similar cloud management tools include RightScale, Cloudability, CloudHealth and Scalr.
This was last updated in
April 2018
Continue Reading About Azure Cost Management by Cloudyn
Dig Deeper on Cloud infrastructure design and management