Fotolia
What's the difference between ECM vs. WCM in the cloud era?
Does the difference between ECM vs. WCM leave you scratching your head? Read on to finally understand what exactly each system does and how it can benefit you.
In today's digital age, there are real differences between enterprise content management (ECM) and web content...
Continue Reading This Article
Enjoy this article as well as all of our content, including E-Guides, news, tips and more.
management (WCM). On one hand, they are both designed to manage content. On the other, they are optimized for different business purposes.
When comparing ECM vs. WCM through your decision-making process, ECM manages unstructured information, typically business documents, within an organization. At its core, ECM is a shared repository -- an electronic file system on steroids designed for day-to-day business operations. It focuses solely on content production.
Content delivery in ECM throughout the content lifecycle is done through the applications, such as desktop tools and viewers, that access the repository. The target audience is people working inside a corporate firewall, as well as with predefined partners connected through an extended enterprise.
ECM stores digital files within sets of nested folders, and it secures them with hierarchical access control lists. ECM features essential library services, enabling authenticated users to check files into and out of the repository, alerting others about file sharing conflicts and providing methods for resolving them. It often supports workflow and content categorization capabilities.
WCM governs digital experience
Comparing ECM vs. WCM, WCM manages multiple types of digital content -- content snippets, images, and rich media, in addition to conventional business documents. Like ECM, it includes library services, workflow, security and sharing capabilities for producing content. Unlike ECM, the WCM platform is externally oriented and supports content delivery for vendors and customer-facing engagement.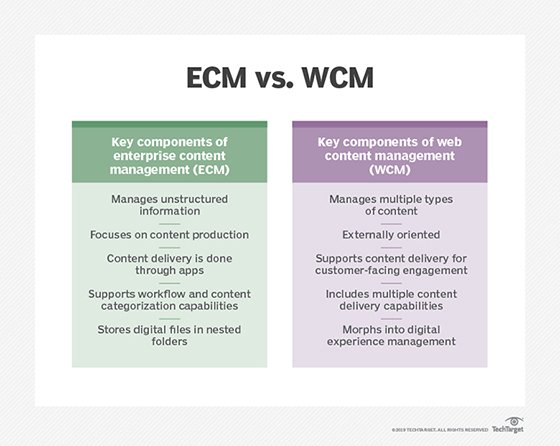 Specifically, a WCM system includes multiple content delivery capabilities to shape and channel digital experiences. Initially, it was for full-screen web browsers, but today, WCM also nimbly pivots to support smartphones and tablets. Increasingly, a variety of next-gen digital devices need support. The particular features are continually changing and, in fact, WCM is now morphing into a more general category, DXM, or digital experience management.
Looking to the future of ECM vs. WCM, WCM will support sets of microservices and APIs designed to weave managed content into intuitive, task-oriented and ever-smarter digital experiences.
Next Steps
ECM alternatives to consider
Digital access management and digital experience provide better DXM
WCM and AI create better experiences
Dig Deeper on Information management and governance
Many people think e-signature and digital signature are interchangeable terms, but an electronic signature differs from a digital one in critical ... Continue Reading
When an e-commerce system's native content management capabilities no longer meet business needs, companies should consider integrating it with a ... Continue Reading
Programs such as Box Shield use machine learning to better secure content, as it monitors existing content continually to learn about new ... Continue Reading