auremar - Fotolia
Icelandair turns to headless CMS to improve CX
The right CMS makes a big difference for CX, so Icelandair moved off its on-premises content server to a headless CMS – with one layover on a cloud CMS that wasn't quite right.
Icelandair's web content repository has taken flight from a traditional, on-premises content management system to a headless CMS in the cloud to improve its online travel booking experience for customers.
The migration started several years ago, and remains ongoing as processes move one at a time into the headless system from Contentstack.
We spoke with Icelandair's global director of marketing Gísli Brynjólfsson and UX writer Hallur Þór Halldórsson to discuss how they made this IT purchasing decision and what CX improvements the airline stands to gain by going to the cloud.
What was the technology problem that got Icelandair thinking about changing to a headless CMS in the cloud?
Halldórsson: When I came on to the project in 2015 we had a very old-fashioned on-premises CMS with a publishing front-end attached to it, which handled all the content for our booking site. Content managers had to go in and do a lot of cache-flushing and add code here, add code there to the site.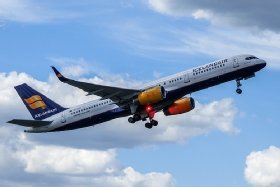 Load tests during cloud containerizing experiments on AWS in 2016 made people scared the site would crash a lot; people weren't sure the CMS could handle what was coming in our digital transformation. We started looking for another CMS, using a different one for a year that wasn't headless -- but had API functionality -- but it wasn't quite doing what we expected. We ended up trying several cloud CMS vendors and Contentstack won the contract.
What about headless CMS made sense in the context of your digital transformation plan?
The ability to adapt quickly and scalability were the primary reasons to go with a headless CMS.

Hallur Þór HalldórssonUX writer, Icelandair
Halldórsson: Headless became a requirement at one point to decouple it from the publishing end of the old CMS. We needed this approach if we wanted to personalize content for customers, which we eventually would like to do. But the ability to adapt quickly and scalability were the primary reasons to go with a headless CMS.
What features or functionality won the bid for Contentstack's headless CMS?
Halldórsson: The way it handles localized content. We support 11 languages online and 16 locales (four different versions of English, two French), and you have to be able to manage that. Other vendors that impressed us otherwise didn't have mature localization features.
What is on your digital transformation roadmap over the next couple years?
Halldórsson: The first thing we did was integrate our translation process into the CMS. Before, we had to paste text into a Microsoft Word document, send it to the translation agency, wait for it to come back and paste it into the CMS. Now it gets sent to the agency via API and is delivered back. Automating that workflow was first. Next is a Salesforce integration to more quickly give salespeople and customer service agents the content we know they're looking for. Integrating a personalization engine, too, is a dream.
Editor's note: This Q&A has been edited for clarity and brevity.
Dig Deeper on Content management software and services