Fotolia
Adobe Acrobat DC integrates PDF tools inside Google Drive
With new Google Drive integration, Adobe embeds free features for commenting and annotating PDFs inside Google Docs. Acrobat subscribers can create, sign and modify PDFs, too.
Adobe released a Google Drive Acrobat DC integration that avails PDF commenting and editing features within the Google Docs interface.
The roughly one billion Google Drive users can now view, search, annotate, comment and add sticky notes to PDFs, as part of the free Reader DC. Other features such as PDF creation, PDF modification including adding and removing pages and electronically signing documents -- and tracking the signatures -- come as part of subscriptions to Acrobat DC Standard ($12.99/month, Windows only) and Pro ($14.99/month). Both Standard and Pro require yearly subscriptions to purchase.
Given Google G Suite's near ubiquity across consumer and business use cases, the Adobe Acrobat-Google Drive integration was a no-brainer, said Forrester analyst Nick Barber. For users, it means using an interface they're familiar with to view and edit PDFs. For Adobe, it shows that they're willing to create a connected -- rather than siloed -- experience across applications.
Adobe, too, gets a new audience to potentially convert free Reader users to paid subscriptions.
"It creates a pathway for Adobe to expand its reach of Document Cloud and potentially upsell users to the more robust capabilities [of] Acrobat Standard and Pro DC," Barber said.
Adding to Chrome-Acrobat combo
The Google Drive-specific integration builds on Adobe's previously available Acrobat extension for Chrome which converts web pages to PDF. Having Acrobat DC features in Google Docs menus will save time for front-line office users, who previously needed to switch applications to accomplish the same tasks, said Kristen Riley, Adobe principal product manager for Document Cloud.
The Google Drive integration mirrors, almost feature by feature, a Microsoft Office 365 integration released last June.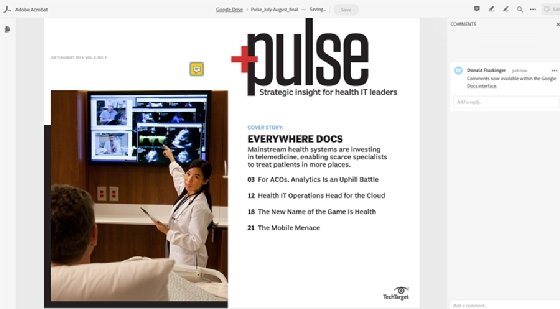 While small businesses all the way up to large enterprises use both Google's G Suite and Microsoft Office 365 productivity tools, Google's customers skew toward small- and medium-sized businesses. With the current rounds of Google and Microsoft Acrobat DC integrations, Adobe focused on efficiency gains for front-line knowledge workers, Riley said. Down the road, Adobe will experiment with combining Adobe AI capabilities with tools such as Google AI and the emerging Microsoft Cortex to improve document search for enterprise customers.
"For now, we're really solving knowledge worker productivity problems," Riley said. "There's a ton of PDFs in [customer document] ecosystems, and there's a ton of knowledge locked in those PDFs. There's a big opportunity to enhance the value of Office 365 and G Suite as well."
PDF ubiquity on the rise
While many applications can generate basic PDFs, Acrobat offers granular security controls, forms, tracking, embedded multimedia and editing capabilities other offerings don't. In general, PDFs generated in Acrobat still see strong usage among compliance-heavy verticals such as healthcare, legal and finance, as well as security-minded industries like manufacturing.
Putting Acrobat features in Google Drive's web-based document interface will reduce those users' reliance on the desktop when they need more advanced PDF handling features beyond Google Docs' native PDF export, said Duff Johnson, executive director of the PDF Association, an international group dedicated to PDF technology.
[PDF is] so big, and keeps getting bigger. Any technology that would come along and defeat it would have to do everything it does, first.

Duff JohnsonExecutive Director, PDF Association
Adobe invented the PDF file format in the 1990s, but it became a document standard when Adobe handed it over to the International Organization for Standardization (ISO) in 2008, no longer charging royalties for its use. While other document formats have come and gone, it has remained a format that locks in content and fosters collaboration for business-critical documents.
Johnson's group works to update PDF ISO standards for business, accessibility and archiving as document technologies evolve. PDF use continues to grow despite competition from cloud document providers and other formats, such as EPUB, according to Johnson. That's because PDFs can be passed around without logging into servers, PDFs have security settings that can limit whole documents or parts from being read, they can meet accessibility standards, PDF viewers are built into every browser, PDF files can be redacted and they can be viewed offline.
"There is no competing technology, at all. It's the only thing that does what it does," he said "It's so big, and keeps getting bigger. Any technology that would come along and defeat it would have to do everything it does, first."
Dig Deeper on Information management and governance