Getty Images
Top 10 PIM software products in 2023
PIM systems can come as standalone products, but many fit within larger digital experience platforms. Top PIM products include Acquia PIM, Precisely EnterWorks and Sales Layer.
Product information management systems help organizations centralize product information to improve sales, marketing and procurement processes.
Many PIM vendors have expanded their offerings from broad content management capabilities. For example, IBM and Informatica enhanced their master data management (MDM) tools to support product data. Other vendors, such as Akeneo, started in the product management space and expanded to complementary tools.
E-commerce leaders looking to purchase the right system for their needs should know how PIM systems have evolved and be familiar with top software products, which include Acquia PIM, Informatica Product 360, Precisely EnterWorks and Sales Layer.
The evolution of PIM systems
Early PIM systems supported online storefronts that united system back ends -- operational software components that end users don't see -- with UIs. Increasingly, vendors have begun to support headless architectures, which let users edit back-end data independently of the front end.
Headless architecture offers more flexibility and lets e-commerce teams change their sites' styles independently of the product information. In addition, it lets organizations integrate PIM system data with other applications, such as digital asset management (DAM), MDM, product experience management (PXM) and product lifecycle management (PLM) systems through APIs.
Many top PIM systems support a variety of related capabilities, such as DAM tools and content management systems (CMSes) to manage media, PXM to improve the delivery and measurement of customer experience, and MDM to enforce data standards and governance of product information. Additionally, these systems may also work with PLM tools as organizations develop products.
Many PIM systems have also adopted natural language generation capabilities to automatically generate product content, such as marketing copy and product descriptions. These systems can also improve recommendation engines, enhance procurement processes and let businesses experiment with different pricing models and packaged offerings.
Top 10 PIM software products
Explore the top 10 PIM software products that analysts believe e-commerce leaders should know in 2023. These products appear in alphabetical order, with summaries of their key features and capabilities. These tools were selected based on their strength in the market, breadth of capabilities and support for modern features.
1. Acquia PIM
Acquia started in content management and has gradually expanded into other areas, such as digital experience management. It added new DAM and PIM capabilities after it acquired Widen in 2021. The company offers a complete suite of PIM, PXM and customer data management capabilities. It also added governance capabilities to help enterprises manage customer data and ensure compliance with privacy regulations like GDPR.
This cloud-native platform uses a headless architecture, which lets organizations create e-commerce offerings across various Acquia and third-party services. It also includes tools to set up brand guidelines across partners that specify how to use product content. In addition, it lets e-commerce teams generate product catalogs across print, web and mobile channels.
Acquia PIM works across various industries, which include consumer goods and food and beverage. Additionally, its governance capabilities can support the sale of compliance-heavy products in the pharmaceutical, biotech, banking and insurance industries.
Pricing information is not readily available on the vendor's website.
2. Akeneo PIM
Akeneo started in the PIM space and has gradually expanded its capabilities. It launched its first version as an open source tool in 2013, and now its core offering is available as a cloud-native service with a headless architecture. In addition, the vendor added PXM functionality -- which enables personalization across channels -- to support omnichannel experience.
This system has broad adoption across various industries, such as consumer goods, retail products and construction supplies. It also supports catalog management capabilities that help e-commerce teams manage and change information about product portfolios.
Additionally, its headless architecture lets technical teams integrate its PIM capabilities with other tools through over 150 API integrations with third-party tools for e-commerce, DAM and analytics.
Akeneo offers three pricing tiers -- Community, Growth and Enterprise. The Community tier is free, whereas the Growth tier starts at $25,000 annually. Pricing information for the Enterprise tier is not readily available on the vendor's website.
3. BetterCommerce PIM
BetterCommerce launched an e-commerce offering in 2015 for medium-sized retailers and brands. Since then, it enhanced its core headless architecture to support various capabilities for PXM, PIM, order management, analytics and engagement.
BetterCommerce offers these capabilities as composable modules -- which are content services that organizations can mix and match as needed. These modules let product managers set up campaigns, analyze engagement and test out new pricing models. In addition, the system supports dozens of connectors with third-party services, which lets teams use interchangeable building blocks to create their own e-commerce stacks. The platform also supports APIs for warehouse management, customer management, subscriptions, inventory management and shipping.
In addition, the platform helps organizations plan campaigns and estimate product lines' margins to reflect sales at different price points and end-of-season discounts after the holidays. The platform also supports features that automatically promote or arrange product displays and marketing based on margins, availability or relevance.
BetterCommerce PIM can benefit small to medium-sized organizations in the consumer retail and construction supplies industries. Pricing information is not readily available on the vendor's website.
4. IBM Product Master
IBM added PIM capabilities to its MDM tool to streamline and manage data within the marketing and sales process.
The system's strengths include integration with other enterprise applications, collaboration support for suppliers and enhanced data stewardship. It also uses IBM's MDM infrastructure to help teams create data quality rules. Additionally, IBM Product Master supports persona-based dashboards -- basic UIs tailored to different user types, such as catalog managers, content editors and vendors. These dashboards surface relevant product, sales, profitability and data quality information to different roles within organizations.
Because of its focus on governance, this product can benefit existing IBM clients -- particularly those that market products in regulation-heavy industries like telecom, finance and banking. In addition, it can help streamline product information for larger retailers.
Pricing information is not readily available on the vendor's website.
5. Informatica Product 360
Like IBM, Informatica also expanded its core MDM capabilities to support PIM and builds data integration pipelines with a focus on data quality, which Product 360 relies on. The software can manage product data in concert with complex supply chains and customer data platforms.
The product also supports a range of complementary capabilities for PIM, PXM and DAM. In addition, it includes tools to integrate this data into Informatica's Claire AI and machine learning (ML) engine. This integration can help organizations assimilate new products and suppliers.
The system also includes tools to syndicate product data, which helps organizations share it with distributors and merchandisers. Additionally, the system can aggregate data from these parties to improve business planning and marketing efforts.
Informatica Product 360 can benefit existing Informatica customers that want to automate product management processes. The system's governance capabilities can also help automate privacy and regulatory processes for products and services in the banking, telecom, insurance and healthcare industries.
Informatica bases its pricing model on Informatica Processing Units, which organizations can purchase to unlock capacity across Informatica's various cloud services. Pricing information is not readily available on the vendor's website.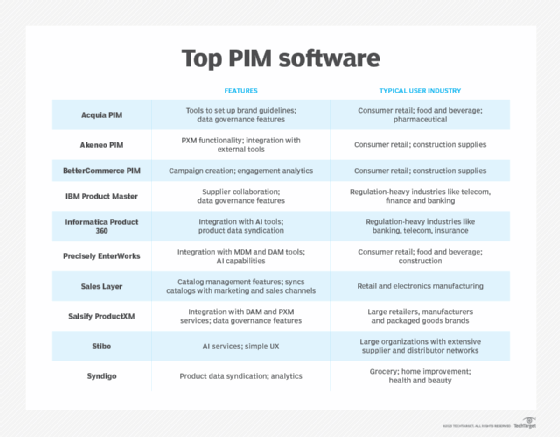 6. Precisely EnterWorks
Precisely is another MDM vendor, founded in 1968, that has grown to support more than 12,000 customers with its core data integrity offerings. It acquired Winshuttle in 2021 to build out a portfolio of complementary PIM and DAM capabilities as part of the Precisely EnterWorks product line.
Precisely has since integrated these PIM and DAM capabilities into its core product line and worked with a network of implementation partners to adopt more agile product management workflows. It supports a headless architecture that helps streamline data flow to procure components for new products and share product data with the distribution channel.
Additionally, Precisely EnterWorks supports a variety of AI and ML capabilities to enrich content, analyze data and syndicate product information across distributors. In particular, it can benefit the consumer goods, retail, food and beverage, and construction industries.
Pricing information is not readily available on the vendor's website.
7. Sales Layer
Sales Layer was founded in 2013 to improve the product management process. This product offers various tools that can strengthen PIM, support multiple sales channels and apply AI and ML to product management. These tools are cloud-native and support headless architecture, which lets e-commerce teams mix and match service components to meet their individual needs.
The product also offers catalog management features, which let managers quickly generate new catalogs for specific platforms or buyers. Sales Layer also aims to simplify how organizations connect catalogs to multiple marketplaces and sales channels. It includes modules and templates for e-commerce, retail and manufacturing. In addition, it supports major e-commerce platforms such as BigCommerce, Adobe Commerce and Shopify Plus.
Sales Layer can benefit medium-sized organizations in retail and electronics manufacturing.
The platform offers three pricing tiers -- Premium, Enterprise and Enterprise Plus -- each of which support a different number of users. Pricing information for these tiers is not readily available on the vendor's website.
8. Salsify ProductXM
Salsify launched its first tools in 2012 to help organizations manage e-commerce sales. Since then, it has built out complementary capabilities for PIM, DAM and PXM as part of its ProductXM branded offerings. These capabilities complement other Salsify offerings, such as CommerceXM, SupplierXM, SupportXM and ServicesXM, which can help retailers manage commerce, suppliers, support and services. It also helps integrate business partners with its CommerceXM Network.
The system also supports governance and data quality features to scale product management processes across an extensive distribution network. These features use various data modeling capabilities to specify product information, entities in supply and distribution channels, and tools that help validate product data across partners. For example, Salsify supports the Global Data Synchronization Network standard to improve data sharing -- a system which can benefit large retailers, manufacturers and packaged goods brands.
Pricing information is not readily available on the vendor's website.
9. Stibo STEP
Stibo systems evolved out of a printing company founded in Denmark in 1794. The company launched a product catalog management offering in 1976 to help large firms handle product information more efficiently. The Stibo Systems Enterprise Platform, also known as STEP, provides MDM and PIM capabilities for various industries, including retail, consumer packaged goods, manufacturing, distribution, banking, insurance and life sciences.
The company has evolved its core offering to support new IT models, cloud services and AI capabilities. Stibo also uses modern UX principles inspired by Google's Material Design -- a design language that uses grid-based layouts and depth effects -- to offer a simple UI. Stibo STEP can benefit large organizations that manage products and services data across an extensive network of suppliers and distributors.
Pricing information is not readily available on the vendor's website.
10. Syndigo
Syndigo was founded in 1973 to help share product data across large supply chains. In the past, the company's core product helped organizations share brand names, barcodes and product dimensions. However, over several decades, Syndigo evolved its core platform to include e-commerce, omnichannel distribution and AI services. The company bought e-commerce hubs for various industries and integrated them into its core product information syndication service.
In 2021, Syndigo acquired Riversand to bolster its PIM capabilities. Together, the tools can incorporate new suppliers and distributors and integrate product information into a single view. The product also supports extensive analytics capabilities.
Syndigo has a base in the grocery, home improvement and health and beauty industries. The system can benefit organizations that want to improve the management of product information in supported industries.
Pricing information is not readily available on the vendor's website.
Dig Deeper on Content management software and services