Getty Images/iStockphoto
How to choose the right PIM system for your business
PIM systems ensure sales channels display accurate product information. To find the right system, e-commerce leaders must first identify business goals and required features.
E-commerce leaders must make many important business decisions, including which product information management systems to choose.
PIM systems offer an environment in which e-commerce teams can collect, develop, manage and maintain critical product information from a centralized repository. This centralization helps digital retailers efficiently feed product data and digital assets to downstream systems, such as company websites and e-commerce platforms. A PIM system can help e-commerce teams assemble and manage product data in a dynamic, multichannel marketplace.
Information that PIM systems store include the following:
To help e-commerce leaders find a PIM system that fits their organizations' needs, they should first create a team of stakeholders, identify key goals and product features, and create a list of potential PIM system products.
Industries that benefit from PIM systems
Organizations in any product-focused industry can benefit from a PIM system. However, organizations in the retail and manufacturing typically rely on these systems the most.
Retail. These organizations use PIM systems to aggregate and manage product data from their inventory management and point-of-sale (POS) systems. Inventory management and POS systems manage items in warehouses and sales floors. Retailers can integrate PIM systems with these external applicaions to create a single source of truth (SSOT) for product data.
Manufacturing. Manufacturers use PIM systems to create an SSOT for their product data, which helps them offer accurate information to their customers, suppliers and marketing channels.
PIM systems offer manufacturers a unified view of product information that includes COGS. This view lets manufacturers optimize product pricing as supplier prices change, which can increase customer satisfaction and boost sales. Additionally, manufacturers can use PIM systems for asset management because PIM software can track the availability of product components for tools they use on the manufacturing floor.
How to choose a PIM system
The PIM systems that e-commerce leaders choose can affect their organizations' sales and marketing performances, so they should follow best practices before they select products. The following recommendations can't guarantee success in the PIM system evaluation process, but they can help e-commerce leaders avoid the most common pitfalls.
1. Create a team of stakeholders
E-commerce leaders should gather key personnel from all relevant departments, which may include product development, marketing, sales, technical documentation, product support, inventory management and IT teams. In the absence of a PIM system, these teams try to manually gather and use the most accurate and up-to-date product data they can find. They know the pain points in the current systems and workflows and can help e-commerce leaders understand which features and integration capabilities the organization needs in its PIM system.
2. Define goals for system evaluation and implementation
After e-commerce leaders assemble a stakeholder team, the team should define project goals, such as the methodology they use to evaluate a system. They should also set a goal for the length of time they expect to wait before the implementation delivers measurable results.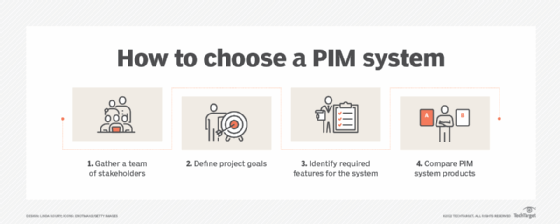 3. Identify necessary features
E-commerce leaders should define their PIM system product requirements and document them. For example, if an organization must integrate its PIM system with other software like inventory control, procurement, web sales or POS systems, the stakeholder team should make note of those requirements.
The stakeholder team should gather information about the PIM system's required capabilities in a product requirements document. This document should catalog the features and capabilities the prospective PIM system must offer, as well as those that it may or can have. The team should also evaluate each potential system based on these requirements and any other weighted criteria, such as budget limits.
4. Evaluate PIM system products
Once e-commerce leaders devise their criteria and methodology, they should create a list of PIM systems to evaluate. Although they should look at vendors that specifically focus on their organizations' market, they should also evaluate vendors that market their PIM products for other industries. Some vendors market their PIM systems for one industry even though their systems may work well for another.
As e-commerce leaders build their list of potential systems, they may end up with more systems than they can fruitfully evaluate. They can whittle down these lists based on product requirements. If one PIM system is too expensive or lacks must-have features, teams can remove it from their list.
PIM systems cannot help organizations overcome all e-commerce challenges. However, they offer a way to centralize product data management across their organizations. This centralization gives workers like engineering, manufacturing, sales, marketing and support teams access to trustworthy product information. Customers also benefit from this, as they experience consistent product information across sales and marketing channels.
Dig Deeper on Content management software and services