Agile companies are pouring resources into online health centers, and with good reason. Anticipating and answering your customers' most common questions helps to tame spiking tickets when teams are inundated or when staffing levels are low. More than 60 percent of agile companies (those who have kept resolution times stable, despite a surge in tickets) in our Zendesk Benchmark dataset have added new articles in recent months, while 15 percent have increased their staffing to ensure that content reflects the changing needs of their customer base.
Those already using self-service are leaning in
In periods of volatility, regular updates to the content in your help center can help answer common questions to your support team without the need for an agent to get involved. Companies that have kept resolution times stable during this period have relied heavily on their help centers, either adding new content or dedicating more resources to the effort. Notable standouts include:
B2B companies
Mid-sized (for new content) and larger enterprise companies (for increased staffing)
Digital natives like entertainment, gaming, and remote work companies
Asia-Pacific (for new content) and Latin America (for increased staffing)
A more common tool of B2C companies, it's actually their B2B counterparts that are adding new content (71 percent of agile B2B companies, compared to 59 percent of agile B2C) and agents (18 percent, compared to 14 percent) at a higher rate.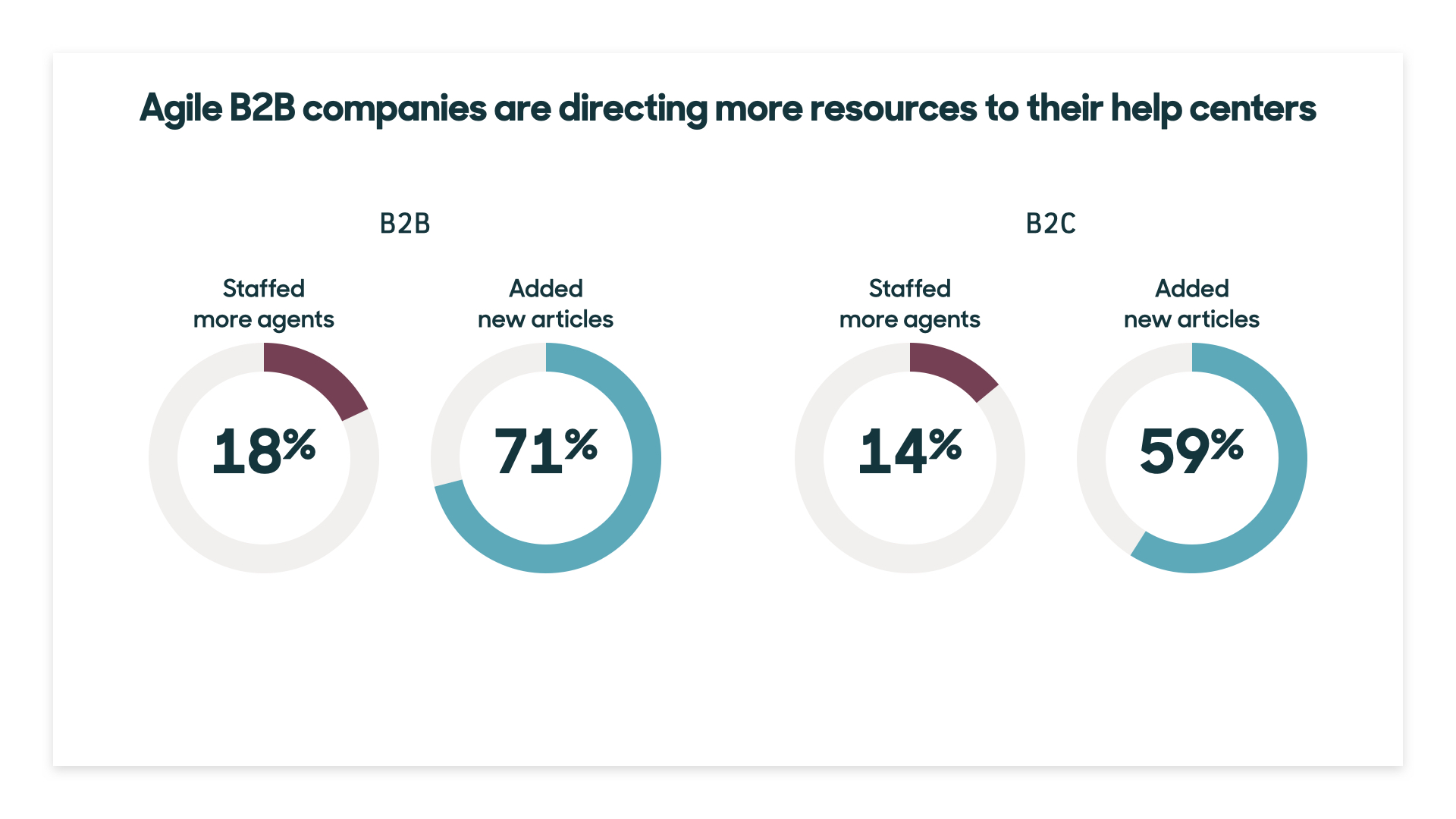 Also leaning in are sectors that predominantly live online, particularly those that have seen engagement soar during the pandemic (think entertainment, gaming, and remote work companies). Over 70 percent of these agile companies have added new articles to keep pace with evolving customer needs, and at least 1 in 5 have increased the number of dedicated agents.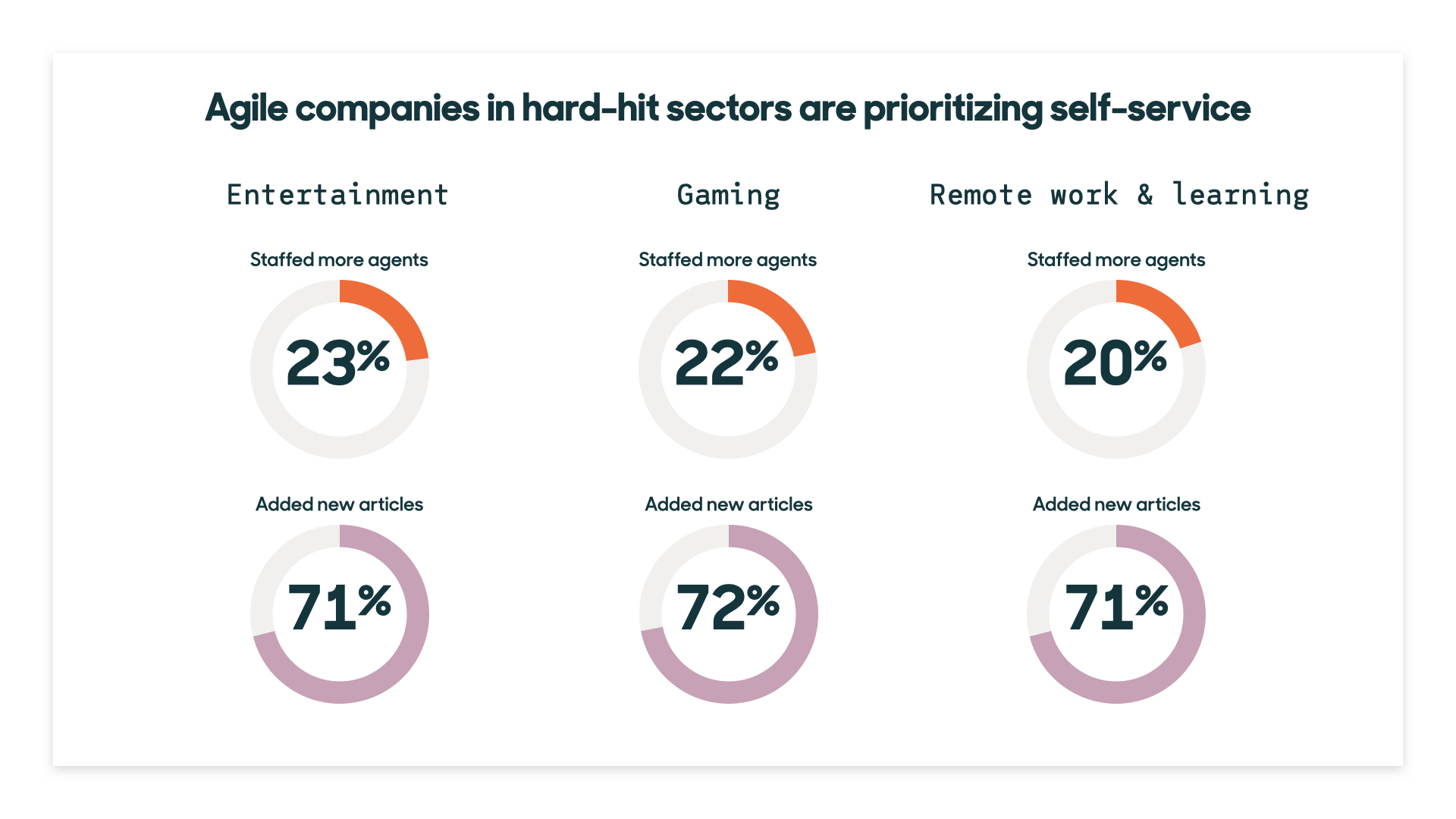 Across regions, new content creation is especially high in the Asia-Pacific (up 66 percent), followed by North America and Europe (both up 63 percent). And Latin America may lag behind in producing new articles, but it leads in assigning new agents; 1 in 5 agile companies in that region have boosted staffing on self-service channels.
Those who don't have it, are getting it
When it comes to adding new channels, agile companies are turning to self-service more than almost any other. Only chatbots had higher rates (see below). Self-service adoption is up nearly 30 percent compared to last year, with high rates for:
B2B and B2C companies
Mid-sized companies (100-999 employees)
Retail, social media, online health, and travel and hospitality companies
North America and Europe
No matter who you work with, be it businesses or customers, adding online help centers has become a priority. Adoption rates for agile B2B and B2C companies have risen steadily over the past year, with both groups seeing a 14 percent jump during the pandemic. And new adoption is especially high among sectors that have been heavily impacted by stay-at-home orders, including retail (up 106 percent), online health (up 57 percent), and the hospitality industry (up 31 percent).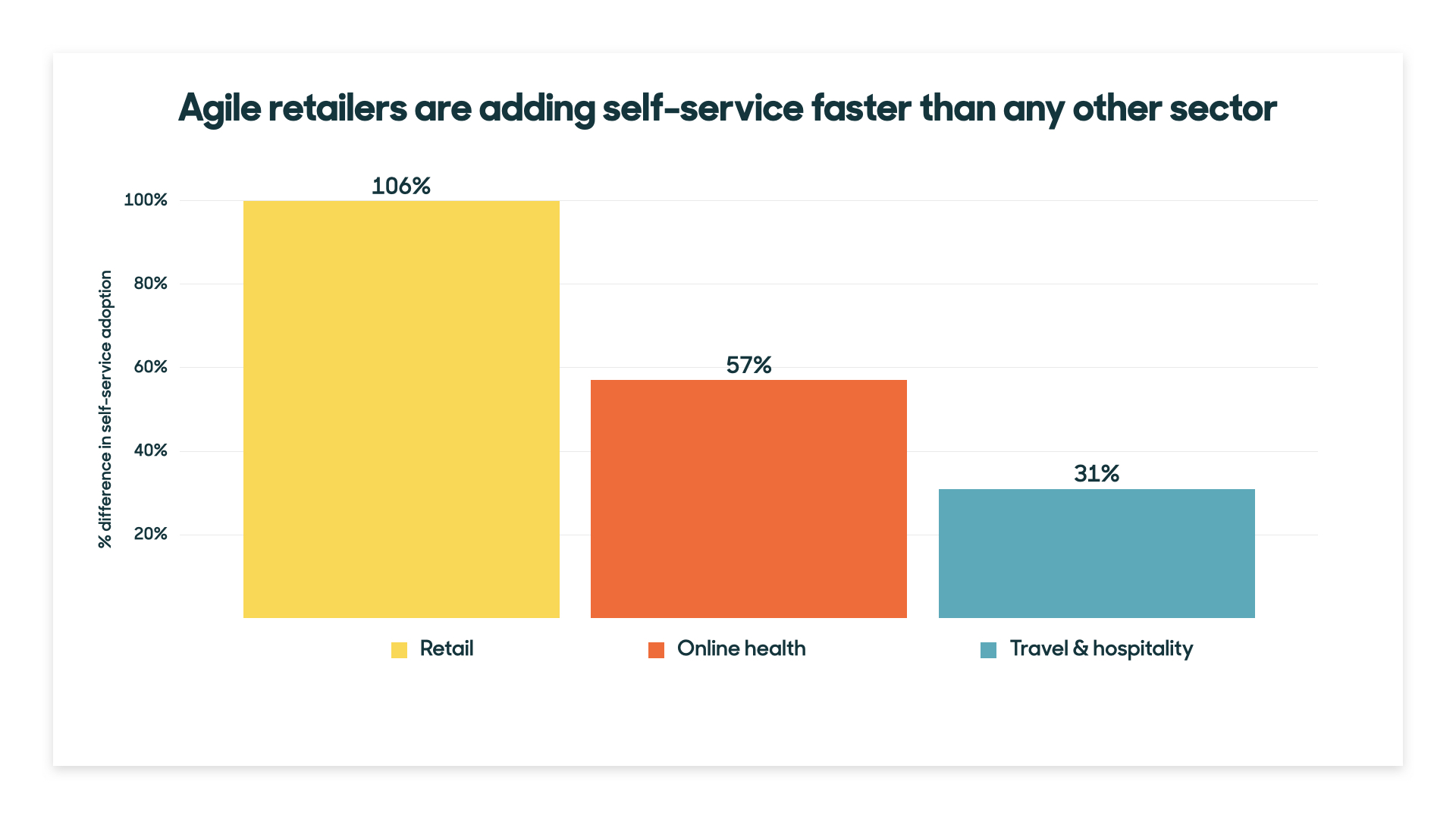 For smaller agile companies, self-service plays a critical role in keeping common customer questions out of an agent's queue. Adoption jumped 21 percent since February, with a 45 percent rise compared to last year.
AI can help
AI can be a useful partner by directing customers to helpful resources online, saving them (and your support team) valuable time and effort. Not only are agile companies adopting Zendesk's AnswerBot faster than any other channel, but those that already had it are increasing their use at an equally rapid pace. Adoption and usage has risen 43 percent since February, with relatively equal rates seen across company sizes, use cases (B2C, B2B), and regions.