Sergey Nivens - Fotolia
Grafana 7.0 from Grafana Labs expands data visualization
Distributed tracing data joins log metrics in Grafana 7.0 release, providing users with more ways to connect, observe and visualize data coming from different services.
Grafana Labs' namesake open source project, Grafana, released its 7.0 milestone on Monday.
The new release follows the open source data analytics vendor's Oct. 2019 Series A round of funding, which raised $24 million. With Grafana 7.0, Grafana added new connectors to make it easier for users to bring different data sources into a unified dashboard view.
Among the data sources that are now easier to integrate is tracing data that provides insight into how application operations are performing. Grafana 7.0 also boasts a new data inspection feature that provides a visual interface for users to better understand data sources.
Grafana Labs' customer base includes online insurance marketplace vendor EverQuote, based in Cambridge, Mass.
EverQuote uses Grafana for a number of applications including monitoring databases as well as streaming data metrics, said Matt Young, vice president of cloud engineering at EverQuote. EverQuote is now also testing using Grafana as the visualization layer for its cloud infrastructure and service monitoring stack.
"Our team is responsible for providing tools, patterns and infrastructure that enable our engineering teams to launch new services and applications quickly atop a cloud-native stack," Young said. "The ability to overlay and correlate data from a variety of sources has made Grafana a natural choice."
As an example of the correlation that EverQuote is able to do with Grafana, Young noted that EverQuote includes a dashboard that correlates metrics from application monitoring tools such as Dynatrace, Datadog and Worldping that bring multiple vantage points to monitor EverQuote's site responsiveness. He added that the Grafana Labs platform also enables his team to correlate custom metrics exposed by EverQuote services and infrastructure metrics as well as service deployment information.
The ability to overlay and correlate data from a variety of sources has made Grafana a natural choice.

Matt YoungVice president of cloud engineering, EverQuote
Looking specifically at Grafana 7.0, Young noted that the new framework for plugins to connect data sources is interesting as it lowers the barrier to entry to make service specific panels in the Grafana dashboard. Also, he said he's interested in an enhanced capability in Grafana 7.0 for data transformation that enable composite metrics across data sources.
Grafana 7.0 brings more data visualization from various sources
The data transformation capability in Grafana 7.0 is part of the overall theme that drove the development of the new release.
"The biggest change in Grafana 7.0 is a continued commitment to the process of unifying data from all the various sources," said Ryan McKinley, vice president of applications at Grafana Labs. "We made big improvements in the plugins system that lets you talk to data wherever it lives."
After a user connects with a data source, Grafana can now execute data transformations that enable different data sources to be joined together, McKinley added. At its most basic level, he said, the transformation feature is similar to what a user might do with a spreadsheet application, taking data from different columns and combining them in a single table together.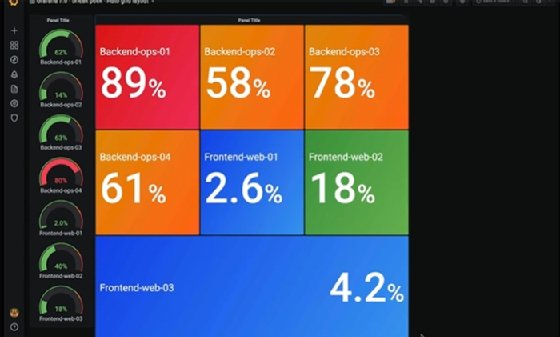 Before the Grafana 7.0 update, McKinley said Grafana Labs treated time series and tabular data as separate things. Those two core data types have now been unified into a single representation, by using the open source Apache Arrow project and its in-memory data layout.
Distributed tracing support expands observability
Enhanced support for tracing data is a key addition to Grafana 7.0. Distributed tracing provides a mechanism to profile and monitor applications so a user can better understand how different parts of an application are executing.
Tracing is a complementary data set that can be used alongside log data to give Grafana users more insight into operations. Log data provides an aggregate view of what an application was doing.
Tracing data provides a different view than log data, showing a more granular view of what the application was doing and how it executed an operation. By combing both log and tracing data in Grafana 7.0, McKinley said users will get better visibility.