Definition
disaster recovery as a service (DRaaS)
What is disaster recovery as a service (DRaaS)?
Disaster recovery as a service (DRaaS) is a cloud computing service model offered by third-party vendors that provides failover in the event of a natural catastrophe, power outage or other type of business disruption.
DRaaS offers an off-site disaster recovery (DR) capability that lets customers avoid the cost of maintaining secondary data centers. The approach has opened DR to organizations that wouldn't have been able to afford such a capability in the past.
Typically, DRaaS requirements and expectations are documented in a service-level agreement (SLA), and the third-party vendor provides failover to a cloud computing environment, either through a contract or on a pay-per-use basis. In the event of an actual disaster, an off-site vendor is less likely than the enterprise itself to suffer the direct and immediate effects, which enables the provider to implement the customer's DR plan even in the event of the worst-case scenario -- a total or near-total shutdown of the affected enterprise.
Importance of DRaaS
DRaaS is useful for the following types of disasters:
Power outages.
Equipment failures.
Cyber attacks.
Natural disasters such as floods, hurricanes or earthquakes.
Having a service back up an organization's mission-critical data in a separate location helps ensure the organization can rapidly recover from a disaster if one occurs. DRaaS services also typically provide the orchestration tools and resources necessary for disaster recovery.
Organizations can also use DRaaS to avoid the costs invoked by implementing their own DR process, as they would need to invest in a secondary data center infrastructure with compute, networking and storage resources.
According to a report from market research company Technavio, the compound annual growth rate for the DRaaS market is expected to grow more than 43% from 2020 to 2024.
How does DRaaS work?
A DRaaS provider offers its infrastructure to serve as the customer's DR site when a disaster is declared. The provider's offering includes a mechanism of some kind and a software application or hardware appliance.
The general steps in the DRaaS process include data replication, failover and failback. Replication is the process of replicating on-site data to a remote environment owned by the DRaaS provider. Regular snapshots of the selected servers are taken in the case of failure or if more data is frequently added to the server.
Failover occurs during a disaster where end-user access is moved to the DRaaS provider's secondary site. This process should ideally happen quickly to avoid any possible downtime for end users.
Failback is the process of moving data back from the DRaaS provider's secondary site to the original site. As soon as the failback process is complete, the replication process is started again. End users might experience higher latency when their data is running from the cloud, however.
Some DRaaS services take responsibility for handling the whole process, while other DRaaS services require the customer to take on some or all of the management chores.
DRaaS models
Customers can choose from one of the following three DRaaS models:
Managed DRaaS. A third-party vendor is responsible for the entire DR process, including replication, failover and failback. This model can be valuable for small and medium-sized businesses (SMBs), which often lack in-house experts, resources or capital to execute a DR plan. The ability to outsource infrastructure is another plus for smaller organizations, which typically balk at the facilities and equipment costs of running a DR site.
Assisted DRaaS. The customer is responsible for implementing either some or all of the DR plan, while the third-party vendor offers its expertise in optimizing DR procedures.
Self-service DRaaS. The customer is responsible for all of the planning, testing and management of the DR plan. The customer handles each stage of the DR process while using the vendor's service. Organizations with skilled workers who have experience with DR are ideal for this model. Self-service is also typically the cheapest of the three models to use.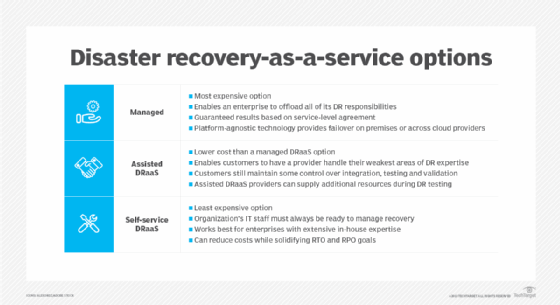 DRaaS advantages and disadvantages
Disaster recovery as a service offers business continuity benefits as well as some drawbacks.
DRaaS advantages include the following:
Eliminates the need to establish and equip a secondary data center for DR purposes.
Doesn't require like-for-like duplication of storage hardware between the primary data center and the DR site.
Provides DR capabilities for SMBs that lack the necessary expertise to create an effective DR plan.
Frees in-house IT staff to focus on other systems, applications and projects.
DRaaS disadvantages include the following:
Businesses must trust the service provider to implement their plan in the event of a disaster and meet the defined recovery time objective (RTO) and recovery point objective (RPO).
Organizations must rely on a service provider's security when failover occurs.
Possible performance issues with applications running in the cloud.
Potential for bandwidth challenges, particularly with continuous data replication.
DRaaS vs. BaaS
DRaaS fails over processing to the cloud so that an organization can continue to operate during a disaster. The failover notice can be automated or manual. The DRaaS operation remains in effect until IT can repair the on-premises environment and issue a failback order.
In backup as a service, an organization decides which files it will back up to a BaaS provider's storage systems. The customer organization is also responsible for setting up its RTO and RPO service levels as well as its backup windows. A BaaS provider is only responsible for data consistency and restoring backed-up copies of data.
What to consider before choosing a DRaaS provider
Before implementing a DRaaS service, an organization should consider the following:
The DRaaS model. Vendors with managed, assisted and self-service DRaaS options enable an organization to choose the degree of responsibility they want to have in the DR process. Likewise, each service option varies in price, typically with self-service being the cheapest option.
The SLA. Different vendors provide SLAs with different standards, so it's important to check the SLA for stated responsibilities and to ensure a vendor can meet any recovery time requirements.
The cloud environment. If an organization's data is distributed in a multi-cloud environment, the vendor must be able to replicate data from each environment.
Reliability. Ensure the vendor can meet its SLA and determine what happens in the scenario where the vendor has an outage.
Testing processes. It's important for organizations to regularly test their DRaaS to ensure it works as expected. The vendor might allow nondisruptive testing, but there might also be a charge incurred in the process.
DRaaS providers
DRaaS vendors range from companies that focus exclusively on data protection and storage to large IT and cloud vendors. The following are just a few examples of vendors and their products:
Acronis Disaster Recovery.
AWS Elastic Disaster Recovery.
Axcient x360Recover.
Bios Middle East.
C&W Business DRaaS x86.
Carbonite Server.
Databarracks.
Datto Siris.
DRaaS for Oracle
Druva Data Resiliency Cloud.
Expedient DRaaS.
Flexential DRaaS.
IBM Resiliency DRaaS.
Iland DRaaS.
Infrascale.
InterVision Cloud Disaster Recovery.
Microsoft Azure Site Recovery.
Net3 Technology.
Quorum OnQ.
Recovery Point Systems.
Sungard Availability Services DRaaS.
TierPoint.
Unitrends Backup and Recovery.
VMware Cloud Disaster Recovery.
Zerto.
Learn how to implement DRaaS in 12 steps.
This was last updated in
April 2023
Continue Reading About disaster recovery as a service (DRaaS)
Dig Deeper on Disaster recovery planning and management