Denys Rudyi - Fotolia
AI network security tool autonomously does microsegmentation
To ensure network security, a U.S. law firm has turned to automated network microsegmentation vendor Edgewise. The startup uses machine learning to deploy microsegmentation.
For Goulston & Storrs, a top U.S. law firm specializing in real estate, network security is paramount. The firm, which has offices in Massachusetts, New York and Washington, D.C., handles large amounts of sensitive client information.
To help ensure security, Goulston & Storrs turned to 3-year-old Edgewise Networks, a vendor of an AI network security platform.
The vendor, headquartered in Burlington, Mass., sells a platform that uses AI and machine learning to automatically implement and maintain zero-trust network microsegmentation. It can run on cloud, hybrid cloud and on premises.
Automated microsegmentation
"There's a huge reliance on human beings to perform certain tasks on a regular interval to maintain security," said John Arsneault, CIO of Goulston & Storrs.
Edgewise does that automatically, he said.
"It puts almost zero strain on the IT and security professionals" while improving security, Arsneault continued.
Microsegmentation is the process of breaking down a network into smaller segments to make it more difficult for an attacker to access a whole system. Each segment acts as its own barrier: If an attacker broke into a system, the intruder would only be able to get to a single segment first, rather than the entire system.
This type of zero-trust system assumes someone will break in and attempts to lock the attacker in one small space, said Peter Smith, founder and CEO of Edgewise.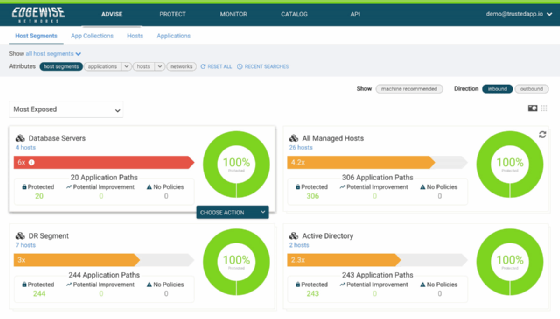 Machine learning models
It's not a new concept, and Edgewise isn't the only tool to help with microsegmentation. However, Edgewise positions itself as unique by touting how it uses automation and AI network security capabilities to speed up the time needed to create and deploy microsegmentation.
[Edgewise] puts almost zero strain on the IT and security professionals.

John ArsneaultCIO at Goulston & Storrs
What might take a client months to manually deploy can take Edgewise -- powered by AI network security models -- hours, Smith said.
The original idea came as Smith studied a can of cola, he explained. Smith noticed that each can has an identifying serial code on it. He figured if a can of soda has a unique identifier, software and devices must, too.
Smith discovered about 30 immutable properties to identify every piece of software, container and device in an entire environment. Those, along with telemetry data about how software communicates, go into a machine learning model to group together similar devices, software and relationships, forming the basis of a segmented network.
The groups, though presented to users at a high level, create segments that are generally 25 to 75 times smaller than if a person created them manually, Smith said.
Arsneault, who is a friend of Smith's, said he ran ideas by Smith while the Edgewise platform was still in development.
"I thought the idea was fantastic," Arsneault said.
Limited breach
With a flat network, a single mistake can cause a major breach, Arsneault said.
"Edgewise allows for [breaches] to occur, but once the person ... gets access to that particular account or system, they can't move around in the environment," he said.
Goulston & Storrs became one of Edgewise's first customers, and the platform took "almost zero effort" to deploy, Arsneault said.
However, it took some effort to refine the models at first, Arsneault said, but now, after two years of product updates, that process is much easier.
"I feel dramatically better than I did before we deployed this thing," Arsneault said. "It gives you an ace up your sleeve."
Dig Deeper on Enterprise applications of AI