Luis Louro - Fotolia
Bibb County School District cybersecurity efforts use AI
Using AI-driven cybersecurity from ManagedMethods, a Georgia school district blocks external threats and identifies potentially harmful language in student documents.
An alert automatically triggers in the Bibb County School District cybersecurity office if a staff member, teacher, or student types certain violent, bullying or potentially harmful word or phrases into a document on a school computer.
"I want to hurt myself. I hate my life. Cut. Depressed." These keywords, and ones like them, send a notification to Greg Hogan, the Georgia school system's network data security coordinator.
The alert, generated by cyber safety software from ManagedMethods, enables Hogan to then look into the document the person is typing in. Usually, it's a Microsoft Word file. Students in the sprawling urban-suburban public school system tend to use the documents as a type of chat system, passing shareable documents to their friends.
"Sometimes, they're just doing a report on something like mental health," Hogan said. Sometimes, however, it's a cry for help.
AI in cybersecurity
The school district in Bibb County, located in the heart of Georgia, is fairly new to advanced cybersecurity and cyber safety software.
Hogan, an IT and network professional who has been with the school district for about two and a half years, originated the network data security coordinator role. When he started, he said, the district's cybersecurity was a mess.
We were getting hit with a lot of phishing emails and had a lot of compromised accounts.

Greg HoganNetwork data security coordinator, Bibb County School District
"We were getting hit with a lot of phishing emails and had a lot of compromised accounts," Hogan said. There were existing security measures in place, but they provided no real insight into the content that was flowing in and out of the network.
Administrators lacked effective visibility into the network, Hogan said. So, after researching security vendors, the school district turned to ManagedMethods, a five-year-old startup based in Boulder, Colo.
The vendor sells an API-based cloud application security platform that claims to use machine learning to analyze use patterns and flag security incidents that deviate from a pattern, such as a login from an atypical location, for example.
The ManagedMethods platform also provides automated cyber safety features, including a self-harm model, a version of which the Bibb County School District cybersecurity team uses.
The model, trained on social media platforms and data on educational domains, can automatically identify harmful language in customers' cloud applications.
The entire ManagedMethods platform is cloud-native and is easy and quick to install, ManagedMethods chief product officer Sateesh Narahari said.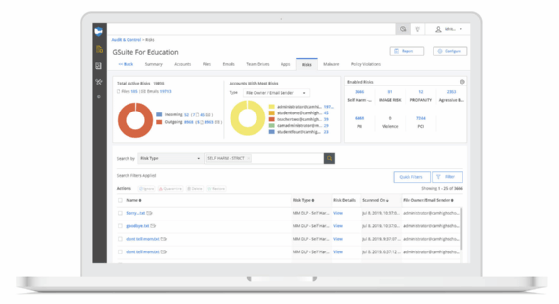 Easy setup
The system's ease of use is popular with the platform's user base, Narahari said, mostly state and local governments, school systems and midsize enterprises.
Hogan and the Bibb County School District cybersecurity team had the ManagedMethod platform running in a few days. After creating some initial logs and doing a deep system scan, the school system had a ready-to-use version of ManagedMethods deployed across its network and its Microsoft OneDrive cloud applications, which are used by both staff and students.
It took some tweaking after the initial setup, but that didn't take too much time, Hogan said.
Catching harmful keywords
The self-harm alert model, in particular, had to be modified. Originally, the framework was too sensitive, Hogan said, and registered too many false positives. Those have gone down following modifications.
If the system flags something now, Hogan looks at the document containing the flagged keywords. Depending on the context of those words, Hogan can then notify other school officials, and send information to the school system's counselors.
The counselors determine the best course of action, Hogan said.
So far, only a handful of incidents have risen to the level to which counselors had to get involved, and Hogan noted the importance of having a cyber safety system in place.
While students likely "don't know how much insight we have," it's not a privacy issue, Hogan maintained.
People like to think they're anonymous online, but anonymity can clash with safety precautions. In a school setting, where student safety is a priority, online anonymity doesn't work, Hogan said. The Bibb County School District has a well-defined policy against cyberbullying, he noted.
On the conventional cybersecurity front, ManagedMethods' software, combined with more trainings and information for staff and students, as well as built-in Office 365 security tools, has made "a huge difference" with phishing and malware, Hogan said.