zapp2photo - stock.adobe.com
IBM chatbot gives voting information to Idaho residents
By turning to IBM Watson Assistant, the state of Idaho deployed a chatbot to help voters get information about the primary elections, which were mail-in only, back in May.
In May, as COVID-19 forced businesses and public services to close, Idaho held its first mail-in only election. Despite the unprecedented turn of events, the primary election was a success, said Chad Houck, chief deputy secretary of state in Idaho. That's due in part to an IBM chatbot.
Houck, who has friends at IBM, had wanted to deploy a chatbot on the Secretary of State website for a while, he said. COVID-19 presented a prime opportunity to try one.
Making an IBM chatbot
The state chose to pilot a specialized election chatbot from IBM. Created with IBM Watson Assistant, Idaho made the citizen-facing bot available on its Secretary of State website.
Two Secretary of State employees worked directly with IBM to create the bot. There were some problems with the initial setup -- not with the tool, Houck said, but with how it was configured on his end. But, still, it took only about two weeks to set it up correctly.
"In a very, very short window, we were able to put up our preliminary questions and start running them through test cycles with our election team," Houck said.
The chatbot fielded common questions about issues, including voting deadlines and how to request a ballot. Some queries were already answered on the website's frequently asked questions page, but some voters had trouble navigating to the page, Houck said.
"It allowed us to basically put those answers on every page of the website, regardless of where the consumer was because the chatbot is always present," he said.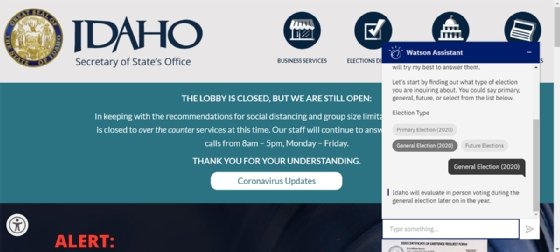 Saving time
Houck estimated that the bot took about 3,000 calls away from the department's call center over the course of 30 days, saving time for the department's staff members and enabling them to focus on more complex tasks. The Secretary of State department has around 30 full-time personnel, but only five are full-time elections personnel.
The department's staff works eight hours a day, five days a week. The bot, of course, could answer basic questions 24/7.
In a very, very short window, we were able to put up our preliminary questions and start running them through test cycles with our election team.

Chad HouckChief deputy secretary of state in Idaho
While Idaho's primary elections are long over, the bot is still up on the Secretary of State website. Residents can ask about the results of the primary election and information about the general election and future elections. While the bot doesn't currently provide much information on the general election -- other than to say Idaho is evaluating in-person voting -- Houck said his team will update the bot soon with more details.
The IBM chatbot is easy to maintain, he said. Houck is factoring the cost of the bot into his budget for next year.
"You have the ability to go in and see what questions aren't being answered ... [then decide] if you want to put some additional setup time into adding that into the knowledge base," Houck said.
Ahead of the U.S. presidential election on Nov. 3, IBM is offering Watson on the IBM public cloud to U.S. states for free for 60 days. IBM will help with the initial setup for the bot, which residents can use to get information on polling locations, voting hours, mail-in ballots and more.