il-fede - Fotolia
Insurance provider uses AI for legal to manage contracts
The legal team at Asurion, a major insurance provider, kept its documents spread out across filing cabinets, hard drives and the cloud. It turned to an AI platform to better manage them.
The legal department of Asurion, a multinational insurance provider based in Tennessee, had its contracts in multiple places.
The company kept contracts in old Microsoft SharePoint content management files, in filing cabinets and on employees' computer hard drives. Sometimes, it took days to find the right contract, with employees spending hours searching for it.
That changed when Asurion turned to LinkSquares, a Boston-based vendor of cloud-based, AI-powered contract management and analysis products.
AI for legal
Founded in 2015, LinkSquares enables users to input documents into a single platform and manage their contracts more efficiently.
LinkSquares' Finalize product, released this summer, provides legal and financial departments with the ability to draft, review and finalize contracts on a single contract lifecycle management platform. The product also enables organizations to track changes to contracts and see different versions of documents.
"Most companies don't know what's inside the agreements they already executed," said LinkSquares CEO and founder Vishal Sunak. "They can't track the data manually."
Meanwhile, the company's Analyze product uses machine learning, optical character recognition (OCR), and natural language processing, in part, to extract essential data from users' documents.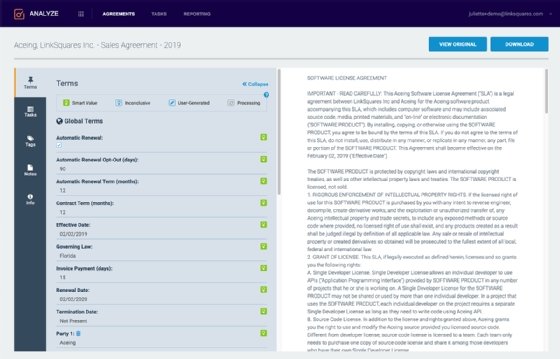 The platform can extract 50 pieces of metadata in less than five minutes and can extract single values to full paragraphs, Sunak said.
Users can perform searches for keywords, phrases and contract terms across their documents. The platform's analytics and AI for legal core automatically surfaces key data pieces, including the dates, terms, governing states and parties in a contract.
[LinkSquares has] been wonderful in terms of being able to find things quickly.

Ashley AdamsProgram manager, Asurion Legal
Using proprietary OCR software, the LinkSquares platform can digitize PDF files, transforming them into searchable text documents.
Law firms, according to Sunak, still have trouble handling PDF documents.
Saving time
Asurion certainly struggled with its documents. With documents spread out across binders, filing cabinets, hard drives and the cloud, the company's legal team sometimes took days or weeks to find the correct document.
Now that Asurion has uploaded its documents into LinkSquare's platform, however, it takes team members only an hour or two to find the correct record, said Ashley Adams, a program manager in Asurion's legal department. LinkSquares has "been wonderful in terms of being able to find things quickly," she said.
Customers can set up the LinkSquares platform, shipped with pretrained algorithms, in 30 days or less, Sunak said. The platform, he continued, is easy enough to set up and use without needing a software background.
Still, Adams said, Asurion spent a lot of time training LinkSquares algorithms by tagging documents. Employees still regularly refine and tweak tags, she noted.
Asurion has used the platform for about two years and has a strong understanding of the LinkSquares platform. Across all of its technology platforms, the company is now focusing on optimizing the user experience, asking its employees for feedback on the intuitiveness, ease of use and usefulness of the technology.
Once that is completed, Adams said Asurion will consult with LinkSquares and present a list of potential changes it would like to see in future updates.
Dig Deeper on Enterprise applications of AI