Laurent - stock.adobe.com
Energy secretary Rick Perry touts U.S. government AI efforts
The U.S. government is ramping up AI research and development efforts to try to stay ahead of China in both public and private sector AI efforts.
CHICAGO -- Even as he fended off questions about his involvement with Ukraine, Energy Secretary Rick Perry touted government AI efforts and said the U.S. is in a high-stakes battle for AI supremacy with China.
Perry headlined the InnovationXLab Artificial Intelligence Summit here this week, sponsored by the Department of Energy. The DoE oversees government AI research and development programs which are largely concentrated at 17 national laboratories, including the Argonne National Laboratory in Lemont, Ill. outside Chicago.
"The artificial intelligence effort in this county, I don't think it's ever been more focused, ever been better funded," Perry said during a media event at the summit. "We're in a great competition with our friends around the globe, particularly China. They're spending massive amounts of money and are really focused on this."
Asked about his role in the recent controversy over U.S. relations with Ukraine, which precipitated congressional Democrats' impeachment inquiry into President Donald Trump's dealings with Ukrainian president Volodymyr Zelensky, Perry said he is ready to answer questions from Congress.
Perry has met at least three times with Zelensky since the former Texas governor has been energy secretary, including once as a stand-in for Vice President Mike Pence.
High performance computing and AI
The summit focused heavily on the convergence of AI and high performance computing, which is expected to reach a high point in 2021 with the Aurora exascale computer project to be housed at the sprawling Argonne campus.
Aurora, touted as what will be the world's fastest supercomputer, capable of reaching processing speeds of 1 quintillion -- or one billion times one billion -- calculations per second, is a joint undertaking by Argonne, Cray and Intel.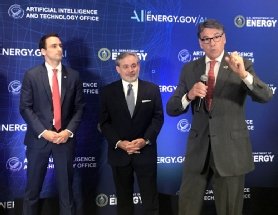 Argonne officials say they expect that computing power and architecture, built from the start for AI, to make possible breakthroughs in precision medicine, the energy grid and transportation.
Among the several hundred researchers, scientists and government AI officials at the summit here this week were also employees of private companies looking for the latest artificial intelligence technologies.
Piuter Kogan, a lead engineer for Deutsche Bank in New York, said he's interested in potentially collaborating with one of the national labs. He noted he was not speaking for his employer.
"There are many areas in banking and finance today that can benefit from high performance computing and AI," Kogan said.
These applications include risk management, order processing and fraud detection.
"One of the things the national labs have is about 10 to 15 years more data (than most private companies)," Kogan said.
U.S. vs. authoritarian regime use of AI
One of the conference keynoters, U.S. chief technology officer Michael Kratsios, maintained that the U.S. leads the world in AI research and development, noting a recent funding boost for the federal AI initiative.
Technology in the wrong hands threatens our values. China is not using facial recognition to make it easier to buy groceries. We know they are developing it to oppress their citizens.

Will HurdU.S. Representative
Kratsios contrasted U.S. government AI efforts with those of countries that he maintained use AI to control its citizens.
"We must continue to do it in a way that embraces American values. When we lead in AI, it will drive our free and prosperous future," he said. "Authoritarian regimes use technology as another way to control their people, using AI to surveil the population, limit free speech."
While Kratsios did not single out China by name, another keynoter, Rep. Will Hurd, a Texas Republican and former CIA agent, did so in emphatic terms, alleging that China has created a "surveillance state" in Guangdong province.
"We know that technology in the wrong hands threatens our values. China is not using facial recognition to make it easier to buy groceries," Hurd said. "We know they are developing it to oppress their citizens."
Government-private sector collaboration
Also at the conference, DoE and national laboratory officials highlighted collaborative projects that Argonne and other laboratories such as Los Alamos, Oak Ridge and Sandia have pursued with private companies.
The U.S. government AI program, while relatively unheralded, has been robust for more than a decade and has featured advanced research partnerships with large and small companies, noted Steve Conway, senior vice president of research at Hyperion Research. Projects have centered on AI, large-scale simulation and big data analytics.
At the same time, big AI users such as PayPal have pushed AI forward as enterprises seek to perform AI on exponentially increasing volumes of data, he said.
"Nobody has more experience than DoE at doing that. They're working with really, really big volumes of data," Conway said in an interview at the summit. "The (U.S.) government is definitely at the leading edge for this stuff."