AWS, NFL machine learning partnership looks at player safety
A new AWS and NFL partnership aims to use AI and machine learning to reduce the risk of injuries to players. The partnership builds off of the companies' Next Gen Stats agreement.
The NFL will use AWS' AI and machine learning products and services to better simulate and predict player injuries, with the goal of ultimately improving player health and safety.
The new NFL machine learning and AWS partnership, announced during a press event Thursday with AWS CEO Andy Jassy and NFL Commissioner Roger Goodell at AWS re:Invent 2019, will change the game of football, Goodell said.
"It will be changing the way it's played, it will [change] the way its coached, the way we prepare athletes for the game," he said.
The NFL machine learning journey
The partnership builds off Next Gen Stats, an existing NFL and AWS agreement that has helped the NFL capture and process data on its players. That partnership, revealed back in 2017, introduced new sensors on player equipment and the football to capture real-time location, speed and acceleration data.
That data is then fed into AWS data analytics and machine learning tools to provide fans, broadcasters and NFL Clubs with live and on-screen stats and predictions, including expected catch rates and pass completion probabilities.
Taking data from that, as well as from other sources, including video feeds, equipment choice, playing surfaces, player injury information, play type, impact type and environmental factors, the new NFL machine learning and AWS partnership will create a Digital twin of players.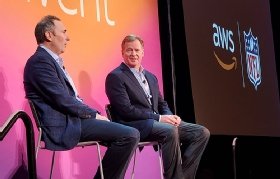 The NFL began the project with a collection of different data sets from which to gather information, said Jeff Crandall, chairman of the NFL Engineering Committee, during the press event.
It wasn't just passing data, but also "the equipment that players were wearing, the frequency of those impacts, the speeds the players were traveling, the angles that they hit one another," he continued.
Typically used in manufacturing to predict machine outputs and potential breakdowns, a digital twin is essentially a complex virtual replica of a machine or person formed out of a host of real-time and historical data. Using machine learning and predictive analytics, a digital twin can be fed into countless virtual scenarios, enabling engineers and data scientists to see how its real-life counterpart would react.
The new AWS and NFL partnership will create digital athletes, or digital twins of a scalable sampling of players, that can be fed into infinite scenarios without risking the health and safety of real players. Data collected from these scenarios is expected to provide insights into changes to game rules, player equipment and other factors that could make football a safer game.
"For us, what we see the power here is to be able to take the data that we've created over the last decade or so" and use it, Goodell said. "I think the possibilities are enormous."
Partnership's latest move to enhance safety
It will be changing the way it's played, it will [change] the way its coached, the way we prepare athletes for the game.

Roger GoodellCommissioner, NFL
New research in recent years has highlighted the extreme health risks of playing football. In 2017, researchers from the VA Boston Healthcare System and the Boston University School of Medicine published a study in the Journal of the American Medical Association that indicated football players are at a high risk for developing long-term neurological conditions.
The study, which did not include a control group, looked at the brains of high school, college and professional-level football players. Of the 111 NFL-level football players the researchers looked at, 110 of them had some form of degenerative brain disease.
The new partnership is just one of the changes the NFL has made over the last few years in an attempt to make football safer for its players. Other recent efforts include new helmet rules, and a recent $3 million challenge to create safer helmets.
The AWS and NFL partnership "really has a chance to transform player health and safety," Jassy said.
AWS re:Invent, the annual flagship conference of AWS, was held this week in Las Vegas.