New Amazon Kendra AI search tool indexes enterprise data
With Kendra, a new cognitive search tool from Amazon, enterprise users can more easily query their data. The tool uses machine learning and NLP to understand context, according to AWS.
LAS VEGAS -- Amazon Kendra, a new AI-driven search tool from the tech giant, is designed to enable organizations to automatically index business data, making it easily searchable using keywords and context.
Revealed during a keynote by AWS CEO Andy Jassy at the re:Invent 2019 user conference here, Kendra relies on machine learning and natural language processing (NLP) to bring enhanced search capabilities to on-premises and cloud-based business data. The system is in preview.
"Kendra is enterprise search technology," said Forrester analyst Mike Gualtieri. "But, unlike enterprise search technology of the past, it uses ML [machine learning] to understand the intent of questions and return more relevant results."
Cognitive search
Forrester, he said, calls this type of technology "cognitive search." Recent leaders in that market, according to a Forrester Wave report Gualtieri helped write, include intelligent search providers Coveo, Attivio, IBM, Lucidworks, Mindbreeze and Sinequa. Microsoft was also ranked highly in the report, which came out in May 2019. AWS is a new entrant in the niche.
"Search is often an area customers list as being broken especially across multiple data stores whether they be databases, office applications or SaaS," said Nick McQuire, vice president at advisory firm CCS Insight.
Unlike enterprise search technology of the past, [Kendra] uses ML to understand the intent of questions and return more relevant results.

Mike GualtieriAnalyst, Forrester
While vendors such as IBM and Microsoft have similar products, "the fact that AWS is now among the first of the big tech firms to step into this area illustrates the scale of the challenge" to bring a tool like this to market, he said.
During his keynote, Jassy touted the intelligent search capabilities of Amazon Kendra, asserting that the technology will "totally change the value of the data" that enterprises have.
Setup of Kendra appears straightforward. Organizations will start by linking their storage accounts and providing answers to some of the questions their employees frequently query their data about. Kendra then indexes all the provided data and answers, using machine learning and NLP to attempt to understand the data's context.
Understanding context
"We're not just indexing the keywords inside the document here," Jassy said.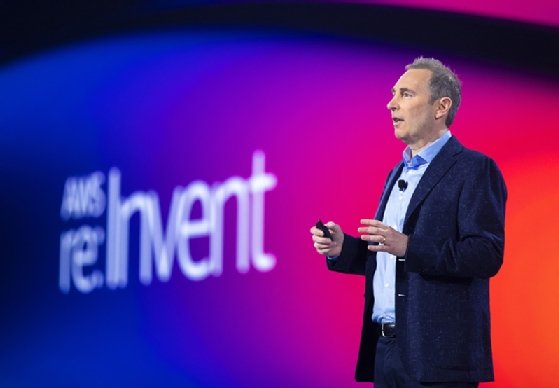 Meanwhile, Kendra is "an interesting move especially since AWS doesn't really have a range of SaaS application which generate a corpus of information that AI can improve for search," McQuire said.
"But," he continued, "this is part of a longer-term strategy where AWS has been focusing on specific business and industry applications for its AI."
Jassy also unveiled new features for Amazon Connect, AWS' omnichannel cloud contact center platform. With the launch of Contact Lens for Amazon Connect, users will be able to perform machine learning analytics on their customer contact center data. The platform will also enable users to automatically transcribe phone calls and intelligently search through them.
By mid-2020, Jassy said, Amazon Kendra will support real-time transcription and analysis of phone calls.