sdecoret - stock.adobe.com
AI platform helps medical company screen babies' eyes
Startup Iris Technology unveils its new platform for 200 users. Medical AI company Pr3vent uses the platform to train its AI model and remove bias from its model.
A startup has introduced an AI platform to help developers and enterprises train their AI models.
On Jan. 5, startup Iris Technology introduced the beta version of webAI, a no-code AI platform that it says requires less data and compute power for computer vision models.
Pr3vent
As an early user of webAI, Pr3vent found that the platform was most helpful in continuously feeding the AI model with data without retraining it.
"Instead of having to sort of develop an AI model for each data stream you encounter, all you have to do is encode it and feed it into webAI," said Pr3vent founder and CEO Jochen Kumm. The medical AI company screens babies' vision for defects.
Pr3vent was already developing an application that could detect abnormalities in newborns' eyes. However, Kumm said he realized after a conversation with Iris Technology co-CEO David Stout that webAI worked better.
"We have built an improved version of our algorithm already with webAI, and that makes life a lot easier for us," Kumm said.
What was unique about webAI for Pr3vent is that the AI model can evolve even as more data is added, he said.
"What webAI does and what we need to do as we see more and more patients is we need to continue learning," Kumm said. "That is much more like a human than a normal first-generation network."
An experiment
WebAI also helped Pr3vent determine if its AI model had bias when examining different eyes from different ethnicities.
Using the platform, the enterprise trained an AI algorithm on only Caucasian eyes, then only Hispanic eyes to determine how it would perform. Furthermore, the enterprise decided on how many Asian eyes an algorithm trained only on Caucasian eyes needed before it was medically correct.
"That's not something you can normally do," Kumm said. "You cannot normally say, 'How many babies do I need to add into my pipeline before I can be reasonably sure that the algorithm is actually doing what humans do?' But with this approach, where you can add data on continuously, you have many options to ensure that you're improving the AI in the right direction."
Using the platform for research
While webAI works for an enterprise such as Pr3vent that needs to input data continuously, it was also beneficial for Cornell researcher Thomas Urban. He was introduced to the platform about a year and a half ago.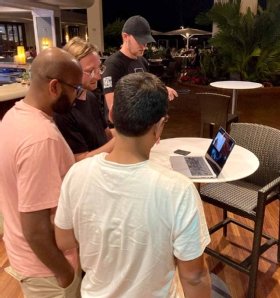 Urban develops models for ground-penetrating radar images of human burials and ice age footprints made by humans, mammoths and giant sloths.
"These cases benefit from AI because they can present a big data bottleneck for the human experts who would interpret the radar images," Urban said.
While Urban did consider other options for developing these models, he needed an edge-capable product. Moreover, webAI provides a platform that can generate a model at a lower curation threshold.
"This is an advantage when training on phenomena that occur at a lower frequency, such as some of the unusual cases I encounter," he said.
Needs improvement
As a new platform, webAI still needs some improvements, according to Kumm and Urban.
With this approach, where you can add data on continuously, you have many options to ensure that you're improving the AI in the right direction.

Jochen KummFounder and CEO, Pr3vent Inc.
For Pr3vent, there is a need to make sure the model is transparent.
"We need more documentation," Kumm said. "It needs to be easier for us to see how the algorithm is changing and building."
For example, he added a tool that shows whether a particular data fits the model would be helpful.
"You need to be able to distinguish between data that is expanding the horizons of your AI, and data that might be corrupted," he continued. "The tools for that are still rudimentary."
Currently, Iris is offering early access to webAI to 200 users. There is no fee to build and train models; charges begin upon deployment of models.