Windows 8 is a personal computer operating system that is part of the Windows NT family.
Windows 8 introduced significant changes to the Windows operating system and its user interface (UI), targeting both desktop computers and tablets. It is a touch-optimized platform based on the modern Metro design architecture, which specifies how applications are delivered and rendered in the UI.
Along with having a much different look and feel from its predecessor, Windows 7, Windows 8 also boasted faster startup times and better performance, but it failed to reach critical mass among business and consumer users alike.
Windows 8 major features
The lack of a Windows 8 Start menu marked a major departure from past versions of the operating system. Microsoft replaced the well-known Start menu with a larger Start screen, which provided access to applications and other resources through Live Tiles, a set of icons laid out in a grid. This design offered users an experience similar to that of mobile devices.
The OS also marked the debut of the Charms bar for accessing specific features, such as desktop settings and universal search. The Charms bar appeared on the right side of the screen and was available to users at any time, no matter what they were doing.
Windows 8 also came with USB 3.0 support, an updated Task Manager, Unified Extensible Firmware Interface Secure Boot and a number of preinstalled applications, such as Photos, Mail, Calendar and Messaging. In addition, Windows Explorer was rebranded File Explorer and included a Microsoft Office-like ribbon -- a bar across the top of File Explorer that features items users can click to create a new folder, copy a folder or accomplish other tasks. Windows 8 also provided file backup through the File History feature, which constantly protected users' personal files in several folders, including Favorites and Contacts.
When logging onto Windows 8, users provided their Microsoft online account credentials, unless they specifically overrode this default behavior. This approach allowed Windows 8 to synchronize a user's settings across devices.
The OS also integrated with the Windows Store and the SkyDrive cloud storage service -- now Microsoft OneDrive. Other features included improved multimonitor support, ISO mounting, refresh and restart capabilities, and Windows Defender -- Windows' built-in antimalware software.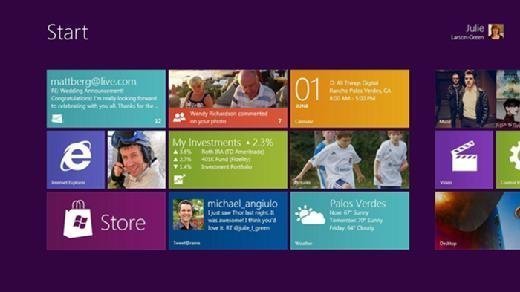 Windows 8 editions
Windows 8 was available in several editions. The basic consumer edition, sometimes referred to as Windows 8 (Core), was available in both 32-bit and 64-bit versions. The Windows 8 Professional edition built on the basic edition, but added corporate-related features, such as Remote Desktop connections, BitLocker encryption and domain-based capabilities.
The Windows 8 Enterprise edition, which primarily targeted Software Assurance customers, built on Windows 8 Professional, but added even more IT-related features. Microsoft also offered Windows 8 RT, a pared-down version of the OS for ARM-based devices, such as tablets.
Windows 8 had the following system requirements:
Processor: 1 GHz CPU or faster;
RAM: 1 GB for 32-bit editions and 2 GB for 64-bit editions;
Storage: 16 GB for 32-bit editions and 20 GB for 64-bit editions; and
Graphics: Microsoft DirectX 9-capable video card with the Windows Display Driver Model.
Windows 8 product history and reception
Microsoft released Windows 8 to manufacturing in August 2012 and made the OS generally available in October 2012. Upon Windows 8's release, Microsoft invested heavily in getting customers to upgrade from Windows 7 or earlier OSes, spending more than $1.5 billion in marketing, according to Forbes. By the end of January 2013, Microsoft had sold 60 million licenses, which included upgrades and OEM sales.
Windows 8 was met with mostly negative reviews. Despite its improved security and performance, many users revolted against the redesign, claiming the OS was confusing and counterintuitive, especially for users who did not have touch-enabled monitors and had to rely solely on keyboards and mice.
Many complained that what should have been simple tasks, such as shutting down the computer, turned into frustrating processes. Users took particular exception to the lack of the Start menu and the way the modern applications ran in full-screen mode, making it cumbersome to switch between programs and work with legacy programs.
Because of the overwhelming criticism, Microsoft released the Windows 8.1 update in April 2014. Windows 8.1 restored the Start menu and modified or removed other features.
In July 2015, Microsoft released Windows 10 to the Windows Insider Program and followed with a public version in November. The new OS disposed of the Start screen and Charms bar altogether and balanced the modern and legacy components.
According to a NetMarketShare report, Windows 8 represented only 1.35% of the desktop OS market as of August 2017. Most organizations that had been running Windows 8 have upgraded to Windows 8.1 or Windows 10.
This was last updated in
October 2017
Continue Reading About Windows 8
Dig Deeper on Windows OS and management