Fotolia
ERP reporting tool brings real estate firm closer to its data
Spreadsheet Server from Insightsoftware saves a real estate management firm time creating reports from its operational ERP system data and improving reporting processes.
ERP systems are the heartbeat of most companies, but getting useful data out of them isn't always easy.
Midwest Property Management, a real estate management firm based in Edmonton, Alta., struggled with this until it discovered Spreadsheet Server, an ERP reporting tool from Insightsoftware.
Midwest Property uses an ERP system designed for the real estate industry from MRI Software LLC to handle operational data, but the system lacked a robust ERP reporting tool, according to Joseline Leroux, property analyst at Midwest Property Management.
MRI couldn't deliver the kinds of reports Midwest needed to tailor for each level of management, Leroux said.
"MRI is a good operating software system," she said. "It does not have the best reporting software."
Spreadsheet Server enables Midwest Property to create financial reports that use real-time operational data and can be designed for specific users or functions. One analyst believes this more targeted functionality and ease of use differentiates Spreadsheet Server from more general-purpose business intelligence (BI) tools. She said she also believes the tool faces a crowded BI market and may struggle to gain recognition against more established brands.
Multiple ERP integrations
Leroux found Spreadsheet Server at an MRI user conference three years ago and was drawn to the software's ease of installation and integration with Excel. She described Spreadsheet Server as a "game changer" for any organization that currently runs ERP reports manually.
"Anybody who knows even a bare minimum about Excel can get up-to-date cash and accounting reporting directly out of the software in whatever format you want it," she said. "In the first year, with just the basic Spreadsheet Server license, we saved probably over 100 hours of reporting time. Before, we did everything manually, one at a time, every month, but this totally automates the whole process."
Insightsoftware's ERP reporting tools, which include Spreadsheet Server, provide capabilities that are often lacking in native ERP reporting tools, according to Mike Lipps, CEO at Insightsoftware, based in Raleigh, N.C.
"These ERP reporting tools only allow you to report on the data that's in the ERP, but many companies today have multiple data sources and sometimes multiple ERPs in the business," Lipps said.
Insightsoftware's tools integrate with over 140 ERP systems -- from the tier 1 providers, like SAP, Oracle and Microsoft Dynamics, to specialized vertical applications, like MRI.
"If you are a company that's growing through acquisition, you could have SAP as your ERP and then acquire other companies that use PeopleSoft and JD Edwards," Lipps said. "Most companies don't go through the time and expense to migrate all those ERPs to one system, so there's lots of data outside of the main ERP that you have to bring in to do financial reporting."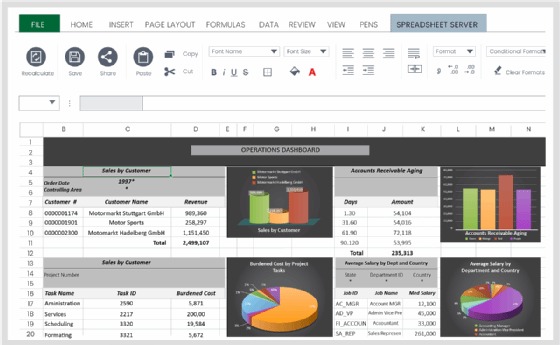 ERP timesaver
For Midwest, like any real estate firm, time is money. Leroux estimated that Spreadsheet Server has saved her department at least 20 hours each week in preparing reports. Midwest Property's accounting department also uses the ERP reporting tool and saves about the same amount of time.
"It's not that my group and accounting suddenly have all this free time on our hands; it's that we can add better value to the organization, because we're not spending all of our time formatting reports," Leroux said. "Now, we can create interactive dashboards for all the property managers and the VP [vice president] -- they get it the day that the cash closes. They can drill down on things, and it looks exactly like how they want to look at it."
Leroux can also respond to questions from property managers or senior management in real time during meetings, rather than taking days to prepare answers.
"Now, when they ask on-the fly-questions, I can answer them within about two minutes," she said. "It allows us to make more real-time business decisions."
Spreadsheet Server also provides Midwest Property a single view of its data right in the company's ERP system, and errors that were common with manual processes have been minimized, according to Leroux.
"We've gotten more and more accurate in all of our budgets and cash flows," Leroux explained. "We run pretty lean, so it's great to have something that just becomes a no-brainer."
Native ERP reporting tools lacking
Applications like Spreadsheet Server can be valuable for organizations, because they offer capabilities that native ERP reporting systems often lack, according to Chandana Gopal, research director for business analytics at IDC. The native reporting function may work for organizations that run only one ERP system, but this is pretty rare these days.
MRI is a good operating software system. It does not have the best reporting software.

Joseline LerouxProperty analyst, Midwest Property Management
"Very few companies actually operate on one single system of record, and most of them have multiple systems records -- ERPs or back office software systems. So, the reporting software has to put it all together," Gopal said. "To get good reporting -- the kind of financial reports that executives might make strategic decisions reports on -- you usually have to layer in something like [Insightsoftware's tools] on top of the ERP."
Insightsoftware integrates tightly with some specialized ERP systems for industries like manufacturing, real estate or oil and gas.
"It's a quick implementation for companies that are already running those ERP systems," Gopal said. "They can get and run reports better using Insightsoftware than from the [native ERP reporting], because it's so tightly coupled with these ERP systems."
However, Gopal said Spreadsheet Server may not be for every company, especially today with BI and analytics tools littering the market. Companies can select more general-purpose options from Qlik and Tableau, or they may decide to use several for different purposes or departments, Gopal explained.
"There are a number of tools available, and each line of business [LOB] might want to have a tool that works best for them," she said. "Insightsoftware is primarily used by the financial LOB, as opposed to a marketing, sales or general-purpose function."
More than just 'good enough'
Insightsoftware's tools face some challenges, according to Gopal.
The company was late in developing cloud applications, which puts it behind some of its cloud-first competitors. And, as a relatively small company, Insightsoftware lacks the brand recognition of more established competitors. Also, although Spreadsheet Server and other Insightsoftware tools are specialized for specific use cases like finance, some organizations may be satisfied with basic reporting tools that are just "good enough," Gopal said.
That's especially the case for small to medium-sized companies still running reports in Excel, which Gopal described as a significant competitor, "because it's free and is on everyone's desktop."
For other companies, they "might also have financial planning applications like Anaplan or Post Analytics that have reporting, as well," she said. "So, if you already have it for planning, that might be good enough."
However, Insightsoftware has the advantage in ease of implementation and use.
"They have templates, models and reports that are prebuilt that you can quickly ramp up, versus something like a Qlik or Tableau, where you might have to build those individual pieces because they are not designed for financial reporting," Gopal said.