Technology insights for the data-driven enterprise

pixeltrap - Fotolia
Major components maker ramps up AI in manufacturing
Artificial intelligence is making inroads into manufacturing systems. Case in point is printed circuits manufacturer Jabil, which uses AI to improve its processes and products.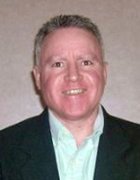 By
Artificial intelligence is slowly penetrating many industries and business processes, and that includes manufacturing, where AI is helping to improve operational efficiency and product quality.
One of the world's largest contract manufacturers, Jabil, is testing the capabilities of next-generation technology like AI and machine learning with promising results. Founded 50 years ago as a circuit board assembly company and now with more than 100 factories worldwide, Jabil produces products and parts for some of the world's most recognized brands. In the past couple of years, the company has been integrating AI into its traditional manufacturing systems, according to Jabil vice president of digital engineering and technology services Dan Gamota, who is one of the driving forces behind the company's plans to implement AI in manufacturing processes.
"AI is one of the digital building blocks that I think will become ubiquitous in terms of being a key element of all of the processes that we conduct throughout the entire product lifecycle management," Gamota said. "We typically categorize four ways of using AI -- for decision management, for image and video analysis, for robotic process automation, and we're just starting some machine learning platforms."
Computing advances make AI a reality
AI has been around for a while, but Gamota said the confluence of more compact computer systems, lower infrastructure costs and increased computer speeds has greatly increased the ability to analyze data for manufacturing systems. "This is the key for us because we're always positioned with problems, and the problem sets continue to get bigger and more complex," he explained. "So for us to be able to come down with the appropriate solution as quickly as possible, that means it's money. And with this digital transformation, we're able to do that."
Gamota and others at Jabil have been monitoring AI in manufacturing for a few years but have been very careful about bringing it into Jabil's factories because there's zero margin for error. They needed to make sure they had the right platform for AI and that AI would offer a clear advantage from day one. So Jabil has implemented AI only in a few carefully monitored use cases. Gamota reported that these steps are beginning to pay off.
Precise placement
In one case, Jabil assembles very small components in the form of a stack of optical modules, each with five different parts that need to be assembled to a precise tolerance. AI is embedded in the precision placement tool that determines how to place each component with the precision and tolerance that meets performance requirements.
"AI helps to do this as quickly as possible," Gamota noted. "Historically, it took somewhere on the order of 40 seconds, but now, we've got it down to about 10 seconds, so you can see there's been a reduction in time for assembly, which impacts and reduces cost. Also, because we are doing things in a very well controlled equipment set, we're able to reduce the bill of materials [BOMs]. In the past, we had to put in different lenses to compensate for the misalignment, but now, because we're aligned so perfectly, we're able to reduce the BOMs, which ultimately makes the customer extremely happy."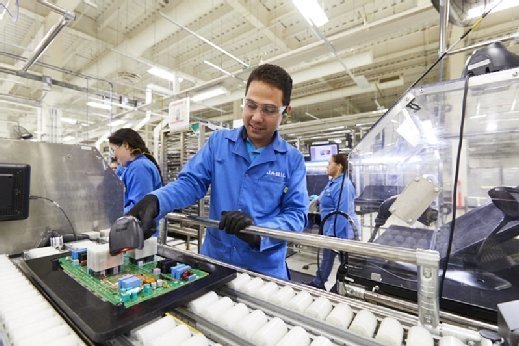 AI learns as it goes
Customer demand for high-quality products is the other main reason to apply AI in manufacturing, Gamota said. Modern devices need to be both cosmetically beautiful and free of blemishes and defects, and AI is an engineering tool that can deliver required levels of inspection without significantly increasing costs.
"For example if you take a product such as a mobile device," Gamota explained, "it has six surfaces, and each of those surfaces is a potential area for a cosmetic inspection. If you do this with a person, each person looks at it differently, they hold it differently. But using AI, we can build a platform that has a multi-axis arm that presents the object to an optics system that can take an image of the product surface and compare that to a reference and then decide whether it conforms to specs or not."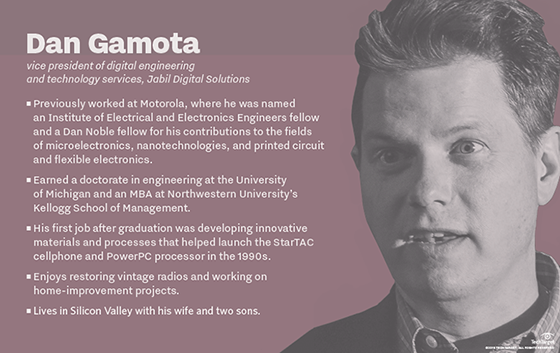 The AI in a manufacturing system can do that with increasing speed because it learns as it conducts each inspection, eventually getting better at it and performing each assessment more efficiently. "It's almost like a basketball player who practices shooting; after a while, they do very well because they have their favorite sweet spot," Gamota reasoned. "Because AI can most quickly determine the most common location for a defect and then it only focuses on that, it doesn't have to do a 100-point inspection; it will still do a 20-point inspection based on the most common defects that it observes, and you can see that it's beginning to narrow down the defects."
Putting together the digital building blocks
Gamota won't discuss which specific AI systems Jabil is using, since they're considered part of the company's "secret sauce," but the components manufacturer is constantly striving to put together an efficient and scalable system. "All of the systems that we use are vetted by the company CIO, who refers to them as the digital building blocks," Gamota added. "These digital blocks will always evolve, so we're trying to make a plug-and-play system that has to be scalable, has to have options and has to have interoperability of any of these building blocks."
AI in manufacturing is still in its early stages at Jabil and has been integrated into a little less than 20% of the company's processes. There's no timeline for accelerating AI adoption, but Gamota believes AI will become much more common in the near-term.
"As soon as you turn on a piece of equipment and you're monitoring the current, the vacuum pressure, and the nitrogen and temperature, all of a sudden you have a data stream, and you don't want all of the data to be analyzed, but you want to be able to monitor deviations outside the process window," Gamota said. "So probably every new equipment set that is deployed in the next 18 months will have some AI functionality either embedded in the platform, or you will have AI as an option one layer above the equipment. That's how fast this is happening."