buchachon - Fotolia
Three companies display 3D printing advances
Take a look at three printers from Nano Dimension, XJet, and HP demonstrated at the Rapid + TCT additive manufacturing conference that are prime examples of advances in 3D printing.
The 3D printing industry still represents a tiny fraction of manufacturing overall, but it appears to be growing, and it is showing signs of becoming at least a healthy niche.
Although it remains to be seen if 3D printing will live up to the hype, it's undeniable that the technology is advancing rapidly. There are a host of new advances in 3D printing technology, including machines, materials and processes, and it seems possible to 3D print just about anything in any size, from houses to microchips.
The 3D printing advances were on display at the Rapid + TCT 3D printing industry conference, held April 23-26 in Fort Worth, Texas. Here are three 3D printers of note.
3D printing electronic PCBs
Nano Dimension DragonFly 2020 is a commercial 3D printer for professional electronics. The printer uses two materials -- a conductive nano-particle silver ink and a dielectric ink -- that it ink jets simultaneously to build printed circuit boards (PCBs) layer by tiny layer, according to Galit Beck, Nano Dimension marketing and public relations manager.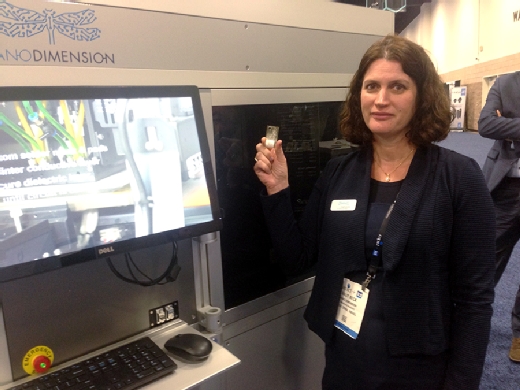 There are a number of advantages to 3D printing PCBs; for example, it gives electronics manufacturers a cheaper and quicker way to produce boards, which means they can test designs and dramatically reduce the development cycle. It also enables companies to keep intellectual property in-house, as they may no longer need to send PCB designs out to contract manufacturers.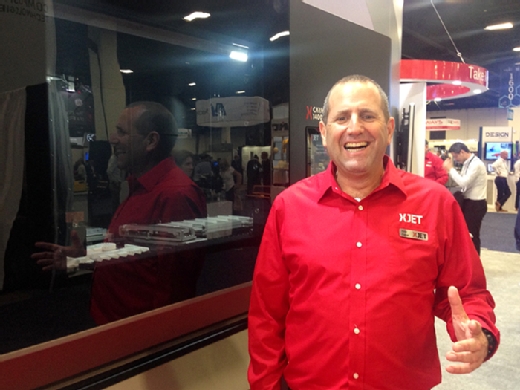 The DragonFly can print in sizes ranging from 7 inches by 7 inches down to as small as 2 millimeters by 2 millimeters. It also enables PCBs to be printed in various shapes that are not possible with traditional methods.
The DragonFly is best suited to large organizations with electronics engineering teams that need to develop and test PCBs, according to Beck.
Ink jetting for better quality
[The XJet Carmel] jets the material where it's needed; there's no bed of powder, you don't need to deal with dust, you don't need to deal with safety issues, and we can also take the particles to a much smaller size.

Dror Danaichief business officer, XJet
The XJet Carmel 1400, which prints metal and ceramic materials, is another one of the 3D printing advances demonstrated at the conference. The XJet Carmel uses a liquid-based ceramic or metal material and inkjet technology to 3D print parts or objects without using powders, which is the common material for ceramic or metal objects.
Using ceramic materials reduces the amount and time of post-processing, and it creates parts with high levels of detail, finish and design accuracy, according to Dror Danai, XJet chief business officer.
Post-processing can account for as much as 70% of 3D printing costs, Danai explained, and the XJet nano-particle jetting process reduces this cost dramatically. Further, a standard direct metal laser sintering process for 3D printing metal parts can need up to 13 stages of post-processing, while nano-particle jetting uses just five stages.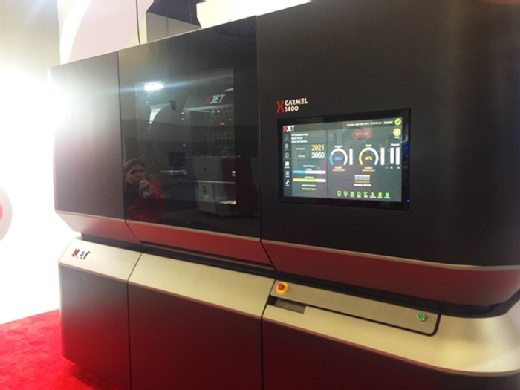 "[The XJet Carmel] jets the material where it's needed; there's no bed of powder, you don't need to deal with dust, you don't need to deal with safety issues, and we can also take the particles to a much smaller size," Danai said.
Industrial-grade 3D printing technology
The HP Jet Fusion 3D 4210 is an industrial-grade 3D printer technology designed to deliver production-grade parts faster and more cost-effectively than other 3D printers, according to the company.
The HP Jet Fusion 3D 4210 prints parts from powder in a build bed in two passes. One pass applies a layer of material on the print bed, while a continuous pass in the opposite direction prints fusing and detailing agents across the material. This pass combines printing and fusing energy that builds the part layer by layer at a rapid pace.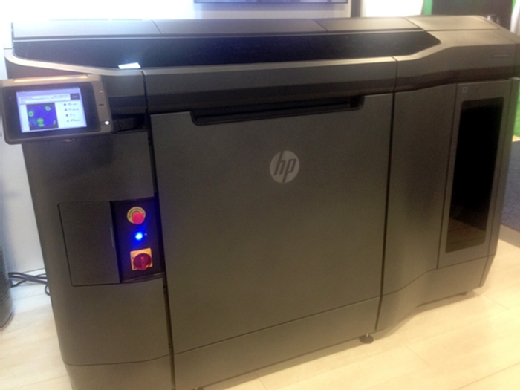 The effect is similar to looking at two scanners moving simultaneously across each other, potentially making several parts at the same time. Because of this approach, the HP Jet Fusion 3D 4210 can print many parts in the same time that it takes point processing 3D printers that use other 3D printing methodologies -- such as fused deposition modeling or selective laser sintering -- to make one of the same part.
Jabil Circuit Inc., one of the world's largest contract manufacturers, recently installed 12 HP Jet Fusion 4210 printers in its global network of 3D printing centers. There are three reasons why Jabil went with the HP Jet Fusion printers, according to John Dulchinos, Jabil vice president of digital manufacturing.
"First, they produce real characteristic parts with real properties on them, and a lot of printers don't do that," Dulchinos said. "Second, HP produces at a speed that makes us more cost-effective in the parts we're making. And third, it's HP, so if we set up in Singapore, HP's got operations there to support us and help us scale. They match Jabil's scale. The smaller 3D printing companies don't have the infrastructure to support a company like ours."
Next Steps
3D printing popularity continues to grow in various segments