grandeduc - Fotolia
Additive manufacturing industry still small but innovative
The Rapid+TCT 3D printing conference shows new developments in machines, materials and digital systems may fuel growth as an industrial manufacturing option.
FORT WORTH, Texas -- Additive manufacturing, or 3D printing, has been around for almost 30 years, but it has yet...
Continue Reading This Article
Enjoy this article as well as all of our content, including E-Guides, news, tips and more.
to make significant inroads as a viable option for manufacturers.
One of the key questions surrounding the additive manufacturing industry at last week's Rapid+TCT conference is when to use 3D printing in manufacturing processes. SME, the trade group that sponsors the conference, announced a partnership with Michael Grieves of the Florida Institute of Technology, GM and other AM industry users to create the Independent Technical Evaluation of Additive Manufacturing Consortium (ITEAM), which aims to help organizations decide if they should use 3D printing.
ITEAM is a web-based system of content and resources that helps answer questions like the following: Is the part something that should be manufactured by 3D printing? If so, what are the best machines, materials and processes to 3D print the part?
"Users need to have confidence to make decisions about the 'Can I?' or 'Should I?' questions [around 3D printing]," said Grieves, the executive director of the Center for Advanced Manufacturing and Innovative Design at the Florida Institute of Technology. "The goal is to build out a platform that will be a repository of information and resources."
Additive manufacturing industry moving ahead with innovations
Even though it's still relatively small, the number of advancements in 3D printing machines, materials and systems indicates a healthy industry, according to Pete Basiliere, research vice president for additive manufacturing at Gartner.
"After 30 years, it's still a pretty young industry. And for all of the manufacturers worldwide, there's only a small number of them that have a 3D printer in-house, and the majority of those are probably doing prototyping and very low-risk kinds of finished goods," Basiliere said.
"We're seeing more and more new technologies coming along -- new materials and software, as well as machines. So, it appears that there are some really strong and robust investments being made in the various technologies, and that bodes well for the [additive manufacturing] industry as a whole," he continued. "It's not stagnating."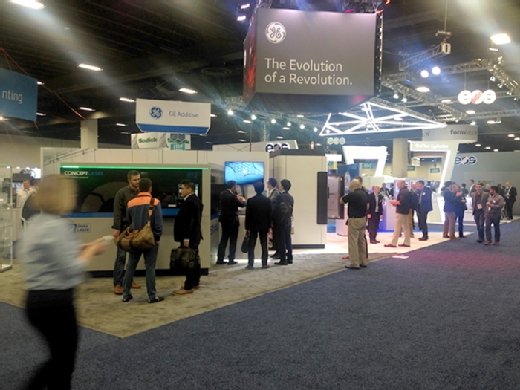 Manufacturer adds 3D printers to network
Jabil, one of the world's largest contract manufacturers, does the vast majority of its manufacturing with traditional methods, but it has a small and growing 3D printing network. The company announced it added 12 new HP Jet Fusion 4210 industrial 3D printers to its network of facilities in the U.S., China, Hungary, Mexico, Spain and Singapore. It also introduced the Jabil Additive Manufacturing Network, a software system that connects the 3D printing network with Jabil's SAP ERP systems, MES applications and other back-end systems.
What's really great now is that we're able to leverage the printers to produce functional parts that are going into products that we're making for our customers.

John Dulchinosvice president of digital manufacturing, Jabil
The 3D printers in the Jabil network are focused on printing production parts, not prototypes, according to John Dulchinos, vice president of digital manufacturing at Jabil, based in St. Petersburg, Fla.
"What's really great now is that we're able to leverage the printers to produce functional parts that are going into products that we're making for our customers," Dulchinos said.
Making a part for the electronic devices that Jabil produces can be much more efficient with 3D printing, rather than traditional injection molding, he explained.
"What we're able to do with the HP printer is we just print a distribution of parts all at once," he said. "Instead of keeping inventory, now we print the parts, clean them up, inspect them, put them on a cart, take them to the line, take the parts off and put them in a machine. So, it's real just-in-time manufacturing. You only use the parts you need, so you're not building up inventory."
The 3D printing network is only a small fraction of Jabil's $20 billion manufacturing business, according to Dulchinos, but it's growing at a fast compound annual rate.
"We know that, in three to five years, this will become a material part of what we do," he said. "You've got to start with these one-off projects and work your way up to the applications to start to scale."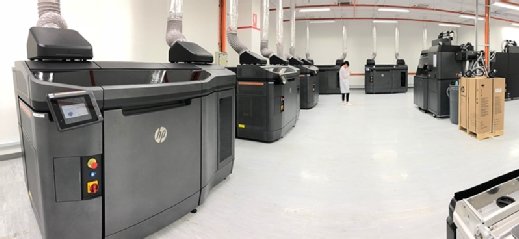 3D-printed parts in space
Advancements in machines and materials are making it possible to 3D print parts for very specialized use cases.
Stratasys, one of the largest developers of industrial 3D printers and materials, announced a partnership with Lockheed Martin to produce 3D-printed parts for NASA's Orion deep-space spacecraft. The parts are made possible by a new advanced thermoplastic material that Stratasys developed for its industrial F900 3D printers. The material, Antero, is a carbon-reinforced thermoplastic nylon that allows Lockheed Martin to produce parts that combine high tensile strength and heat resistance with light weight.
"These are two spaces we focus on -- tooling and aerospace parts. And within tooling, the carbon-reinforced parts allow us to replace metal tools in a lot of cases, because we can build lighter-weight tools with stiffness that approaches aluminum in a lot of cases," according to Scott Sevcik, vice president of manufacturing solutions at Stratasys, based in Eden Prairie, Minn. "The new Antero materials are able to be used in critical environments like the Orion spacecraft."
One critical aspect to helping the additive manufacturing industry grow is the software systems that connect the machines and processes. Some companies like Jabil have developed their own systems, but many more rely on a patchwork of ERP, manufacturing execution systems and other systems to send job orders to printers and integrate supply chain processes, for example.
Blockchain enters the digital workflow
Link3D, a software company based in New York, offers Digital Factory, a platform that connects systems and automates 3D printing workflows.
"We've introduced automation into [massive] industrial OEMs that are implementing AM," said Shane Fox, Link3D's co-founder and CEO. "We essentially connect their hardware and software by introducing automation throughout the process, which speeds up the manufacturing process."
To foster confidence in its digital network, Link3D introduced blockchain integration at Rapid+TCT.
"The whole point of blockchain is traceability, as the concept of automation freaks some people out, and you might have to hold their hands through it," Fox said. "The blockchain takes the part from the initial design through the entire cycle and [is] able to trace, track and audit that and make sure it's tamper-proof. It's really important to big OEMs to be able to fight against black market parts, for example."
"With blockchain, you can easily see the part at any time in the cycle, who designed it, where it was made, the materials that were used -- from the minerology, to the design, to the packing, to making, to post-processing, to quality inspection, right to the end user's hands -- you can track all that."