grandeduc - Fotolia
3D printing industry growth tied to specialized applications -- for now
Specialized production manufacturing drives 3D printing in three industries, but prototyping will remain the key use case in more mainstream applications.
DETROIT -- The 3D printing industry continues to grow by developing specialized applications for three industries: aerospace, medical and automotive. But widespread adoption across industries is still a long way off.
Several announcements made at the Rapid + TCT 3D printing industry trade show and conference reinforce the growth in innovation for 3D printing's main industries. The announcements included the following:
Smile Direct Club, a service that sends teeth alignment devices directly to consumers, will use HP Multi Jet Fusion 3D printing machines to produce individualized molds.
Medical startup Marvel Medtech will use the XJet Carmel 1400 3D printer to produce ceramic cryotherapy probes that can identify, freeze and destroy breast cancer cells when they are first detected.
The Renault Formula One racing team will use 3D-printed parts from Jabil Inc., one of the world's largest contract manufacturers.
The 3D printing additive manufacturing industry is well-suited for these industries, because it can execute on designs for specialized parts and use materials that are lightweight, extremely strong and heat-tolerant.
But producing 3D parts can be prohibitive for more conventional parts production. Industries like aerospace, medical and high-performance automotive are willing to pay because 3D printing parts can provide a competitive edge, according to John Dulchinos, Jabil's vice president of digital manufacturing.
"They'll pay for very expensive parts. So, when you go from prototyping and manufacturing aids to production parts, it's sitting in high-value markets today," Dulchinos said. "For example, with Renault's Formula One group, they're a lot like aerospace, because they're so on the edge of performance that they'll pay a premium if you can save weight and give them better aerodynamics."
Although the vast majority of Jabil's manufacturing is done with traditional processes such as injection molding, the company has made a significant commitment to 3D printing, with three production facilities and a research and development facility.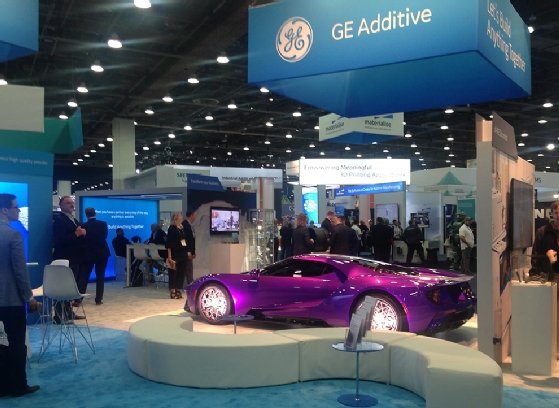 Still too costly for most
However, it will take time for the 3D printing industry to broaden its scope from specialized use cases to mainstream automotive, capital equipment, oil and gas, and consumer products.
Dulchinos said he believes the automotive industry will see more use cases in the next two to three years, such as 3D printing parts in special-edition vehicles that are made in runs of tens of thousands.
"It will be more cost-effective, because [auto makers] can charge a premium for that," he said. "But you have to be on your game with automotive, because these are real parts; they've got real liability associated with them. You have to be able to produce at a level of quality because, even if they're not mission-critical parts, they still have to meet strict production part automotive standards."
Aerospace, medical and high-performance automotive might be the three prime applications for the 3D printing industry, but any industry can use 3D printing processes, according to Pete Basiliere, research vice president for additive manufacturing at Gartner.
It's particularly useful for prototyping and producing manufacturing aids, like jigs and fixtures.
"When people think about how they can use 3D printing within their industry to improve the quality of the work that the assemblers do, maybe specialized tools that minimize assembler errors, then you'll see it taking off more," Basiliere said. "It won't be finished goods, but it's the fundamental things that make manufacturing work."
The announcement between HP and Smile Direct Club shows there are direct-to-consumer uses, particularly for personalized medical devices, Basiliere said.
"There's no question about it, it depends on the application. But there are certain things where there's mass customization, and you'll see more and more of that," he said. "But large-scale production is a long ways off, particularly because you have to have consistent and repeatable quality, which is a big stumbling block."
While widespread adoption may be a long way off, there are signs that the 3D printing industry is growing in interest, innovation and size.
The Rapid + TCT conference drew several thousand attendees to Detroit's Cobo Center, over half of whom were attending for the first time, according to an on-site poll conducted by SME, a nonprofit professional organization and the conference producer. More than 400 vendors displayed 3D printing machines, materials, products and services, and more than 130 were first-timers themselves.