pixeltrap - Fotolia
COVID-19 crisis opens possibilities for 3D printing industry
As the coronavirus outbreak disrupts supply chains, manufacturers may increasingly turn to 3D printing to move beyond prototyping and into producing quality parts.
The 3D printing industry plays a small part in manufacturing overall, but it may play a big role in helping alleviate supply chain disruptions caused by the COVID-19 crisis.
The 3D printing industry has been prominent in addressing some critical shortages of medical devices during the pandemic. At a time when manufacturers are experiencing difficulties in getting parts from overseas facilities, it may also provide a way to mitigate some of the massive disruption to the manufacturing supply chain. 3D printing, also called additive manufacturing, enables parts to be produced closer to where they will be used.
The demand for goods may push 3D printing out of its traditional manufacturing roles -- prototyping and making manufacturing aids like jigs and fixtures -- and into making production parts.
The 3D printing industry can serve as "bridge" manufacturing by filling the gaps for manufacturers until larger quantities arrive, said Terry Wohlers, principal consultant and president of Wohlers Associates Inc., an independent 3D printing consulting firm based in Ft. Collins, Colo.
The ability to go from design to printed parts is an advantage for 3D printing.
"For more than 30 years, 3D printing has been used by countless companies for prototyping, such as fit and function testing," Wohlers said. "It helps model and validate designs in the shortest time possible. Another one of its strengths is the quick turn-around of manufactured parts."
3D printing enables hands-free door handles
One example of how quickly 3D printing can go from design to production was demonstrated by Materialise, a 3D printing firm based in Leuven, Belgium.
Materialise recently designed and produced a plastic part that can be mounted to door handles so that people can open doors with arms rather than hands. The company also developed a similar plastic attachment for shopping carts that enables hands-free use.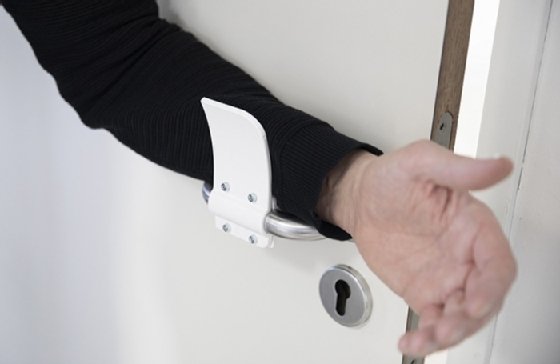 The door handle attachment was conceived as a method to help in its Leuven office, according to Kristof Sehmke, Materialise communications manager. The product was conceived on a Wednesday evening and the first prototype was printed by Thursday, Sehmke said. After another iteration, the design was finalized and made available online globally. It now has more than 50,000 downloads.
"They're being used by individuals who make it available in their own communities, they're being used by organizations and they're being used by hospitals," Sehmke said. "It demonstrates the power of 3D printing, to go from an idea being mentioned in a meeting to a physical product, including the whole design cycle, in 24 hours and then literally in a matter of a few more hours, it's available globally."
Filling in the supply chain gaps
The 3D printing industry will play a growing role in helping manufacturers fill in the gaps in their supply chains caused by the COVID-19 crisis, even if the 3D-printed parts are more expensive than traditionally made parts, said Jared Crooks, founder and CEO of A.M. Toolbox LLC, a 3D printing consultancy based in Powell, Ohio.
This is a particular concern for smaller manufacturers who run lean operations.
"Many of the small businesses that I've been working with are calling up saying, 'We have this bottle opener that was supposed to be delivered, but we haven't even heard back from the manufacturer. How much can you make these for?'" Crooks said. "We can make them for 9 dollars apiece, which is kind of expensive, but it doesn't matter. At least they're getting something, at least they're not stagnant right now."
Finding ways to continue production may help some companies stay in business, he said.
"This will tide them over," Crooks said. "They have people that they have to pay, they have marketing that's already been done, they've already promised people the goods, and now with people at home so much, they'll start to complain when they don't get their stuff."
Accelerating a slow revolution
The 3D printing industry has been a "slow revolution" within manufacturing, but the COVID-19 crisis may start to speed adoption, Sehmke said. He considers 3D printing a digital transformation technology, which can spur new business models and introduce new sources of revenue.
"We've seen an incremental increase in digital transformation technologies being adopted, not just 3D printing, and I think we're going to see an acceleration now, as people are realizing the benefits of these technologies," he said. "We're seeing some of that now where companies are using 3D printing as an alternative manufacturing technology for final products, not just prototypes, as they're dealing with stock issues, supply issues and transport issues."
The nature of 3D printing makes it valuable now as the crisis leads to an increase in demand for medical devices, but can be configured to make almost anything, said Greg Mark, founder and CEO of Markforged Inc., a firm based in Watertown, Mass., that makes industrial 3D printers.
Markforged has a worldwide network of around 10,000 cloud-connected 3D printers, and a part design can be shared instantly on the network, Mark said. This is currently happening with COVID-19 test swabs as well as with face shields for personal protection.
"The advantage of 3D printing is that it's instantly reconfigurable: You can switch from printing a face shield to a swab to a car part to an aerospace part instantly with no retooling," Mark said. "Probably the first thing that people will print are these face masks, but we're working with a number of customers on ventilators because there will be a shortage eventually. Customers can decide what they want to print -- face masks, ventilators or whatever -- in real time."
One of the main uses for 3D printing in manufacturing has been prototyping, but as the COVID-19 crisis supply chain disruption shrinks parts inventories, prototypes can replace production parts, Mark said.
Prototypes become production parts
"Lots of companies do prototypes with 3D printed parts. They will often throw out that 3D printed part and then switch to traditional manufacturing to save money," Mark said. "But many times, those prototypes have been qualified or validated for use. So, depending on the industry, they can sub back to the 3D printed part they used before."
The COVID-19 crisis has opened people's eyes to the fragility of supply chains and the lean manufacturing movement, which relies on parts being made for the lowest cost, Mark said.
"Lean is a phenomenal thing when the world is intact," he said. "You can have a factory anywhere in the world, get the lowest cost part, ship it for an unbelievably efficient rate and assemble it anywhere else in the world. That's the cheapest way to make things when the supply chain is working right, but now you see automotive plants shut down."
This gap can be bridged at least somewhat when parts can be 3D printed at the end destination, or much closer to it. 3D printing can also help by enabling companies to produce spare parts when needed rather than relying on inventory stocks, said Steph Sharp, CEO of 3DQue Systems Inc., an industrial 3D printing firm based in Vancouver, B.C.
"We're seeing a high demand for spare parts and emergency parts because the supply chain has been disrupted across the board, and we can print those parts if you're low on inventory and suddenly can't run your equipment because something's broken," Sharp said. "We also see that there's going to be a big shift to people wanting to build up more of a digital inventory and be able to respond in the future to supply chain disruption. They will start shifting their normal inventory over to a more digital platform and use smart factories to run that."
Digital warehousing and 3D printing allow companies to keep spare parts up to date and print them only when needed. Companies spend millions stockpiling spare parts that also run the risk of becoming obsolete after a few years, Sharp said.
"Instead of that, you can have digital files, which are quickly updateable, adaptable, flexible," she said. "You can put in new files, and then you just print them when you need them."
Increasing the capacity to meet demand
However, despite all the activity now, the 3D printing industry remains relatively small as a whole and probably doesn't have the capacity to take on large-scale manufacturing in the long term, Wohlers said. But "over the coming days and weeks, it can certainly help."
Research for the "Wohlers Report 2020," an annual publication that tracks the 3D printing industry, estimates that there are 46,842 industrial-scale 3D printing systems in operation in the U.S., with many of these machines having the capacity to produce hundreds of relatively small parts in two or three days.
"Add to this the estimated 870,320 small, desktop 3D printers installed in the U.S.," he said. "They do not have the speed or capacity of the industrial systems, yet they still offer an interesting capability. If 20% of them were put to work, making one part a day, that's more than 1 million [parts] per week."
One of the initiatives that can help grow 3D printing capacity is America Makes, a public-private partnership initiated by the White House in 2012 that brings together designers, manufacturers and healthcare providers in close collaboration with the FDA, the VA and the NIH, Wohlers said.
No one knows for sure if the 3D printing industry can meet the new demands created by the pandemic. "A lot depends on how well the capacity is organized and channeled to the right places," he said.