Fotolia
Priority Software mobile apps open ERP systems
Priority Software's mobile apps and Mobile App Generator improve access to its ERP systems and improve productivity for processes like inventory management and sales operations.
Traditional ERP systems were designed to be used inside large organizations well before the mobile revolution.
But that's changing, as mobile apps for ERP systems become more common. Priority Software, a firm based in Rosh Haayin, Israel, makes cloud-based ERP systems for SMB manufacturers and has recently released a suite of mobile apps intended to make its ERP applications more accessible for remote users.
The Priority Software ERP system now includes several out-of-the box apps, including its Mobile Sales Force App, Mobile Service App, Proof of Delivery App, Warehouse App (for WMS), Mobile Point-of-Sale (POS) App, Purchase Approval App and Employee Attendance App. The apps perform common processes like sales, purchasing, CRM and more.
Priority Software also introduced its Mobile App Generator, designed to enable app creation by non-developers.
Out-of-the-box apps
The out-of-the-box mobile apps are intended to get users up and running immediately, while the Mobile App Generator enables users to customize existing apps or build their own, said Nicole Lipper, Priority Software product manager.
"This means that if a customer wants to start using the mobile solution, they don't have to build their own app from scratch, they can use our apps," Lipper said. "We took all the best practices that we know and put them into these predefined apps."
The Mobile App Generator enables non-developers, such as systems administrators or business users, to modify the out-of-the-box apps to fit their needs or build apps from scratch, Lipper said.
The Mobile App Generator includes security and user-management controls; it uses an HTML 5 UI and runs on any Android and iOS mobile device or tablet. Apps can be created through forms. Users can drop a variety of functions into the apps, including email or text document sharing, barcode scanning and secure credit card processing.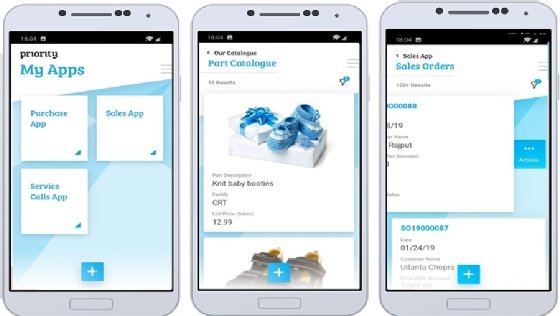 A game changer
The Priority Software mobile apps have been a "game changer" for Solara Adjustable Patio Covers LLC, a company that has been using Priority Software's ERP systems for 10 years.
Solara, a Phoenix-based firm that makes patio covers for residential and commercial customers, runs its operations on Priority, first on-premises but now as a cloud deployment, said Nadav Razon, CEO of Solara Adjustable Patio Covers.
"We use it for basically everything: managing stock, managing the quality control of the manufacturing process, shipping, accounting, lead generation, sales," Razon said. "It's in every aspect of the company."
However, the introduction of Priority Software's mobile apps has greatly improved productivity in operations and sales. Warehouse workers can use a Priority app on their mobile phones to more easily locate stock that could be stored in several warehouses.
They can immediately see on the inventory management app not only where the stock is, Razon said, but also what materials are designated for specific orders. This has greatly cut down on the amount of time workers spend trying to find materials.
"It's important for the guy on the floor to know where the materials are that he needs to grab; otherwise he needs to go to the production manager, and if the production manager is busy or working from home, he has to wait to get an answer or look for another guy to look for this material," Razon said.
The Priority Software apps have also made Solara salespeople more productive.
"When they're on the road, they can call up the client information really fast on their phones, and they can understand who they're talking to," Razon said. "Is it a big account or a smaller account? Is it a one-timer? They can know who they're visiting and deliver the right energy to the right client."
Salespeople can also get up-to-the minute information about where each order is in the production process, such as the ETA or payment information.
Solara worked with Priority Software to build apps that were specific for each process, and the apps only relay data that's appropriate for the user.
"The salesperson doesn't need to know if we have a beam in that warehouse, and the guy on the floor doesn't need to know what the gross sales of this account was in 2019, so it's all adjusted to the specific user," Razon said.