Getty Images
Oracle adds logistics features to supply chain platform
New functionality in Oracle Supply Chain Management helps companies more accurately track shipments and understand the provenance of product components.
Oracle Supply Chain Management is adding new functionality aimed at providing customers more transparency about and control over their shipments.
The new logistics capabilities are included in the updated version of Oracle Transportation Management (TM) and Oracle Global Trade Management (GTM), two modules within Oracle SCM. They are intended to help customers build flexible supply chains that are responsive to disruptions, according to Derek Gittoes, vice president of supply chain management product strategy at Oracle.
The two main new capabilities are the machine-learning based ETA Predictions and the Automated Trade Agreement Qualification.
ETA Predictions provides real-time updates and tracks shipments before and during transit to give customers accurate predictions about when goods will arrive. It also recommends actions that customers can take to reroute if there are disruptions.
Automated Trade Agreement Qualification lets customers obtain information on items in the bill of material (BOMs). This creates an auditable record of the provenance of parts that shows they can comply with trade agreement regulations.
Flexible prediction of ETA
ETA Predictions uses machine learning to analyze a customer's historical shipping activity and identify factors that have influenced the transit time. Those findings become the basis for predicting what the transit time will be, according to Gittoes.
Customers can use ETA Predictions to plan how they want goods to be shipped -- for example, choosing the logistics carrier and ports of delivery, he said. But it also works in real-time so customers can make changes if conditions change.
"Updates happen as the goods are moving, so the engine can redo the prediction and have a confidence indication on how true the prediction is," Gittoes said.
The Automated Trade Agreement Qualification analyzes the BOMs of individual products to determine if those products qualify for certain free trade agreements, he said. BOMs can be complex, with hundreds or thousands of individual components going into finished products, making it difficult for companies to manually determine if the products meet the requirements of free trade agreements.
In addition, the new features now have Logistics Digital Assistant capabilities that let users interact with them and gain answers to questions via natural language commands. Users can ask a question like "Where's my shipment?" or "Which orders are in danger of being late?" and the answer will surface via the Digital Assistant, Gittoes said.
The new capabilities are standard features for customers that already use TM and GTM. They are available now as part of the scheduled update of those products.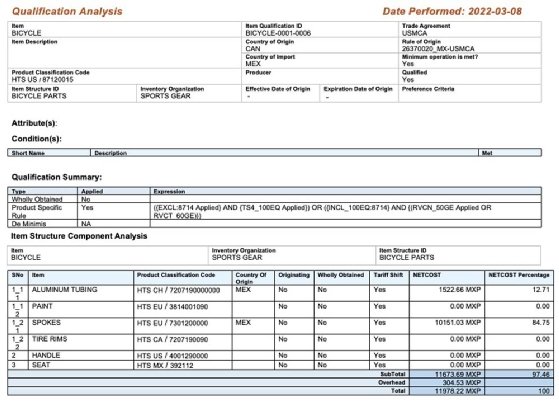 Improved ability to compete in logistics market
The new features are a worthy addition to Oracle TM and GTM and look like they are what the digital supply chain and logistics market needs, according to Predrag Jakovljevic, an analyst at Technology Evaluation Centers.
Oracle TM is a top tier logistics platform that already competes with transportation management vendors like Blue Yonder, Project44 or FourKites, Jakovljevic said. The Automated Trade Agreement Qualification capabilities in GTM will provide a strong challenge to supply chain visibility platforms like Infor Nexus and E2open.
"A digital voice assistant could be really good if it is ChatGPT-like, or it could be a gimmick," he said. "Everything else sounds like good capabilities -- just nothing earth shattering."
However, Jakovljevic noted that sustainability is an area that could be addressed by Oracle TM given the prominence of logistics and transportation in a companies' carbon reduction efforts. But is not in this release.
While there are no capabilities specifically focused on sustainability, there are features in Oracle TM that help companies capture and report on carbon emissions from shipments, according to Gittoes. Oracle is also working with the Global Logistics Emissions Council (GLEC) to incorporate its methodology for calculating and reporting on greenhouse gas emissions in logistics into TM.
"This is an area where we have major investment plans and are building out much deeper capability," he said.
Jim O'Donnell is a TechTarget senior news writer who covers ERP and other enterprise applications for TechTarget Editorial.
Dig Deeper on Supply chain and manufacturing