everythingpossible - Fotolia
How digital rounding tools are changing hospital practices
When nurses use a digital rounding tool, patients are happier and compliance rates are higher. Here's what KLAS Research found in a survey of 65 hospitals.
Forget the nurse with the clipboard. At a growing number of hospitals today rounds are made by nurses, doctors and hospital staff using digital rounding tools, which are a new and fast moving segment of the health IT market.
A just released report from KLAS Research looked at how 65 hospitals have implemented digital rounding tools today and considered ways the technology could evolve going forward. All hospitals "round" -- a practice as simple as a nurse checking in on a patient for vital signs. Digital rounding replaces pen and paper with electronic forms geared to the task at hand. The forms help ensure information is tracked and communicated and the process is more consistent.
For the organizations interviewed the main goals were clear: happier patients and improved compliance. In fact, 59% of hospitals said patient satisfaction was improved thanks to the use of digital rounding tools, while 37% cited improved accountability or compliance, and the same percentage called out immediate feedback and recovery. Participants in the survey said the digital rounding tools made it obvious that in some cases they weren't rounding often enough while others said the technology helped to capture and address problems before a patient was discharged.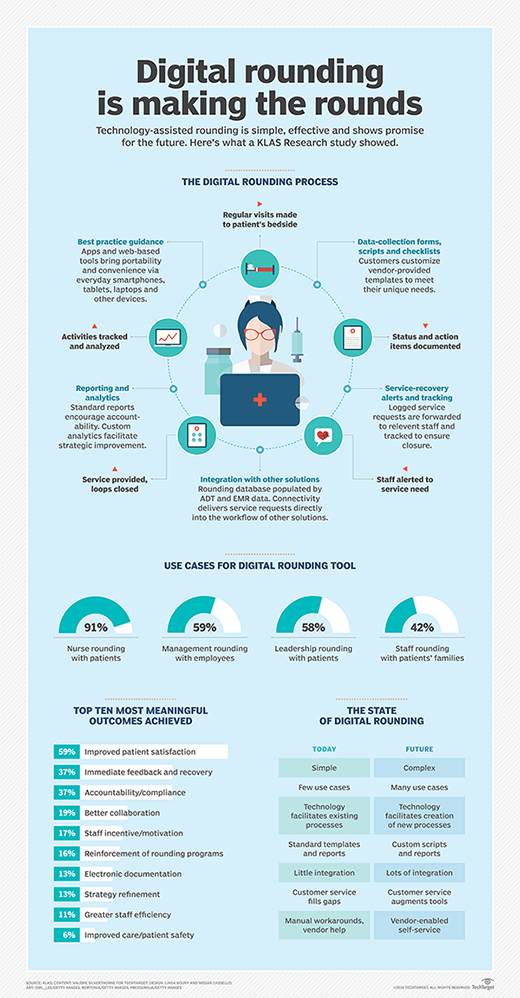 In most hospitals digital rounding tools were used in the traditional ways -- nurses checking on patients or family and hospital staff visiting patients, families or employees. But some healthcare facilities got creative and used digital rounding tools to monitor staff hand-washing or for employee recognition. Overall 91% of companies said nurses used digital rounding tools to interact with patients, while 59% of facilities management employed digital rounding tools to check in with employees. Hospital leaders "digitally rounded" with patients at 58% of those surveyed.
Based on the KLAS survey, the majority of digital rounding tools available today use standard electronic templates that have little to no ability to integrate and often need manual workarounds for customization. Going forward, the study authors predict the tools will evolve to support widespread integration with EHR, offer custom scripting and will be used across the hospital landscape.
Dig Deeper on Healthcare IT systems and applications