ake1150 - stock.adobe.com
Microsoft: Workers want hybrid work, not digital exhaustion
A hybrid work environment is the future at Microsoft and for most companies. In a recent survey, the vendor found that employees want some in-person activities to return.
Working remotely, as it turns out, is anything but focus without interruption. In a new report, Microsoft revealed that digital distractions have increased to the point of overload.
Microsoft analyzed a vast, global data set of 122 billion email interactions and 2.3 billion meeting interactions through Teams and Outlook. It found that time spent in Teams meetings increased 2.5 times during the pandemic, with the average meeting now 10 minutes longer than they used to be -- from 35 to 45 minutes.
"This barrage of communications is unstructured and mostly unplanned, with 62% of calls and meetings unscheduled or conducted ad hoc," Microsoft said in its report "The Next Great Disruption is Hybrid Work -- Are We Ready?"
"Digital overload is real, and it is climbing," the report, which was released Monday, stated.
The software giant also surveyed some 31,000 workers globally last month. Microsoft's analysis of those results is blunt: "One in five global survey respondents say their employer doesn't care about their work-life balance. Fifty-four percent feel overworked. Thirty-nine percent feel exhausted."
Hybrid work could ease digital overload
For its part, Microsoft is switching to a hybrid work environment and expects that working from home less than 50% of the time will become "standard for most roles," said Kurt DelBene, executive vice president of corporate strategy, core services engineering and operations at Microsoft, in a blog post Monday. On March 29, the company is planning a limited opening of its offices in Redmond, Wash., where it's headquartered, he said.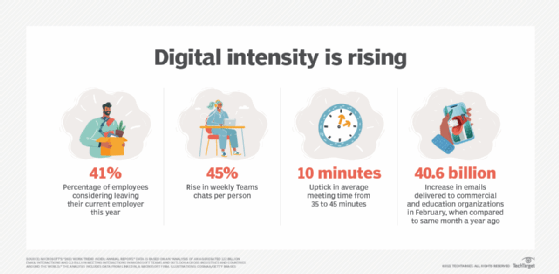 Microsoft's trends report found that 66% of firm managers are considering redesigning office space for hybrid work. It also found that nearly 75% of employees want flexible, remote work options to remain, and 67% want more in-person collaboration post-pandemic.
The idea of digital overload may have roots in employee insecurity, said Trevor White, an analyst at Nucleus Research.
People working at home may feel a need to prove that they are working, White said. "If I am sending out lots of emails and scheduling lots of meetings, I'm not doing yoga or whatever," he said.
White said he gets Zoom and Teams meeting requests for work that were once handled by phone. "Having a video call just necessitates a longer conversation versus doing it on the phone," he said.
We need a little bit of balance, and I think that's where hybrid work comes into play.

Kaumil DalalDirector, West Monroe Partners LLC
But Kate Lister, president of telecommuting research and consulting firm Global Workplace Analytics, believes that some of the digital exhaustion problems will work themselves out once people can meet regularly in person.
"I also think that just as handing me a paintbrush won't make me a talented painter, giving people technology that's designed to increase efficiency won't make them efficient," Lister said. "I suspect the majority of people who have adopted these tools in the last year are not using them effectively."
Kaumil Dalal, director at technology consulting firm West Monroe Partners LLC and a national leader of its digital workplace, agrees with Microsoft's findings of digital overload and believes that hybrid work will help with the problem.
"We need a little bit of balance, and I think that's where hybrid work comes into play," Dalal said.
Patrick Thibodeau covers human capital management and ERP technologies. He's worked for more than two decades as an enterprise IT reporter.