creative soul - Fotolia
Biden's $3T rebuilding plan may boost reskilling, upskilling
President Biden's plan to spend trillions on building the nation's infrastructure is likely to include funds for job reskilling and upskilling partnerships.
President Joe Biden is getting ready to unveil a multitrillion-dollar infrastructure spending plan that's expected to help business reskilling and upskilling programs.
"We're going to invest in American workers and American science," Biden said at his press conference Thursday. The White House said Biden will travel to Pittsburgh on March 31 to detail the infrastructure plan.
The goal of the spending plan "is to rebuild the infrastructure, both physical and technological infrastructure in this country, so that we can compete and create significant numbers of really good-paying jobs," Biden said.
The Biden administration has released little information about the infrastructure measure. It's likely to be in the range of $2 to $3 trillion and will reportedly have funds for advanced training.
The investment of federal dollars into HR programs may help reskilling and upskilling programs, as well as learning industry R&D efforts. It could also help drive AI improvements and the use of technologies such as virtual and augmented reality, industry officials said.
Government has that ability to be the great accelerator.

Al SmithCTO, iCIMS Inc.
"Government has that ability to be the great accelerator," said Al Smith, CTO at HR applications vendor iCIMS Inc., about the possibility of government help.
Biden has been a supporter of private and public reskilling and upskilling partnerships. In 2014, as vice president, he announced the recipients of $450 million in job-training grants to community colleges partnering with more than 400 employers nationally. The effort called for support of upskilling "and innovative learning tools."
Josh Bersin, an industry analyst and head of the Josh Bersin Academy, is among those who believe the Biden infrastructure spending bill will include advanced training.
"I hope this funding goes into strategic investment in corporate skilling programs focused on new needs in the economy, but it's hard to tell," Bersin said.
Feds need a training strategy
Bersin said funding for reskilling and upskilling needs a coordinated approach. "Almost every administration had a reskilling initiative, and it usually resulted in a lot of fanfare and then the money being sent to various educational institutions and training providers," he said.
"I hope this time we have an overarching strategy and some measure of results from this investment," Bersin said.
Mike Bollinger, vice president of strategic initiatives at Cornerstone OnDemand Inc. in Santa Monica, Calif., echoed Bersin.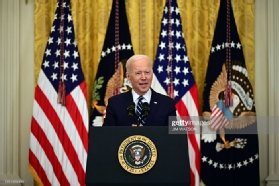 Some federal programs fund childcare for people while they get training, and others provide career counseling and various grants, Bollinger said. But these programs have been run "in isolation" by governments, he said.
A "broader, uniform approach" for how money is spent on training is needed for the most effective results, Bollinger said.
While the funding strategy might provoke debate, experts tend to agree on the rationale. In separate interviews, Smith, Bollinger and Lars Hyland, chief learning officer at Totara Learning Inc., cited increases in automation and digital transformation as drivers for reskilling and upskilling. They pointed to the World Economic Forum's 2020 future of jobs report that warned millions of jobs will be displaced by "the new division of labor between humans, machines and algorithms."
The World Economic Forum estimated that 50% of workers will need reskilling in five years because of automation and digitalization. Employers expect to offer reskilling and upskilling to just over 70% of their employees by 2025, according to the report. Some companies have already pledged to invest in providing their employees the opportunity to acquire new skills. In 2019, for example, Amazon announced a five-year-plan to spend $700 million to upskill 100,000 U.S. workers.
"This pace of change I can't see slowing down -- I can only see it accelerating," Hyland said. Workers will need to "learn how to learn -- almost like a meta-skill," he added, echoing a point made by the World Economic Forum.
"Giving people that ability to be curious and take responsibility for their learning is a root skill," Hyland said.
For Bersin, the conversation also needs to change from job displacement to skills mismatch. "As far as jobs 'going away' -- actually the opposite is happening," he argued.
"The recruiting market is red hot, so we are not lacking jobs -- we just lack skills in the right place," Bersin said. "And these are problems the federal government can help with."
Where does President Biden stand on job training?
Oct. 9, 2020: "We're going to make four years of public college and universities tuition free for any family that makes less than $125,000 a year. We're going to make community college and job training programs free for all hardworking Americans that qualify." -- Then-candidate Joe Biden, Las Vegas [Source: Rev.com transcripts]
Sept. 29, 2014: Vice President Biden announces $450 million in job-training grants. The announcement said, in part that grantees "will work with business and industry to upskill thousands of low-wage, low-skill workers and expand competency-based accelerated training pathways to in-demand jobs in information technology, manufacturing, health care and other fields." [Source: President Obama White House archives]
Feb. 27, 2012: It is "important to forge partnerships between community colleges and businesses to train workers with the skills that employers need for jobs that are open right now." -- Vice President Biden, North Carolina [Source: President Obama White House archives]