Getty Images
As H-1B visa registrations near 1M, odds of a visa decline
The new H-1B electronic registration system is seeing explosive demand that significantly reduces the chances of winning a visa in the lottery. It might also be expanding fraud.
The electronic H-1B registration introduced in 2021 is sending visa demand to new heights -- and possibly increasing the amount of fraud. It's also significantly lowering the chances of winning a visa in the lottery.
Eligible H-1B registration increased from 269,424 in 2021 to 758,994 this year, a 182% increase. If the trend continues, registrations could reach 1 million in 2024.
In years past, an employer sponsoring someone for an H-1B visa might have had a 30% to 50% chance of winning one of the 85,000 H-1B visas issued annually. But this year, chances dipped to 15% because of record H-1B visa registrations submitted.
The chances of winning a visa in the lottery are "abysmal," according to immigration attorney Andrew Greenfield, managing partner at the Washington office of Fragomen, Del Rey, Bernsen & Loewy. "Many U.S. employers were denied the opportunity to sponsor needed foreign professionals for work," he said.
Program critics are urging U.S. Citizenship and Immigration Services (USCIS) to look deeper at H-1B petitions coming from tech companies, "some of which are laying off tens of thousands of workers," said Daniel Costa, director of immigration law and policy research at the Economic Policy Institute.
USCIS is also investigating for potential fraud, mostly due to a suspicious uptick in multiple registrations for a single applicant. "Companies gaming the system and flooding the lottery to improve their chances has been going on for a lot of years, mostly by the IT outsourcing companies," Costa said. But now, "the electronic registration process has made it easier and cheaper to game the system, which has, in turn, boosted the [registration] numbers," he said.
For the 2021 fiscal year, USCIS began using an electronic registration system that charges an initial $10 fee per application; employers that win the lottery in March have 90 days to submit a completed petition and associated costs. Before, employers paid the full $2,000, $3,000 or more in legal fees and registration costs to complete a visa petition.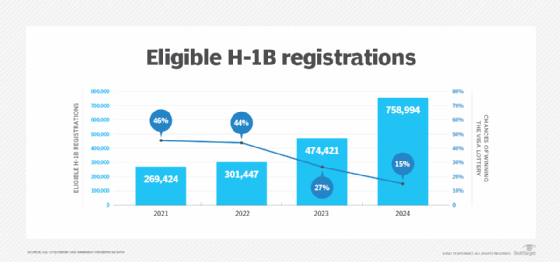 Declining odds overall
Foreign students on F-1 visas have had two or three opportunities to secure an H-1B visa. A STEM -- science, technology, engineering or math -- graduate can work on their student visa for up to three years under the Optional Practical Training program, meaning students once had a decent shot at an H-1B visa, said Ryan Harris, supervising attorney at Corporate Immigration Partners in San Francisco. But "that looks a lot uglier" if the chances of winning are "south of 20%," he said. If a student doesn't win the lottery, the applicant might have to leave the U.S.
It's something they need to fix -- and quickly.

Ryan HarrisSupervising attorney, Corporate Immigration Partners
"It's something they need to fix -- and quickly," Harris said.
The dramatic increase in multiple registrations is setting off alarms at USCIS, which called it a "serious concern." Last year, there were around 165,000 multiple registrations; this year, it reached almost 409,000, a 147% increase.
Individual petitioners can legally have multiple registrations for an H-1B visa. If someone seeking a visa has two or more job offers from different companies, the applicant could have a lottery entry for each company, according to Harris.
USCIS is investigating companies set up as H-1B registration firms that provide "no legitimate bona fide offer," Harris said. Companies might be doing so to "gain an unfair advantage by working together to submit multiple registrations on behalf of the same beneficiary," USCIS said last week.
Acting in cahoots
Greenfield said there might be some coordination between multiple employers that agree to contract out the H-1B visa holder to another company, "so they're all in cahoots together."
Fraud is a persistent problem with the H-1B visa program, cited in U.S. government reports and in Department of Justice legal actions. For example, the Department of Homeland Security published a report in 2008 of its examination of 246 H-1B petitions filed between Oct. 1, 2005, and March 31, 2006, for possible violations. It found that 21% had technical violations or fraud, and in some cases, H-1B petitions included references to businesses that didn't exist.
Experts argue that the potential for fraud has only gone up since the introduction of the electronic registration system. For example, multiple registrations existed before the new registration system was adopted, according to Roger Tsai, an immigration attorney at Holland & Hart in Denver. "It has exploded this past year to a point where it's become inescapable and something you can't ignore," he said.
Tsai said USCIS might need to change how the H-1B system operates and tie the visas to individuals, not employers. The visa registration could connect to an individual's passport number, and those selected could choose what company they want to work with if they had multiple job offers.
The U.S. selected about 111,000 H-1B petitions in this year's lottery. It accepts more than the visa cap because some will ultimately be rejected, while others won't follow through and file the visa paperwork.
USCIS could hold a second lottery if the review process reduces the number of visa petitions below the cap, according to immigration experts. That would give those who didn't win the lottery the first time around another chance.
Patrick Thibodeau covers HCM and ERP technologies for TechTarget Editorial. He's worked for more than two decades as an enterprise IT reporter.