Melpomene - Fotolia
Cloud for healthcare: What is the role of IT channel firms?
Healthcare providers are under greater pressure to pursue digital transformation this year. Learn how partners can aid cloud for healthcare initiatives.
Increasing consumer demands on healthcare providers mean those providers must up their transformation game in 2018, and partners can play a strategic role.
Healthcare organizations will be relying more heavily on enterprise healthcare clouds this year. "CIOs will divert funds from electronic health records [EHRs] and other systems that aren't delivering on their promises into enterprise health clouds; place their robot bets; and spend more than their peers in other industries on data and network security," according to a recent Forrester Research report.
Specifically, the report found that a majority of U.S. online adults want digital access to appointment scheduling, coverage suggestions and rewards for healthy behaviors. This trend will increase over time. "The more that is built, the more that customers will want," Forrester noted.
Steve Wray, CEO of healthcare platform provider CloudMine, believes this will be the year that cloud for healthcare makes significant inroads into transforming the industry. "The cloud will be the fundamental tool for breaking down what I would refer to as historical healthcare silos," Wray said. "If healthcare IT can be a connected ecosystem, then we can actually achieve connected health and make that more than just a concept." As a result, healthcare organizations and their partners could "tackle some of more formidable challenges in health ... at a time when no longer addressing those issues is no longer an option."
The tools exist in the form of healthcare cloud platforms for healthcare systems, payers and biopharma companies, Wray added, but the challenges that need further addressing include security, interoperability, data capture, and "a new era of partnership mergers and alliances among healthcare stakeholders, who, in the past, have been adversaries or siloed players in the industry."
Changing expectations in healthcare
The cloud's flexibility and agility has "inspired the development of hundreds of upstart healthcare applications that patients and caregivers are adopting and consuming at a rapid pace," said Sean Jennings, senior vice president of solutions architecture, at cloud service provider Virtustream. Virtustream introduced a cloud for healthcare in May 2017.
These new cloud-based applications are changing expectations about how healthcare organizations will deliver services and communicate with their end users, Jennings said. This includes everything from scheduling doctor appointments to receiving medical records, tracking prescriptions and monitoring health conditions like heart disease or diabetes in ways that were previously unheard of, he noted.
In some cases, patients are also now able to share data between their primary physicians and their specialists, "but this is more difficult than it should be given the state of back-office systems in hospitals and medical practices," Jennings said.
These new cloud-based applications are driving the need for rapid changes to core IT platforms for many healthcare organizations, especially considering that the majority were developed during the mainframe era and are now carrying legacy baggage, he added. "The disparity between the requirements of these cloud-based apps and the old application infrastructure represents the biggest challenge right now for healthcare, and many within this industry are incredibly frustrated by the state of information technology in their hospitals and healthcare service providers."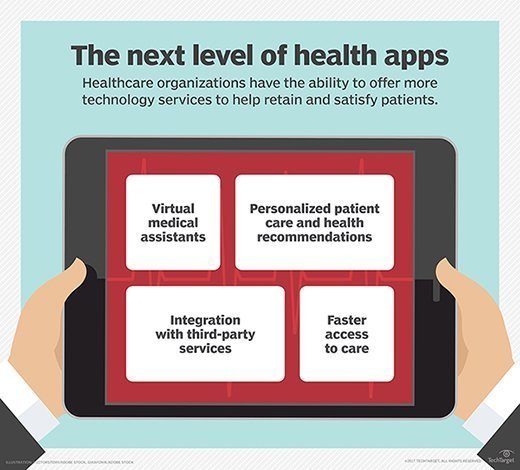 How channel partners can help
Most EHR and electronic medical record vendors provide fully hosted platforms that can reduce capital overhead for healthcare providers, as well as the burden of data protection for Healthcare Insurance Portability and Accountability Act (HIPAA) compliance, observed Austin Justice, vice president of Justice IT Consulting. Justice IT is an IT solutions company that offers consulting, training and HIPAA compliance management services to its healthcare customers. The company also works on revamping customers' networks to meet compliance requirements or to make them more modern and efficient.
"It's also important to note that cloud infrastructure providers like Azure and AWS have completely bought into the concept of hosting ePHI [electronic protected health information] and are willing to sign BAAs [business associate agreements], making the cloud completely kosher for healthcare tenants," Justice said.
He believes the biggest opportunity for channel partners working in healthcare is to focus on revamping fragmented or outdated networks. "This could be done to make telemedicine available for the small practitioner, relocate ePHI, make the practice more mobile, improve business operations or just simply update old equipment," Justice said.
The benefits of cloud for healthcare
Healthcare organizations, like customers in several industries that embrace cloud, tend to find economic benefits when moving from a capital expenditure-intensive, three- to five-year technology reinvestment schedule to an operational expenditure, consumption-based model. They can also expect the ability to more quickly respond to dynamic business requirements and end users, to more rapidly scale apps when there are changes in business demand, to deploy upgrades more quickly, and to address the backlog of strategic projects, Jennings said. "This agility, responsiveness and ability to address the immediate concerns of the business tend to be much more impactful than economic benefits."
The cloud will be the fundamental tool for breaking down what I would refer to as historical healthcare silos.

Steve WrayCEO, CloudMine
Others see loftier benefits. Utilizing cloud for healthcare will enable organizations to reach goals for new models of care, gain new insights, and improve patient care and access to patient care, Wray said. At the end of the day, he said, healthcare clouds allow customers "to rethink business relationships and, ultimately, to rethink how they're managing conditions both to betterment of patients and betterment of providers."
Wray believes the cloud for healthcare will also enable "precision medicine ... and unlock the door of what I refer to as 21st-century cures with traditional medicine and new biomarker precision with the incorporation of technology to rethink what treatments will look like in the future."
Integral to that is the fact that many healthcare organizations have completed proofs of concepts in the cloud and are expanding to more aggressive initiatives and projects at the enterprise level, he said.
Healthcare and cloud computing: Security concerns remain
While cloud computing can mitigate security concerns, partners still need to continually educate themselves through security certifications and act in a consultative role, not just as platform providers, Wray said.
"The trust factor for the cloud is definitely an obstacle," Justice said. "The top two concerns for the cloud are security and ownership of data." This is largely an emotional concern, he added. "People feel better when they can see, hear and touch their data in the dusty corner closet."
For hospitals and healthcare providers, their EMR systems are mission-critical applications, and when those applications are taken off premises, there are major concerns about what happens if these networks go down or even just experience significant congestion or latency, Jennings said.
"While these concerns are very real, when these organizations work with cloud service providers ... where the provider has made significant investments in addressing these types of issues, not only are these concerns ultimately resolved," he said, "but [customers] also find that their mission-critical applications run faster and are more available than when they were in the same building or campus."
What's ahead in HIPAA and HITECH compliance
Justice sees a sort of catalyst effect occurring if the healthcare industry experiences an increase in cyber breaches. This will expose "the healthcare industry's loose implementation of cybersecurity defenses," he said, and incentivize the Office for Civil Rights (OCR) to take more frequent and heavy-handed enforcement actions.
"The frequency, rising fines and additional media coverage will incentivize ... victims of the breach to pursue legal actions or put pressure on the OCR," he said, adding this will generate a higher awareness around cybersecurity spending and more strictly interpreted implementations of ePHI regulations by healthcare providers.
"Ultimately, you're going to have healthcare providers and institutions take a second look at their compliance and try to improve it," Justice said.
Wray thinks healthcare organizations are already making their processes more stringent and are aware of the need "to go beyond the face value of some [security] certifications."
One essential fact remains true for both patients and healthcare professionals, Wray said: Disconnected healthcare is expensive, frustrating and produces suboptimal outcomes.
"As such, I think our greatest value as partners should be pretty clear. If we can help any of the stakeholder groups we call customers achieve their goals toward connected healthcare, we'll help produce a better landscape of healthcare delivery."