lassedesignen - Fotolia
From VAR to IT managed service company: NSI's journey
In hindsight, NSI would have done a few things differently during its transition from a reseller to an MSP. NSI president Tom McDonald shares lessons learned from the journey.
If Tom McDonald knew years ago what he knows now about transitioning from a value-added reseller business to an...
Continue Reading This Article
Enjoy this article as well as all of our content, including E-Guides, news, tips and more.
IT managed service company, he would have done things differently.
McDonald, president of NSI, based in Naugatuck, Conn., said he would still have made the transition, but would have sold his value-added reseller (VAR) business outright.
"If I had a crystal ball, it would have been better to start a new business just focused on managed services from scratch," McDonald said. "I didn't do that, and it would have been a more efficient way to transition ... because it's a slog. It's easy to say in hindsight, but harder to do."
Still, McDonald has made a go of it as an IT managed service company and is staying relevant at a time when being a VAR alone is not financially feasible and many traditional partners are reinventing themselves with varying degrees of success. Staying firmly entrenched in their business roots is generally not a viable option due to the explosion of cloud-based offerings such as software-as-a-service applications. In the next few years, channel firms will garner most of their revenue through services in consulting, integration, customization and vertical market expertise, according to Carolyn April, senior director of industry analysis at CompTIA.
The demand for services is strong. CompTIA's IT Industry Outlook for 2018 found that 75% of small and medium-sized business (SMB) respondents use a technology partner with bandwidth constraints or skills gaps at least occasionally during a typical year. There is also room for growth: The same report found that while 39% of SMBs are using managed services, 61% are not.
"While most small business owners would love to have a deep bench of highly skilled IT professionals, the reality is few are in a position to do so," the CompTIA report noted. "While a strong majority -- nearly eight in 10 -- have at least one full-time IT employee on staff, many SMBs operate in 'just trying to get by' mode." Among those that use technology partners, however, there is a much higher rate of satisfaction, the report found.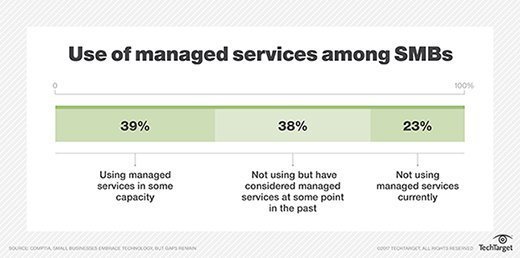 The impetus for change at NSI
In the mid-1990s, NSI was an IBM-based VAR and eventually became an IBM Premier partner, doing business mainly in New England. The company grew "by going after big deals and contracts, like with the state of New York," McDonald said. After selling Lenovo when the vendor acquired IBM's PC division, NSI grew to a $25-million-a-year business with 75 people, he said.
But then IBM consolidated its sales channel, and NSI saw that its margins were shrinking, too. "A system we would have sold in 2001 to a business for $300,000 in 2005; it was $80,000 when [the customer] went to refresh," he said. "There was no price protection on anything. Vendors like IBM didn't protect the channel."
He added that there was no way for resellers to differentiate themselves because "you were selling a piece of equipment and the customer was going to shop the lowest price. It was a race to the bottom."
That was when McDonald saw the writing on the wall and realized he had to do something. NSI had always been in the service business, selling maintenance contracts. "We knew that business and understood the margins and knew what the profit was there," he said. "I realized that it would be a good opportunity and it was a business we liked to be in because it allowed us to provide true value to our customers."
Managed services business model: Mistakes made, lessons learned
In 2005, NSI spent $60,000 on a remote monitoring and management tool from SilverBack Technologies, a company acquired by Dell in 2007, to learn how to become an IT managed service company, McDonald said. It was not a worthwhile investment, he noted.
"It started our transition, but we weren't really committed and we were ill-prepared," he recalled. The different business model required a change in mindset, he said. "You're going from a reactive firefighting model to a proactive firefighting model. ... And firefighters aren't as good at prevention. They like going in when something has crashed. They don't like the dull, boring work of standardization."
Part of the transition meant establishing a well-defined sales process, something NSI didn't have. The firm was still trying to sell hardware because some salespeople balked at the managed services business model, McDonald said. Those salespeople eventually all left.
It was hard for a typical reseller salesperson who was used to negotiating one-off projects to then go out and talk to a comptroller of a manufacturing company or the owner of an insurance firm and convince them to turn over their IT support to a company they didn't know, he explained.
"It took us a while to figure out that it's very difficult to get the salespeople to do that. They weren't great at it, and they didn't really like it that much," McDonald said. "Part of that is education. They weren't clear on the value of [managed services, so it's on [NSI] as well."
He admits that he could have handled it better by fully committing to the new IT managed service company model. "We weren't stern enough with our clients. We'd go out and we wanted to sell. You want to make the customer happy and do anything to make the deal."
What he's learned is that "the essence of managed services means actually disqualifying people who aren't a great fit, so you can more rapidly get to people who are," meaning businesses that are willing to standardize their solutions and buy into a proactive management approach.
NSI's challenges -- then and now
The recession in 2007 pushed NSI into being a full-blown IT managed service company. Yet, McDonald said they still struggle with being a managed services provider (MSP) every day. For example, recently, NSI acquired a small firm with between 20 and 25 customers. Those customers had been on contracts that included a set number of annual scheduled on site and remote visits and a block of time for emergency services. "We're trying to explain our model and why it's better than what they were doing before" when those customers were buying blocks of IT support time. Financially, he said, it's hard for some of those companies to see why NSI has taken the managed services approach.
"The majority of [customers] like the idea and think it makes sense, but the pricing for that is generally higher than what they were paying before, so it's hard for them to justify that." NSI is getting people to buy into the MSP model, but it's been a slow process, he said. "It's all about trust and that we know what we're talking about. We're committed to servicing them the way they were before, but hopefully they'll see the value in our model."
It's all about trust and that we know what we're talking about. We're committed to servicing [new customers] the way they were before, but hopefully they'll see the value in our model.

Tom McDonaldpresident, NSI
Another challenge was figuring out how to price services, which he said is a constant work in progress, and having the tools to accurately track their profitability. What helped McDonald the most was joining a peer group in 2011 through Ingram Micro's Trust X Alliance. The peer group consisted of 10 companies dealing with the same issues as NSI. "I wouldn't be in business if it weren't for the peer group I joined and the relationships I built through that and what we taught each other," McDonald said. "That was the fundamental thing that helped us be successful."
The biggest struggle for McDonald personally was around figuring out "the secret sauce" of how to make money as an IT managed service company. "Still to this day, the biggest struggle we have is we just can't consistently generate opportunities for us to close business."
Today, about 70% of NSI's revenue comes from managed services. The services side of the business is "rock solid," and operationally, they know how to bill, he said. But business development and articulating the value to the end user remain a challenge, especially because of market competition.
"We just lost a deal the other day, and [the company] said, 'Everyone is offering the same type of service,'" McDonald said. At a monthly rate of $150 per user for the all-inclusive service model, he said NSI tends to be more expensive than other MSPs but offers more.
A year ago, "that was a unique proposition in our market," McDonald said. "Now we're seeing more MSPs saying they're offering that per user, all-inclusive model. So it shows me ... we have to figure out how to differentiate ourselves and what's the next transition" while remaining profitable.