Andrea Danti - Fotolia
GuardiCore on the hunt for managed security services providers
Data center security vendor GuardiCore recently enhanced its partner program to attract managed security services providers as it looks to grow its reputation in the channel.
GuardiCore, a data center security platform provider based in Tel Aviv, Israel, is looking to raise its profile in the channel and attract MSSPs.
The company has worked with channel partners since introducing its cloud-based security platform about two years ago. The platform is designed to identify and stop breaches within lateral data center traffic flows. While it's currently being offered by value-added resellers (VARs) such as Optiv and GuidePoint, GuardiCore is looking to expand into the managed security service provider (MSSP) space. The company also works with cloud partners like 2nd Watch that can use GuardiCore's tooling in cloud transformation projects.
"[We are] very much in partner development mode," said Todd Bice, senior director of channels at GuardiCore. The company currently has one MSSP up and running and a handful of other firms that are developing their service offering around the platform.
Bice joined GuardiCore about 10 months ago and previously worked for cloud security provider Alert Logic. "To me and the bigger opportunity that I saw [at GuardiCore] was the opportunity" to enable a variety of services, including managed security services, managed detection and response services, and segmentation as a service, he said.
"We are having really interesting [discussions] with partners on how they can wrap services around microsegmentation," he added.
The core components of the GuardiCore platform are visibility across hybrid cloud environments; a built-in security policy engine; policy enforcement through segmentation; and monitoring to detect suspicious activities within data center flows -- all of which Bice said can be split up and used by channel firms to develop services.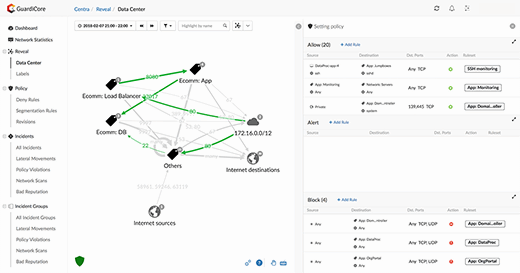 Enhancing the GuardiCore partner program
GuardiCore recently augmented its partner program with new features to attract the MSSPs. Enhancements included a new licensing model that lets MSSPs split up components of the platform and offer customers monthly or quarterly subscription billing. GuardiCore's traditional licensing model for enterprise accounts is an annual recurring revenue model, "which can be a big chunk of money upfront," Bice said, but the new option aims to align with MSSPs' typical billing approaches.
Program updates also introduced a floating licensing model that gives partners free access to the platform's tooling for short-term engagements.
Bice noted that he views professional services as key opportunity for GuardiCore partners. Specifically, partners can use the platform's visibility capabilities in customer engagements such as assessments, audits, application-dependency mapping, and merger and acquisitions. "Usually what happens, too, is once they are plugged in there with that level of visibility is identifying other things, which turn into other projects," he said.
The vendor is also connecting with its existing VAR partners to educate them on how they can use the platform in different services engagements. "I would say the vast majority of the VARs are looking to expand more and more into services, just because of the nature of that business ... so we want to help them get there," he said.
The power of a demo
One of GuardiCore's challenges ahead is to raise its profile in the channel space, a task that involves educating partners about the security platform.
Partners generally have been receptive to the technology once they demo it, Bice said. "A lot of these partners don't know who we are when we come in the door. But the ones that take the time to look at us ... they're typically blown away. ... Typically, we are very well received once they see it in action, they see the demo."
Blue Bastion, the cybersecurity division of Pittsburgh-based systems integrator and reseller Ideal Integrations, was one of those partners impressed by a demo of GuardiCore's technology. When Andy Hicks, senior director at Blue Bastion, examined the platform, he realized Blue Bastion had to "figure out how to cook this into our service and really make it an option for customers," he said. "There are a couple of competitors in the data center security platform space, but none of them have brought something like this to the game."
Hicks cited the breadth of the platform as a differentiator. "As an organization running SOC [security operations center] services, being able to extract maximum utility from our tool set is critical. We would rather have one [vendor] that can cover the breadth of areas that we thought were important to deliver from either a continuous service perspective or during the onboarding process," he said. "GuardiCore just made the most sense. Otherwise, we would have to stack a couple of their competitors together."
Blue Bastion builds GuardiCore practice
Blue Bastion released a managed detection and response services offering about six months ago that uses GuardiCore's technology. The partnership has not only opened new opportunities for Blue Bastion, Hicks said, but "the differentiation ... and the expertise that we have developed around the platform ... has been humongous for us. ... It's been a huge differentiator -- I'd argue our greatest differentiator at this point -- in just what we're able to do with their technology for our customers."
He added that the platform acts as a "floodlight in an area where people have had a blind spot or just pure darkness," and once customers "see their actual environment visually displayed ... it changes people's perspective on how we can secure their environment."
Blue Bastion has seen interest in its GuardiCore capabilities in the financial services and hospitality sectors, as well among as accounting and law firms. Hicks noted that these organizations are seeing greater security demands from their customers and so are looking to companies like Blue Bastion for help. "We have seen a couple of really nice-sized law firms here in Pittsburgh where ... their prospective customer walked away from business because they were not comfortable with the security program at that law firm."
The company has also found interest from customers active in the mergers and acquisitions space. The visibility provided by the GuardiCore platform, he said, "can do wonders for them when it comes to due diligence on the M&A side."
GuardiCore's floating license model has been helpful in these due diligence scenarios, where "we can pretty quickly and painlessly drop [GuardiCore's] technology in that environment and almost instantaneously give them the visibility that they lacked prior so they ... see where they might have some unauthorized lateral movement to help nip things in the bud."
Hicks said that GuardiCore has worked closely with Blue Bastion to support new licensing options for a managed services business model. As the vendor continues to grow and evolve, Hicks said he hopes GuardiCore can maintain its nimbleness and responsiveness to partner needs. The only area that he pointed to where GuardiCore could improve would be to make available additional training tools that technologies can consume on their time.
Hicks said he is confident that GuardiCore will get there.