beawolf - Fotolia
Simplify your platform with IT systems management tools
So much effort goes into simply keeping an IT infrastructure up and running. Imagine what more could be accomplished once you automate some of those tasks with IT systems management tools.
The IT platform is becoming more complex, and, at the same time, increasingly crucial to running a business. Downtime is less acceptable now than ever before. Businesses realize that every second their mission-critical applications are unavailable costs them money; interruptions can also damage a brand.
So can the use of IT systems management tools help in the fight against downtime?
Research shows that 60% to 80% of most IT budgets is spent "keeping the lights on" -- that is, making sure the IT platform runs as expected. In many cases, however, this capability is compromised because of a lack of visibility around what is actually happening. This leaves IT workers reacting to problems rather than proactively managing the infrastructure.
Just imagine if a proportion of this work could be automated with IT systems management tools. For an organization at the top end of the budget scale, every single percentage point of savings made on keeping systems running is a 5% increase in possible IT investment in the business. Mathematically, 80% on maintenance, 20% on business IT investment moving to 79% on maintenance and 21% on business IT investment gives a 5% increase in business IT investment.
Systems management tools
The first area is asset discovery. Too many businesses use static methods of logging assets. The Excel spreadsheet, which remains ubiquitous, too easily falls out of date. When Quocirca looked at the problem in 2013, it found the typical large organization's asset-tracking sheet didn't accurately account for the number of servers in use; in fact, the counts on the sheets tended to off by 20% below or 20% above the actual numbers. These discrepancies affect licencing, maintenance and other costs. In the systems management market, Kaseya, Spiceworks, CA Technologies and LANDesk are among the software vendors with tools that address these problems.
There will also be software to track. Here, Flexera, Snow and Lime are strong players, along with the likes of Centrix Software and RES, which offer software-discovery tools.
Too many businesses use static methods of logging assets. The Excel spreadsheet, which remains ubiquitous, too easily falls out of date.
Once you know what's actually in place, you need to ensure that those assets are kept to the optimum level of patching and updating. Intelligent IT systems management tools can carry out a pre-update scan to ensure that all systems can successfully take the update. These tools automatically remediate systems that can handle the upgrade and raise alerts for systems that cannot. The tools should also roll back a system to a known good point in the event of any failure during updating, while allowing for manual intervention. Vendors in this market include Kaseya, CA Technologies and BMC Software Inc.
As virtualization has come to the fore, there is also the need to manage the virtual environment -- VMs, containers and all the shared resources that underpin a virtual or cloud platform. Incumbent system-management vendors such as IBM, CA Technologies, Hewlett Packard Enterprise, Microsoft and BMC have made slow but steady progress into the market. Dell, through its acquisition of KACE and its merger with EMC/VMware, is improving rapidly. Some vendors have come directly into the virtual systems management business. Blue Medora, for example, traverses the cloud, virtual and physical platforms, while YotaScale focuses on AWS deployments.
Performance monitoring, too, is essential -- especially as more mixed physical platforms interact with private and public cloud environments. CA Technologies acquired Wily in 2006, and has continued to improve the system under its performance management portfolio. The other major player in this was Gomez, a company acquired by Dynatrace in 2009. This technology is now available as Dynatrace Application Monitoring.
The predictive angles
Then there are the predictive needs. Gone are the days when a system was designed for a known workload plus a bit to deal with unexpected spikes. Workloads today are not only less predictable, but are increasingly shared on a virtual platform. Understanding not only what is happening but what is likely to happen is valuable. With that insight, an organization can ensure that it stays a step ahead while also managing to keep the overall platform working well.
The market around such predictive analytics is still mainly focused on tools in the three main areas of any compute platform: servers, storage and networks. What an IT manager should be looking for is a statistically valid prediction of what workloads will be like at a point in time rather than a simple straight-line analysis of what has happened in the past. One example is FreeStor from FalconStor; it applies advanced statistical methods to gauge how storage workloads are trending and enables managers to pre-empt problems.
Again, don't forget the software. Workloads need to be packaged, provisioned and managed. That management needs to include workload portability across different areas of your IT platform. Vendors with strengths in this area include Atlassian, Electric Cloud and Flexera.
Then there are the IT systems management tools that try to do as much as possible. For people stung by the vast framework systems of yesteryear (i.e., IBM Tivoli, CA Unicentre, HP OpenView), you may be glad to know that today's big systems tend to be more granular and open, enabling quality systems to be plugged in wherever necessary.
Products that fall into this area include many from the data center infrastructure management vendors -- the likes of Nlyte, Future Facilities, Emerson Network Power. These systems enable asset discovery, will carry out predictive and what-if analysis, and in many cases can manage patching and updating.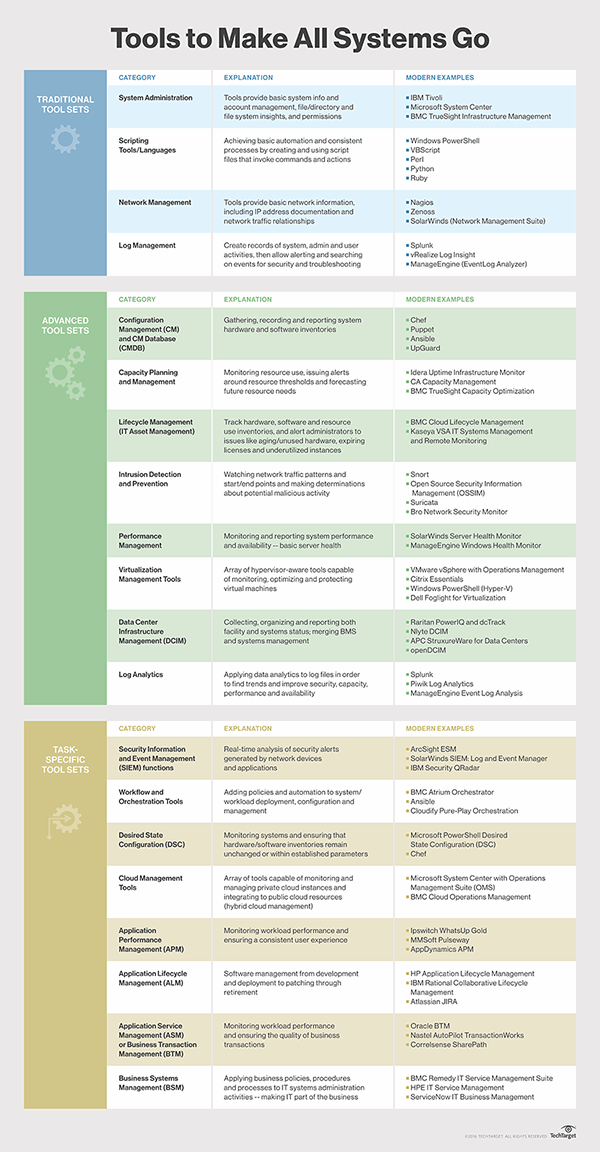 The right systems management approach
In the end, your decisions will be about what the business wants from a system. Some of the big, do-as-much-as-you-can products will meet the needs of some users and provide a single view of what is going on. Other IT teams may want a big system, but will plug other components into the system. This preserves the single overall view.
A piecemeal approach -- using different systems to look after different environments -- is not recommended, though. Complications can fall between the different systems, becoming major problems and leaving administrators blaming each other.
The key is to provide the organization with what it needs. This is generally agreed to be a highly available, flexible IT platform with software that enables the business to operate in the ways it needs to.
Automate whatever you can, deal with exceptions and cut down on keeping the lights on. The business will thank you.