Definition
unified network management
Unified network management is the administration of both wired and wireless networks through a single interface.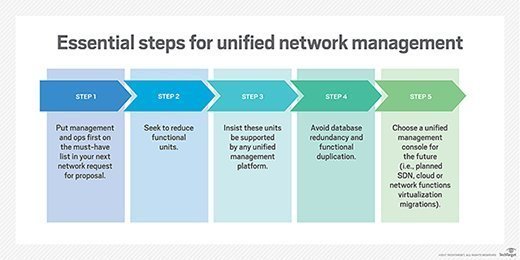 A unified network management product should make common network functions manageable from a single console. Such functions include planning, provisioning, configuring, monitoring (including performance, security and integrity monitoring), handling exceptions, logging and reporting. The console must also include elements that are unique to wireless management, such as connection reliability, spectrum management and monitoring, location and tracking functionality, and additional security concerns.
A unified network is one that integrates wired and wireless components, which share network elements and services where feasible, rather than existing as two separate networks. There is an industry trend toward unified networking as a way to deal with an increasingly mobile workforce accessing corporate networks remotely through a variety of devices, including smartphones and tablets as well as notebook and desktop computers.
This was last updated in
December 2011
Continue Reading About unified network management