4Max - stock.adobe.com
How can SuccessFactors CPM improve performance management?
Learn how SuccessFactors Continuous Performance Management can help more organizations realize that a good employee experience requires ongoing performance management.
SAP SuccessFactors Continuous Performance Management is meant to facilitate the ongoing dialogue between employees and managers -- an issue that's more important than ever as remote work becomes more widespread.
Communication is a crucial aspect of managing and interacting with office-based and remote employees. Both managers and employees need tools to help them effectively record their activities, facilitate discussions and receive periodic and annual performance reviews. Employees often want and expect real-time feedback on their performance to ensure optimal productivity, something many many managers and HR leaders are learning as companies move to remote performance management. And, arguably, nobody likes to be surprised during their annual performance review.
As part of the SAP SuccessFactors Performance & Goals management product, the vendor provides a Continuous Performance Management (CPM) feature to facilitate a real-time, interactive channel for managers and their employees concerning areas such as performance, goals and activities. SuccessFactors CPM aims to ensure that work aligns to objectives and that there is a live summary of achievements. It also enables coaching.
Snapshot of Continuous Performance Management in SAP SuccessFactors
The CPM application provides a platform for employees and managers to communicate activities, achievements, and other aspects of measuring and managing performance on an ongoing basis. It is meant to support managers in defining activities, discussion topics and achievements -- as well as coaching and giving feedback -- that are especially critical to motivating remote employees. SuccessFactors CPM supports employees by providing updates on activities, discussing topics, recording achievements and providing feedback.
SuccessFactors CPM provides an activities and achievements tracker, simple feedback and coaching, and helps track and remind users of one-on-one meetings.
What continuous performance management functions does CPM support?
CPM is structured in a modular way to enable ease of use for both managers and employees. The application is broken into three views:
Activities. This is where employees can post their activities and request feedback from their manager on those activities. Managers can also post activities and add feedback for each of their direct reports, as well as provide coaching feedback on tasks employees did well and those they need to improve on. Meetings can be captured by the manager or employee and both parties can add topics for one-to-one discussions.
Achievements. In the Achievements view, managers and employees can add and edit achievements that can be tied to an activity or development goal and also request feedback on achievements.
Feedback. The Feedback view enables managers and employees to view feedback, request feedback, view feedback requests and give feedback.
These areas are likely even more important for newer remote workers, who may not get the casual in-person kudos and communication they are used to receiving in an office setting.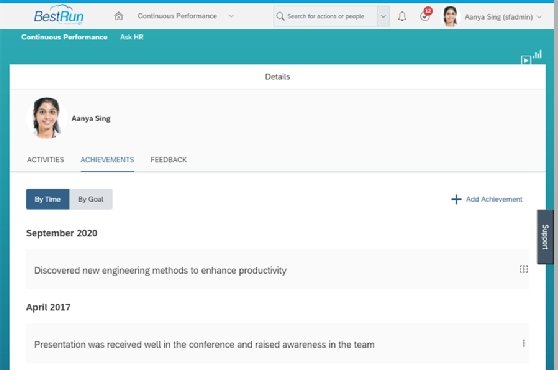 An Administrator console permits an administrator or implementation consultant to enable or disable CPM features. Notifications can also be enabled or disabled for a number of days since the last one-to-one meeting, the last creation of an activity and the last creation of an achievement.
SuccessFactors' ad-hoc reporting feature permits users to report on continuous performance management data.
CPM is fully supported on the SuccessFactors Mobile app. However, changes made to the application's default text values are not shown in the mobile app. On iOS, there are a limited set of colors that can be used to configure activity status values.
Prerequisites
CPM only requires SuccessFactors Performance Management as a prerequisite.
Configuration
In-house administrators -- IT or HR, depending on the organization -- can enable CPM in SAP SuccessFactors' Admin Center, obviating the need for an implementation partner. Setting up SuccessFactors CPM is done through the UI, so no coding or technical knowledge is needed.
The SAP Help Portal provides a CPM implementation guide and the steps needed to configure it.
Dig Deeper on SAP ERP software and modules
SAP's SuccessFactors Dynamic Teams could help support project-based teams in the workplace and solve associated challenges. Learn more about the new ... Continue Reading
Part of SAP SuccessFactors HXM, Work Zone for HR is a digital workspace meant to boost employee experience. Learn more about its features and ... Continue Reading
Qualtrics has certain technical integration challenges, and IT needs to address questions to uncover what they are and how they will affect the ... Continue Reading