Grow with SAP tries to make midmarket a big market
Midmarket organizations may find S/4HANA Cloud via Grow with SAP an attractive vehicle to the cloud. But SAP faces challenges in going after the market segment.
Long known as an ERP provider for large enterprises, SAP is making a concerted effort to expand into the midmarket with its Grow with SAP program.
Launched in March 2023, Grow with SAP provides software and services designed to encourage midmarket firms to implement S/4HANA Cloud, public edition. The program has done well since it launched, according to SAP, which said during its third-quarter earnings call that 440 companies in 80 countries have already signed up for the program.
Grow with SAP is designed to make the selection and implementation of a cloud-based ERP system easier and less costly for midmarket companies, according to Lloyd Adams, president of SAP North America.
In addition to S/4HANA Cloud, public edition, Grow with SAP includes SAP Business Technology Platform (BTP) for development and integration, preconfigured industry best practices, embedded AI and automated processes, accelerated deployment services, free learning resources, and access to its low code/no code application development platform SAP Build.
SAP sees the midmarket as the next major growth area and believes it is well-positioned to serve it because SAP's industry experience can provide the expertise these companies need, according to Adams.
"In this somewhat turbulent market, organizations have been tasked with doing more with less, even faster, and cloud ERP helps organizations and IT functions facing such dilemmas to do that at scale," he said. "We're betting on their future and are trying to guarantee it, and doing it in a way whereby organizations that partner with us in that way won't outgrow us."
Grow good for different business types
While S/4HANA is marketed at large enterprises, some midmarket companies have found that Grow with SAP's bundle of software and services makes the public cloud version attractive.
Sunny Sky Products, a provider of concentrated and powdered drink products, recently chose the Grow with SAP program to implement S/4HANA Cloud as a replacement for an outdated and disjointed ERP landscape.
Because of acquisitions, Sunny Sky doesn't have one ERP. Instead, it runs three versions of QuickBooks for finances and one version of Syspro for manufacturing and distribution with lots of manual processes and consolidation of data on spreadsheets, said Shireen Greer, CFO at Sunny Sky Products.
The company decided to install a cloud ERP that would serve as one unified system. After a selection process that included Rootstock and Oracle NetSuite, the company chose to go with S/4HANA Cloud and Grow with SAP, Greer said. The Grow contract was signed in June 2023, and Sunny Sky is currently in the middle of its implementation project.
Several factors contributed to the selection, she said, primarily S/4HANA Cloud's functionality and capabilities as a manufacturing ERP. But cost and the shorter time to implement with Grow were important as they would reduce costs and lead to quicker ROI.
"We were also pleasantly surprised by the cost, not just from an implementation point of view but on an ongoing basis," Greer said. "The expectation was that maybe SAP was going to be too cost prohibitive for a company like ours. And it turned out that it was extremely competitive, so cost wasn't going to be a factor at all."
S/4HANA Cloud has appealed to midmarket organizations beyond manufacturers such as healthcare. For example, The Brenda Strafford Foundation (BSF), a provider of senior care and emergency residential facilities in Calgary, selected Grow with SAP to implement S/4HANA Cloud.
The organization wanted to replace an ERP landscape that consisted of disjointed financial and HR applications. But it also wanted a cloud ERP that could meet future goals, said Karyn Golem, vice president of corporate services and CFO at BSF.
"We are heavily involved in research and innovation at The Brenda Strafford Foundation, and we want to expand our operations beyond what they are today," Golem said. "Knowing that's in our future, we wanted to ensure that our core foundational elements around the business operations were solidified. Hence we decided we needed as best a system that could help us do that."
In November 2022, BSF put out requests for proposal to 12 enterprise vendors and quickly narrowed the field to a few contenders. S/4HANA Cloud emerged as the clear top choice, she said. The Grow with SAP agreement was signed in March 2023.
"The decision came down to the fact that SAP could deliver us the forward-looking functionality that we were looking for as well as the integration of the systems," Golem said.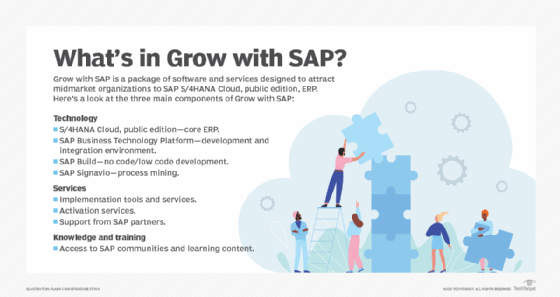 The implementation services provided as part of Grow were also instrumental, she said.
"[Grow offered the ability to] take us from very greenfield and basic operations and processes to a more sophisticated level with that support and education behind us," Golem said. "We are relatively small, so [it helped] having them be able to inform best practices and provide us with an opportunity for training and education."
BSF has completed a discovery phase that analyzed its current practices and what it can look like with S/4HANA Cloud. Golem expects to go live with three HR modules in January 2024 and fully implement S/4HANA Cloud in April.
In addition to the functional capabilities of S/4HANA Cloud, Grow with SAP will make license management easier -- it only has one license rather than several -- provide better software support and save capital costs by eliminating unnecessary server hardware, she said.
"The cloud will enable flexibility and data security, and the software as a service is appealing from the support aspects too," Golem said. It will also make the system accessible from anywhere and anytime. Using the current system is restricted to within the company network.
SAP is not alone in midmarket focus
Grow with SAP should help make S/4HANA Cloud more appealing to midmarket organizations, but it's not likely that SAP will wield as much market clout as it does with large enterprises, said Laurie McCabe, co-founder of SMB Group and an analyst.
SAP is targeting its large enterprise on-premises customers with the Rise with SAP program. Grow gives the vendor another tool to go after a market that wants cloud ERP systems, McCabe said.
We wanted to ensure that our core foundational elements around the business operations were solidified. Hence we decided we needed as best a system that could help us do that.

Karyn GolemVice president of corporate services and CFO, The Brenda Strafford Foundation
One thing that SAP must overcome is confusing products other than S/4HANA Cloud, including SAP Business ByDesign, an SaaS-only ERP product for midmarket companies, and SAP Business One, an ERP software aimed at SMBs, she said.
SAP distinguishes between the various smaller market products it offers and sees Grow customers as having a different profile compared with Business One customers, according to Adams. Meanwhile, Business ByDesign and Grow customer segments overlap given Grow's access to the public cloud and BTP for business extensions and integrations. But customers might not approach SAP's portfolio with such clarity.
"It's not as easy as Oracle NetSuite, Acumatica or Microsoft [Dynamics 365] to go in there and look around and start figuring out what you need," McCabe said. "You need a lot of handholding just to figure out what's the SAP product that you should be looking at. If you don't have an existing relationship with SAP -- Grow customers typically don't -- I can't believe it's an easy thing to navigate through."
SAP, Oracle and now Workday are dominating the large enterprise ERP market because they provide technology that meets every nuanced functionality that large companies need, she said. But there are more vendors with systems specifically designed for midmarket companies that have established channels, relationships and ecosystems of independent software vendor partners tailored for the market segment, McCabe said.
However, while it's not likely that three vendors will dominate midmarket ERP like with the large enterprise market, that market is growing given that many are still using older, on-premises systems and are looking to move to cloud-based systems, she said.
"A big plus for SAP is that they have strong industry capabilities. But most of [the midmarket vendors] have also staked out industries that they're deeply into," McCabe said. "Few are trying to just sell a vanilla ERP. So there's plenty of room in the midmarket for SAP, but I doubt SAP is going to rule it."
Jim O'Donnell is a TechTarget senior news writer who covers ERP and other enterprise applications for TechTarget Editorial.
Dig Deeper on SAP ERP software and modules