Maksim Samasiuk - Fotolia
SAP HANA database drives analytics for ARI's fleet management
Telematics and IoT have made advanced analytics available in new ways, and for fleet management company ARI, SAP HANA proved to be the best way to manage and process all the data.
Fleet management is a business that inherently relies on data; without good data, the management part is virtually impossible.
With technology like internet of things (IoT) sensors and telematics, ARI has access to much more fleet data than was previously available -- everything from gas usage to driver behavior -- but it presents a conundrum. So much data is coming in that data management becomes a challenge.
ARI, one of the world's largest fleet management companies, found that the SAP HANA database is the right platform for data management. The platform provides ways to get insight into the fleets that ARI manages and provides customers a way to get real-time information about their assets.
ARI has been a user of SAP BusinessObjects for data analysis for several years, but while this was fine for static report writing, the company wanted to have a more dynamic and flexible data analysis platform, according to Bill Powell, ARI director of enterprise architecture.
ARI manages about 1.4 million assets, including car, light-duty truck and medium/heavy-duty truck fleets. Its services include vehicle lifecycle management from acquisition to disposition; supply chain management; maintenance; fuel management; licensing and compliance; and driver training and performance.
IoT enables insights, but don't drown in the data
Telematics and IoT data from these assets were making it possible to gain insights into the business in new ways, but data overload eventually became a critical issue.
"You can drown in this stuff. All this information comes back very quickly, and what we need to do is to combine that data with all the other empirical data that we manage -- the maintenance management, the fuel management, the garage management, understanding where is this vehicle, do these particular transactions make sense -- to gain a better understanding of how the asset is used so we can align recommendations to our customers' objectives," Powell said. "We get that using the telematics and IoT information, which provides a level of near-real-time optics and transparency into the asset's operation that was previously ascertained from disparate transactions, inferred or was simply unavailable."
To handle the data flow, ARI selected the SAP HANA database platform, which provided the needed capacity and flexibility. SAP HANA's speed and performance were the main attractions at first, but the platform has evolved to include more advanced analytical capabilities.
"Initially, it was more of a very fast database that could handle large volumes of complex data very quickly, but now, it has a lot of enhanced capabilities over the last number of years that we're starting to leverage more and more, such as a rules-based engine where we can take complex business logic and centralize its complexity for consistency and reuse," Powell explained. "Instead of trying to lift the data out of a database and try to run algorithms to get that, they do it right there in the HANA database."
For example, Powell said, HANA's integrated spatial and predictive analytics capabilities, in conjunction with its text mining features, enable ARI to develop new, advanced applications at the pace of business instead of designing multiple disparate technologies.
SAP HANA database powers customer portal
ARI subsequently built a customer portal called ARI insights that enables its customers to take advantage of all this data and analytical processing power. Reports that had previously taken a day or more to complete are now available in just seconds. Dashboards in ARI insights provide fleet managers with a wealth of valuable data about how their assets are performing in near-real time, and there are also functions that show trends over time and provide predictive analysis into future business possibilities.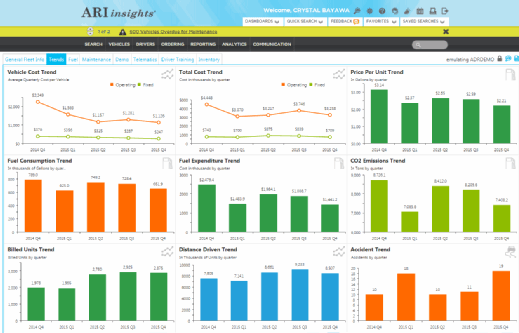 "ARI insights provides a very easy and intuitive interface for our customers, where we could put some pretty complex information out in front of them and pretty deep information and they could do their own analysis with very little training," Powell said. "This takes it to the next level; it's not just a static report, but they can actually ask questions and get immediate responses."
The volume, the depth and the width of the information increases dramatically, so we needed something that could handle an array of questions and deep analysis at the speed of business.

Bill PowellDirector of enterprise architecture, ARI
ARI built a custom, in-house platform to take all the telematics data -- which varies depending on the capabilities of the telematics vendors -- and enrich the data before pushing it into the SAP HANA database, where "everything comes together," according to Powell.
"Our maintenance analysis, fuel information, driver information, driver safety programs -- we pull all that information into HANA," Powell said. "The volume, the depth and the width of the information increases dramatically, so we needed something that could handle an array of questions and deep analysis at the speed of business."
The more, the better -- not always true with data
However, for all of the positive impacts of the data-driven analysis, Powell cautioned that having more data available isn't always better, and it needs proper management to be useful.
"It depends on what you're dealing with, and you could [get overwhelmed] with that information unless you have a data strategy in place that determines the data's value, sensitivity and longevity," Powell said. "Data becomes devalued at a certain point in time, and the challenge is to determine that inflection point where it exceeds its economic value."
Beyond data management issues, ARI had technology and business challenges to deal with in implementing SAP HANA and building the ARI insights system. On the technology side, ARI had several legacy systems, and changing the business processes away from them was more difficult than starting from the ground up, Powell said.
Business side needs buy-in for successful IT project
The business side proved to be a bigger challenge, however, and Powell recommended that you make sure any similar project has prominent business advocates. One way to do this is to not bite off more than you can chew, get some quick wins for project deliverables and build relationships with advocates in different lines of business.
"If it's a pure technical initiative, it's probably going to lose its luster pretty quick. You need to be able to work with business to solve the business challenges," he said. "Challenge the norm, get together to build this cohesive unit and make sure you have a data strategy in place, and that's not an IT function whatsoever. You need to have an appropriate seat at the big table with the business. If you're not starting from that point for the overall business strategy, chances are it's going to be a tactical-type solution as opposed to strategic."