Fotolia
SAP intelligent enterprise requires new skills from partners
SAP partners need to change their thinking if they're going to enable the 'intelligent enterprise.' That was the big message from the SAP Partner Business Forum this week.
NEW YORK -- The ERP world is changing rapidly and SAP partners need to change their mindsets to take advantage of the opportunities offered by new technologies.
That was the message from the SAP Partner Business Forum 2018, an event for reporters and analysts, held in the company's offices in New York. At the summit, SAP partners and customers explained the benefits and challenges of implementing applications and platforms that enable what SAP has dubbed the intelligent enterprise, a cloud-based initiative to integrate traditional back-office business systems with modern-day tools like AI and machine learning.
But if the intelligent enterprise is going to be effective, companies must evolve their ways of thinking, according to Franck Cohen, SAP president of digital core and industry solutions. It's a mistake to think of an S/4HANA migration as just a technical migration; it's a chance to radically and fundamentally simplify business processes, he said.
"If you bring that complexity into [S/4HANA], you don't fundamentally change the way you do business," Cohen said. "[ERP has] been pretty boring for the past 30 years, but it's about to become very interesting now. This will change the way we do ERP."
A mindset shift
SAP has long relied on its technology partners and independent software vendors (ISVs) to implement ERP systems and advance the platforms, but they also need to alter the way they think and do business, Cohen said. Partners have made a good living in the past 30 years by customizing and extending SAP ERP systems, but the approach is now outdated as the cloud makes customizations less needed or relevant.
"The future is not about customizations anymore," he said. "It's now an opportunity to include intelligence."
Beyond Technologies, a Montreal-based SAP consulting firm, is an SAP partner that is leading its customers to the intelligent enterprise. The company has developed a lucrative niche by specializing in innovative retail industry applications, according to Alain Dubois, chief marketing and business development officer at the consultancy.
"As a systems integrator, we have to be relevant to certain industries, so we decided to focus on retail," Dubois said. "This is where partners should innovate."
Dubois explained how Beyond Technologies developed applications for women's fashion retailer Tory Burch that matched product sales information and customer buying patterns with appropriate sales personnel, enabling the company to create highly targeted sales and marketing campaigns. The consultancy's applications are built on SAP S/4HANA digital core and integrate several other SAP applications.
SAP focuses on partners of all sizes
SAP is attempting to evolve its messaging, but it's not clear how effective the new message is, according to Ray Boggs, IDC vice president of SMB research.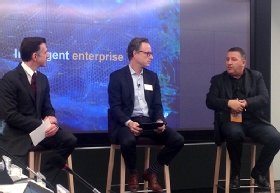 "[SAP's message] wasn't 'Here's the technology roadmap story,' but rather 'Here's the holistic SAP vision of this intelligent enterprise digital transformation thing,'" Boggs said. But it was "hard to tell" if the message came across effectively.
The summit highlighted some of the challenges SAP faces in handling smaller partners versus larger ones that usually benefit from getting attention and resources from SAP, Boggs said. He also noted that the company appears to be "doing a better job of leveraging business partners of all stripes, systems integrators as well as traditional ISVs," under the leadership of Diane Fanelli, SAP's senior vice president of global channel sales.
"Everybody is transforming -- SAP is transforming, the partners are transforming and customers are transforming -- so how do you orchestrate all the simultaneity of the changing world?" he said. "But you've got to do it, and maybe you get 80% of it right, but maybe then you should move ahead and not bother with the other 20%. It's not going to change in a week, anyway, and maybe you'll lose that 80% that you had."
Is the intelligent enterprise message resonating?
SAP has clearly shifted away from S/4HANA and Leonardo discussions and to a less product-centric discussion of the intelligent enterprise, according to Jon Reed, co-founder of Diginomica, an online ERP analysis and news site. But that can mean the company's message is a little fuzzy.
"It's a little bit tricky because SAP doesn't own that term and it's not self-evident to customers what the 'intelligent enterprise' means," Reed said. "It's also not a new term, and SAP's not the only vendor that's pushing this strategy. Having said that, it's refreshing that the discussion isn't product centric -- as long as customers understand that."
Reed noted that the emphasis on SAP's partners is important because they are critical to the technology company's intelligent enterprise digital transformation story. In a subscription-based environment, partners have to prove their value in a new way and delivering on the intelligent enterprise vision is a more sophisticated endeavor than configuring accounts payable or receivable.
Reed agreed with Boggs that SAP partners of all shapes and sizes need to transform if they're going to deliver on the intelligent enterprise. He said that transition will be less about traditional partner capabilities such as change orders, quick fixes and support, and more about strategic advisories and strategic implementations.
"Every partner will not be able to do everything. In some cases, tapping into machine learning is beyond the scope of some partners," Reed said. "But the nature of a difference making partner is that you can have these conversations and it's not about technology anymore. It's a business conversation around what's going on in your industry, where are you competitive or not and how can these tools help you change. It's a refreshing conversation, but it is a different set of skills from what partners may be used to."