James Thew - Fotolia
SAP Cloud Platform app helps German citizens find their way home
Rückholprogramm, an SAP Cloud Platform app, was built in just a few days to fulfill a request from the German Federal Foreign Office.
German citizens affected by travel restrictions due to the COVID-19 crisis are getting help from an SAP Cloud Platform app.
The worldwide travel disruption caused by the crisis left approximately 120,000 German citizens stranded abroad, and the German Federal Foreign Office contacted SAP to develop an application to help resolve the situation.
The result is "Rückholprogramm," an SAP Cloud Platform app built for mobile devices that allows people to register with the Federal Foreign Office, get travel information and make travel arrangements with commercial airlines. The app is aimed at German citizens working or traveling in countries that implemented travel restrictions, according to SAP.
Once users download the app to their mobile device, they can enter their passport number, personal information, current location and intended destination. The German government has contracted deals with commercial airlines, including Germany's largest airline Lufthansa, and registered users receive notifications by phone or SMS regarding flight information about where to get flights and what German airports the flights go to.
The SAP Cloud Platform app was requested by the Federal Foreign Office on March 17. A working prototype was ready the following day, and the complete Rückholprogramm app was finished a day after that, said Gunther Rothermel, SAP executive vice president and head of SAP Cloud Platform.
The project showed the power of teamwork and the capability of the SAP Cloud Platform as a development platform, Rothermel said.
"To do this on short notice is not just a technical question, you also need to understand the requirements and the case. And, in these kinds of projects typically, that takes a little bit of collaboration between the customer and us," he said. "In this case, it was fascinating to see how quickly and how smoothly things happened because of the time pressure everyone had but also the willingness to help."
The SAP Cloud Platform app was designed to be functional as quickly as possible. SAP HANA was deployed as the database layer and SAP UI5 was used for the front end.
"Using SAP UI5, we focused on building a plain vanilla web part first," Rothermel said.
The app was designed to be used on multiple mobile devices by using SAP UI5 as the "vanilla" front end, he said. SAP Cloud Platform SDK for iOS was used for Apple devices, and SAP Fiori Elements templates were used for other standard UI layouts.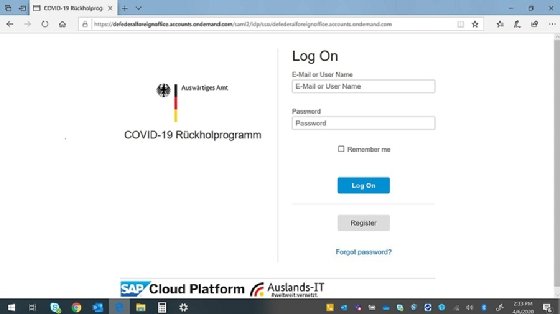 SAP Cloud Platform SDK for iOS updates
The Rückholprogramm app is an example of using the SAP Cloud Platform to develop mobile enterprise applications. To foster this trend, SAP released SAP Cloud Platform SDK for iOS version 5.0 last month.
The SAP Cloud Platform SDK for iOS includes several new features, including support for Mac Catalyst, which enables SAP developers to build apps that operate on iPhone, iPad and Mac computers, according to SAP.
This allows companies to present a unified front for their mobile applications, said Dan Lahl, SAP vice president of product marketing.
"Most employees today don't want to navigate eight or 10 or 12 applications, they want to have one application area where they go to complete their tasks and not have to log in to multiple systems. Mobility is a great way to deliver that," Lahl said. "The SAP Cloud Platform SDK for iOS is part of our mobile services offering that's larger than just the iOS, but now with this latest release we're adding the ability to deploy to Mac. We give some guidelines on best practices for what's different about Mac and iPad and iPhone, but you can create an app and deploy it to both places."
The SDK for iOS also includes module stability, which ensures applications will have consistency with Apple version releases, Lahl said.
"If you build an application with our SDK for iOS, it will be upward compatible as Apple comes out with later releases," he said. "So nothing will break your application when Apple delivers that next version to your iPhone."