5 UC trends that drove headlines in 2018
From Cisco merging Spark and Webex to Microsoft's Teams migration, take a look back at the top UC news stories of 2018 and the UC trends that drove them.
The evolution of the unified communications market continues, as new technology -- from AI-driven digital assistants to contact center capabilities -- made its way into the enterprise market. These UC trends drove headlines in 2018, as vendors made acquisitions and overhauled their products to address the demands of a changing industry.
Take a look at the top five trends of the last year and how they are shaping the future of UC.
1. AI assistants are everywhere
AI is one of the fastest-growing UC trends in the enterprise. Nearly every vendor in the UC market is incorporating AI technology into their enterprise offerings.
One way vendors are using AI is digital assistants. Avaya introduced an AI voice assistant for desk phones, allowing users to make calls, dial into meetings and perform Google searches through vocal commands.
Microsoft and Amazon also expanded their digital assistants by launching an integration that allows users to access Microsoft's Cortana features through Amazon Alexa-enabled devices. While the integration is currently marketed for consumer use, it lays the groundwork for future integration in the enterprise market.
The power of AI speech recognition is also growing, allowing for more than just speech to text. Further automation through AI includes voice biometrics that allow for identification and authorization and speech analytics integration for contact centers.
2. Cisco works to stay competitive in the team applications market
Cisco made several acquisitions and partnerships this year in an effort to strengthen its team collaboration offerings. In March, Cisco announced it planned to use its acquisition of BroadSoft to allow Spark users to make calls using the BroadSoft cloud PBX.
Cisco later merged Spark with Webex to create Webex Teams and Webex Meetings. By combining Spark and Webex, Cisco clarified the use cases for Webex Teams and better positioned it to compete with the Microsoft Teams platform.
Cisco further expanded Webex Teams capabilities by deepening its partnership with Google to allow for use of G Suite apps in conjunction with the Webex Teams platform.
3. Cloud contact centers expand capabilities
The UC trend of cloud contact centers saw a surge this year, as vendors looked to expand contact center capabilities and integrations. Apple took a leap into the contact center market with its introduction of Apple Business Chat, a mobile chat app that connects businesses to iPhone users for an integrated customer service experience.
8x8 Inc. launched its X Series offering, combining UC with contact centers in an effort to optimize agent performance. Bringing voice, video, collaboration and contact center functions together in a single platform gives agents the tools to better serve customers and reach out to other team members, if needed.
Contact center vendors also expanded their analytics capabilities. Genesys acquired analytics vendor Altocloud to integrate sales analytics into its cloud contact center offerings. The analytics tools give agents real-time insight into customer interactions.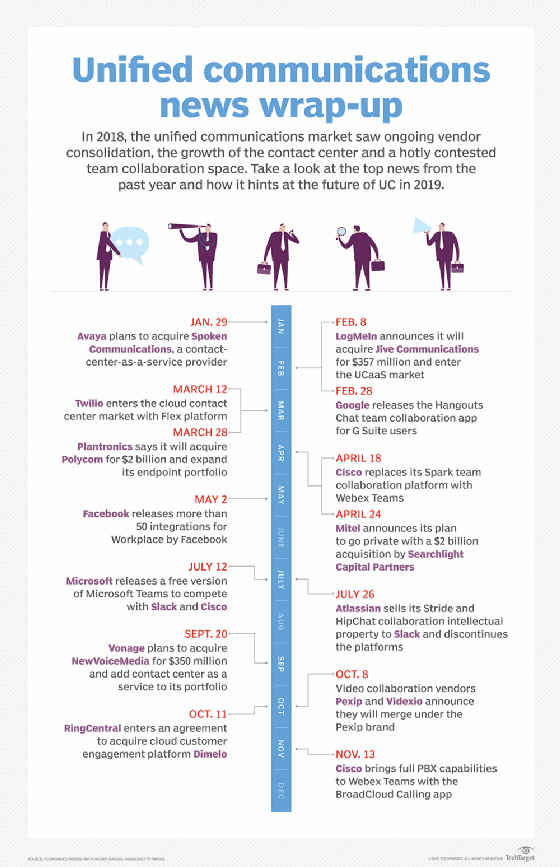 4. Microsoft pushing users toward cloud
Microsoft more aggressively pushed customers to the cloud, as it focused on tighter integration of Skype for Business Online with its Teams platform. Its 2018 migration roadmap focused heavily on improving Teams' telephony features to ease the transition between platforms.
The launch of Skype for Business 2019 further emphasized Microsoft's goal of moving customers to the cloud. The product is designed to move customers directly from on-premises Skype to cloud-based Teams. But Microsoft also affirmed it would continue to support on-premises customers through 2023.
5. Vendors double down on messaging apps
Team collaboration remained an important UC trend for 2018, with several vendors renewing their focus on messaging apps. Despite issues with service outages, Slack continued to be a leader in the team collaboration market, as it prioritized third-party integrations over building features directly into the platform.
Facebook also looked to compete in the enterprise messaging market with its WhatsApp Business API. The API integrates WhatsApp messaging with contact center and customer relationship management software to support customer communication through WhatsApp.