Fotolia
Symphony app brings online meetings to mobile phones
The Symphony app for iOS now supports audio and video meetings. The team collaboration vendor's Android client will get the feature this summer.
Team collaboration vendor Symphony added online meetings to its iOS app and plans to bring the feature to Android devices this summer. Symphony is late to launch mobile meetings, but security and regulatory compliance could set the product apart.
The Symphony app for Apple mobile devices supports one-to-one and group audio and video calls, with screen-sharing. With one click, users can start a meeting in a virtual room that any member of a group messaging channel can join.
Symphony has found a niche as an alternative to Slack among banks and other companies in regulated industries. The 5-year-old company said J.P. Morgan, Goldman Sachs and Bank of America are among the 405 businesses that use its service.
Unlike Slack, Symphony avoids momentarily decrypting data at routing points in the cloud. Symphony also lets customers store encryption keys on premises, rather than in the public cloud. The vendor's mobile meetings offer the same level of security.
The Symphony app on desktop and mobile offers meeting compliance controls -- for example, preventing two employees from joining the same call if they work in divisions that shouldn't interact.
Primarily a messaging platform, Symphony doesn't appear poised to position itself as a web conferencing vendor, such as Zoom or Cisco Webex, said Raúl Castañón-Martínez, analyst at 451 Research.
"The new features will enable workers to escalate from messaging to conferencing without switching to a different app, while keeping the conversation within a secure environment, which is what they're known for," Castañón-Martínez said.
Symphony app plans MDM, calendar integrations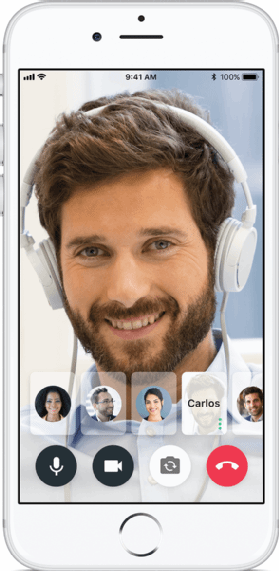 Symphony's mobile app integrates with standards-based mobile device management (MDM) products from BlackBerry, MobileIron and other vendors. That software helps businesses manage employee mobile devices by enforcing password rules and limiting app downloads, among other controls.
Symphony's meetings feature on mobile is not connected to MDM software. The vendor said it would update its mobile apps as soon as this year to let meetings data flow through MDM software from BlackBerry and MobileIron.
Symphony is also working to integrate its mobile app with Microsoft Intune.
The vendor plans to increase the number of possible meeting participants. The current limit is 25, but Symphony will double that as soon as this month and later plans to increase the capacity to more than 100.
Symphony is working to sync its meetings calendar with Microsoft Exchange, potentially as soon as the third quarter of this year. The link will let users schedule and join Symphony meetings from Outlook.
Dig Deeper on UCaaS and cloud-based UC