Fotolia
Businesses slow to embrace products like Samsung Flip board
Samsung hopes to heat up the tepid digital whiteboard market, but the new Samsung Flip board will face tough competition from small vendors, as well as Cisco, Google and Microsoft.
Samsung has joined Cisco, Google and Microsoft in a digital whiteboard market that has attracted the interest,...
Continue Reading This Article
Enjoy this article as well as all of our content, including E-Guides, news, tips and more.
but not yet the wallets, of companies.
The Korean tech giant launched its Flip interactive display this week at the CES technology conference in Las Vegas. Scheduled for release this month, the Samsung Flip board will sell for $2,699, which is considerably less than competing products from the major vendors but higher than technology offered by smaller manufacturers.
The Flip has a 55-inch, 4K display that lets users annotate content using their fingers or stylus. The device has USB ports and a wireless connection for PCs and mobile devices. The latter lets remote workers view the Flip display.
Today, education, professional sports and media and entertainment account for a significant portion of whiteboard sales. Manufacturers are banking on businesses and government to grow the market.
To date, however, enterprises haven't embraced the technology. A 2017 survey by Nemertes Research found only 23% of companies using interactive whiteboards and 47% evaluating them. Deployments have been limited mostly to workgroups focused on marketing, content development, engineering, application development and product management. Those groups find electronic whiteboards useful in brainstorming sessions.
"We don't yet see them as a must-have in every conference room," Nemertes analyst Irwin Lazar said. "Buyers are still struggling with the business case for whiteboards."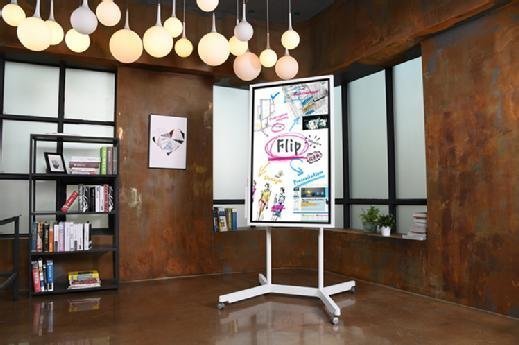 Samsung Flip board pricing
Samsung's product costs considerably less than similar size whiteboards from Cisco, Google and Microsoft. But those devices, which range from $5000 to $9000, offer more capabilities, including video conferencing and integration with the vendor's collaboration software.
Independent analyst Dave Michels believes products that combine video and an interactive whiteboard will be more attractive to enterprises over time than whiteboard-only products. "Every room needs an HDMI display anyway," Michels said. "Board-only solutions were probably obsolete before they found their way."
But Lazar sees a "pretty good market" for whiteboards with fewer capabilities than those from the major vendors. Enterprises interested in those products have turned to vendors like Bluescape, DisplayNote, InFocus and Newline Interactive.
In general, those vendors offer whiteboard products that are less expensive than the Samsung Flip board, so the company will likely find it difficult to grab market share. "Given the higher price, and Samsung's relative newness in the enterprise [whiteboard] market, I think they'll have a difficult time competing with the other vendors," Lazar said.