Fotolia
Best practices for large video conferencing room design
Large-room video conferencing systems are seeing renewed growth, as corporate mandates and employee demand drive enterprise deployments. Following best practices ensures the right design for large room video.
While much of the hype in the video conferencing market is around bringing the technology into small rooms and...
Continue Reading This Article
Enjoy this article as well as all of our content, including E-Guides, news, tips and more.
huddle spaces, large rooms are poised for the most growth. More than one-third of organizations are planning to expand video conferencing deployments in their large rooms, which seat 10 or more participants, according to a Nemertes Research study on visual communications and collaboration.
In comparison, only a quarter of organizations are planning to increase their small-room video deployments. Today, about 20% of large rooms are equipped with video conferencing, according to the study, which surveyed 500 end-user organizations.
Employee demand is the primary driver for increasing large-room video conferencing, just as it is for increasing video conferencing within small rooms and on desktops. Given the rapid increase of video conferencing in the consumer world -- thanks to apps like Apple's FaceTime, Google Hangouts, Microsoft Skype and WhatsApp -- workers expect to have video conferencing in the workplace. They also understand the benefits video brings to meetings by making it possible to share nonverbal communication and increasing engagement, especially for remote workers.
Larger rooms are often the primary meeting spaces for teams and executives. As a result, companies often budget to ensure those rooms are state of the art environments, which increasingly means including video conferencing.
Another leading factor driving large video conferencing room design is corporate mandates requiring video conferencing in all meetings. Corporate mandates are often the result of increased awareness of not only the ability to improve collaboration, but to possibly improve the bottom line, as executives look to reduce operating costs, decrease project times, improve customer and sales engagement, and better support remote and distributed workers.
We've all likely seen firsthand the lack of engagement when remote workers access a meeting solely through an audio bridge. Adding video conferencing to meetings allows remote participants to actively participate with those in the meeting room. Another driver for the expansion of large video conferencing room design is the proliferation of desktop video, which two-thirds of organizations currently use or are planning to use.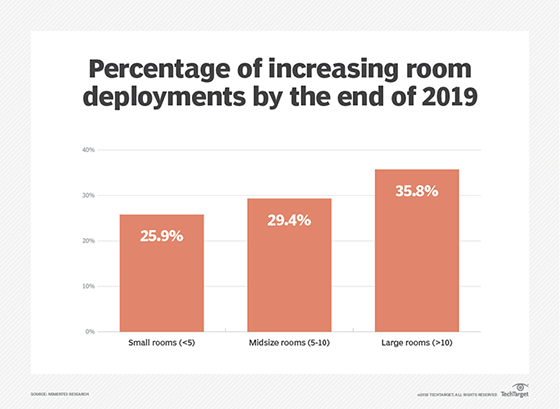 Large video conferencing room design best practices
Those responsible for video conferencing strategies should consider success factors when planning large-room rollouts. These include the following:
measuring room system use to determine how often deployed systems are in use;
determining how many people are typically in a room using the system;
monitoring system performance; and
rolling out training programs to help employees learn to quickly set up video conferences.
Planners should focus on deploying room video conferencing units that are easy to use, ideally providing a similar experience and user interface across all rooms. They should consider platforms that allow participants to use multiple meeting services. The ability to use multiple services -- such as BlueJeans, Skype for Business, Webex and Zoom -- was considered by study participants to be the most important factor in room system selection.
IT leaders should also begin to evaluate emerging features to improve meeting experiences and ease of use. One new feature growing in popularity is voice control of meeting systems, which allows meeting participants to use their voice to start, record or end conference calls. Other emerging features include facial recognition to detect participants, framing active speakers and flattening images to offer more natural engagement for remote participants, even when in-room people are sitting around a long table.
The large meeting room continues to be important, even in companies that are increasing huddle spaces and small meeting rooms. Don't forget about large rooms in your video conferencing room design strategy.
Dig Deeper on Video conferencing and visual collaboration